I love love LOVE Korean food, so you can only imagine my excitement when I learned that my trip to Asia would involve a two-day trip to Korea (yes I know, too short) in Seoul. I was hoping to stop by Seoul again during my year of travelling, but unfortunately, it wasn't possible (boo).
So what's a girl to do when she's short on time in an amazing city with tons of great food options? Eat, eat eat!
Luckily, Korean street food can is everywhere, and affordable street food is an excellent way to sample food in Seoul. If you are looking for things to eat in Seoul, then this guide is for you!
This post includes a list of food options that you can try if you happen to be visiting Seoul. Additionally, I listed the prices for you so that you can get an idea of how much it costs to eat in the city. 
If you aren't on a food budget (lucky you!) and want to try different food experiences in Seoul, you can check out some gourmet experiences or cooking classes offered in Seoul
What To Eat In Seoul item #1: Odeng (Fish cake skewers) | ₩3,000
Take a walk around any Korean market, and you'll find fish cake skewers on almost every corner. There are many variations of skewers, and the ones I ate had different variations, from hot dogs wrapped in fish cakes to seaweed wrapped fish cakes. I tried all the flavors, and they were all so delicious.
What To Eat In Seoul item #2: Pajeon (pancakes) | ₩1,500
These delicious pancakes may look small, but they can be quite filling. Some Pajeons have leek and green onion, while others contain seafood.
What To Eat In Seoul item #3: Gamjajeon (potato pancake with chive and green onion) | ₩8,000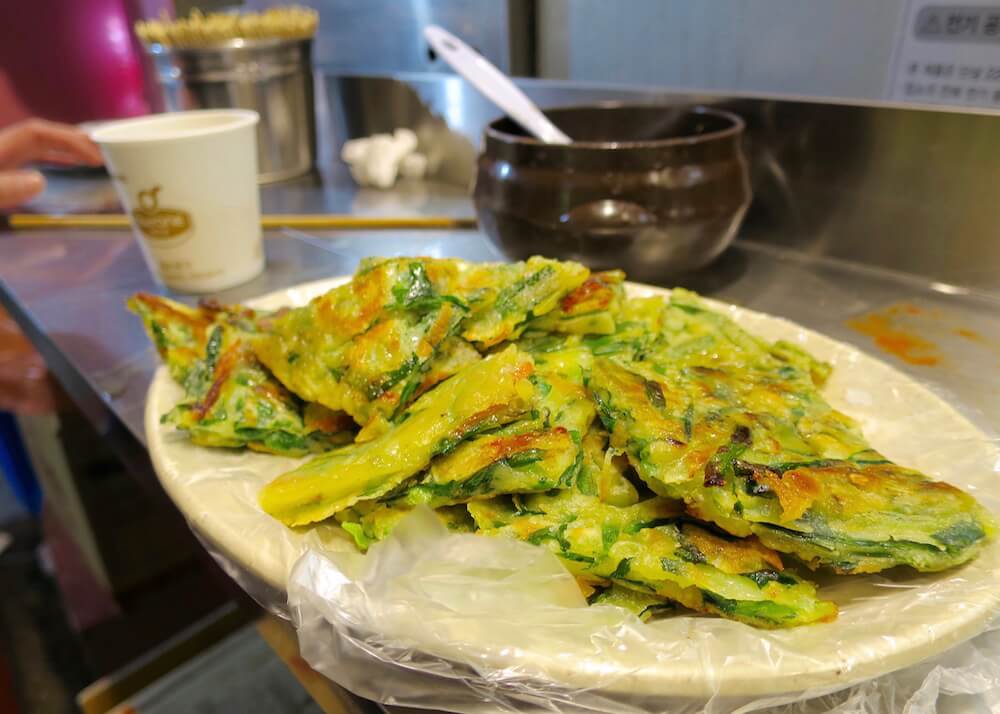 This pancake had leek and green onion as a filling and was served with soy dipping sauce and chili oil. Super delicious! A bit pricey for what it is but the serving was huge, and the dipping sauce is addictive.
What To Eat In Seoul item #4: Mandu (Korean Dumplings) | ₩3,000 for 5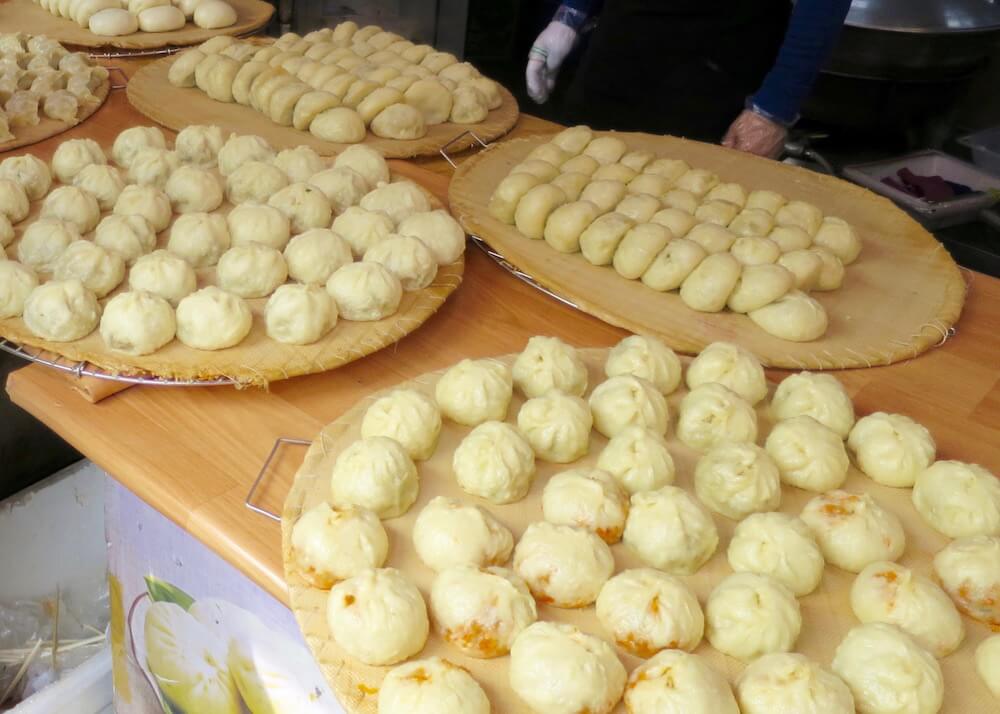 Korean dumplings were the highlight of my trip! This street snack came with different fillings; some came with pork while others came with pork and kimchi (super delicious!). The dumplings weren't small either; two to three dumplings could have easily filled me up… but I was greedy and ate as much as I could.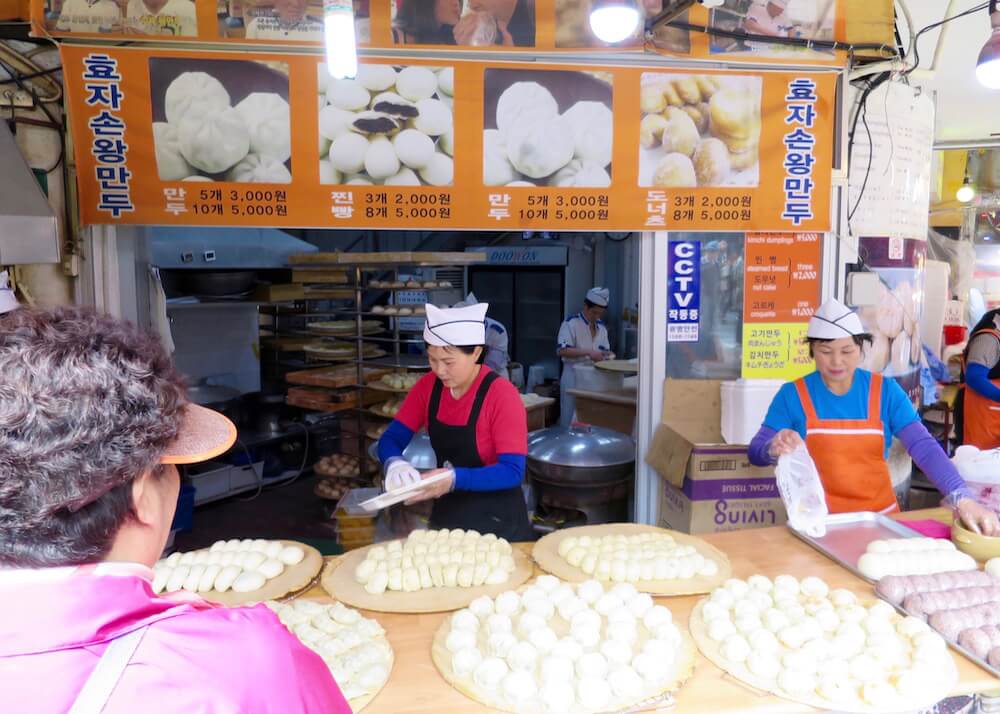 This stall was hands down my favorite place for Korean dumplings! I have no idea what the English name is; I just know that it is in Namdaemum Market. This dumpling place is so good that I came back to Namdaemum Market on my second day just to eat these dumplings! Thanks to these dumplings, I was also able to find super cute Korean stationery that I initially struggled to find on my first day in Seoul.
What To Eat In Seoul item #5: Korean Dragon Beard Candy | ₩7,000 for a dozen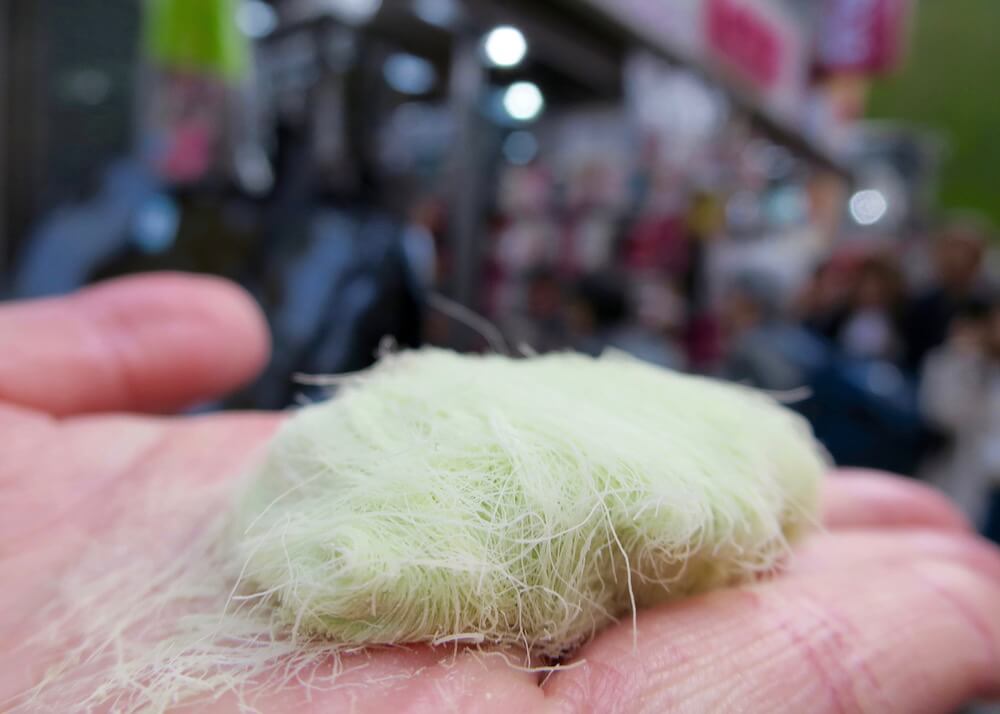 Dragon's beard candy is a traditional sweet made of honey and was a favorite among the Royal Court. Vendors will often tell stories of the history behind this dessert as they turn a piece of rock-solid honey into over 16,000 strands of sugary deliciousness.
What To Eat In Seoul item#6: Gamja dog 감자 핫도그 (Corn dog with potatoes) | ₩2,000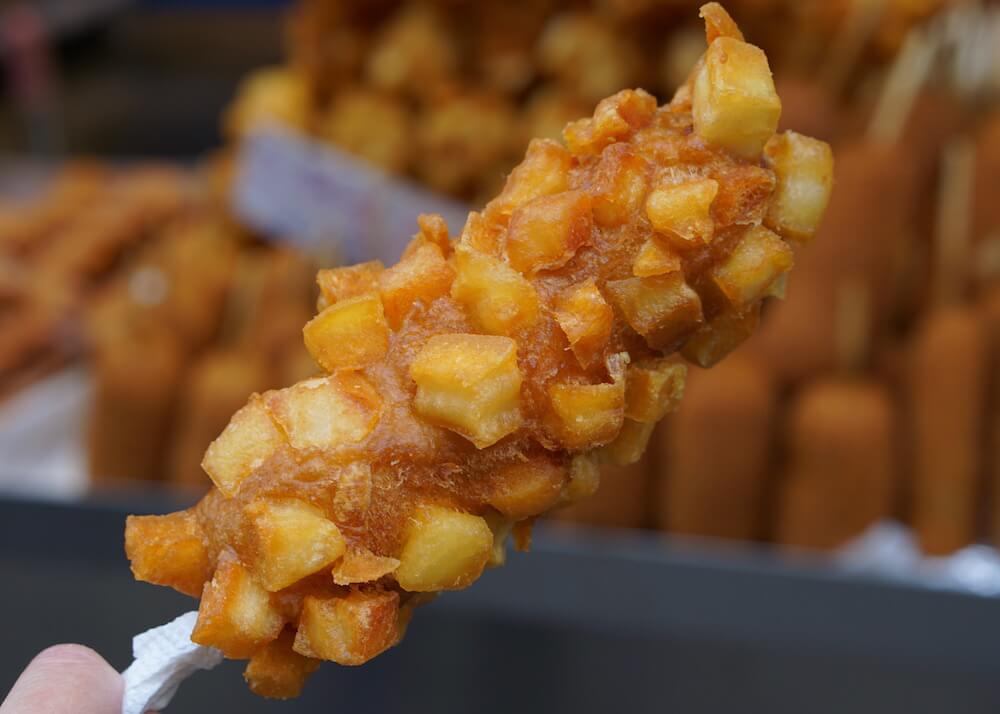 As the name implies, it is essentially a souped-up corn dog with potatoes. I'm a sucker for corn dogs, and I always buy one when I am at any carnival, so of course, I had to try my souped up corn dog.
Watch a video of the Gamja dog here!
The vendor also sold other fried goods that looked just as delicious as my corn dog. Here he is, posing for my photo.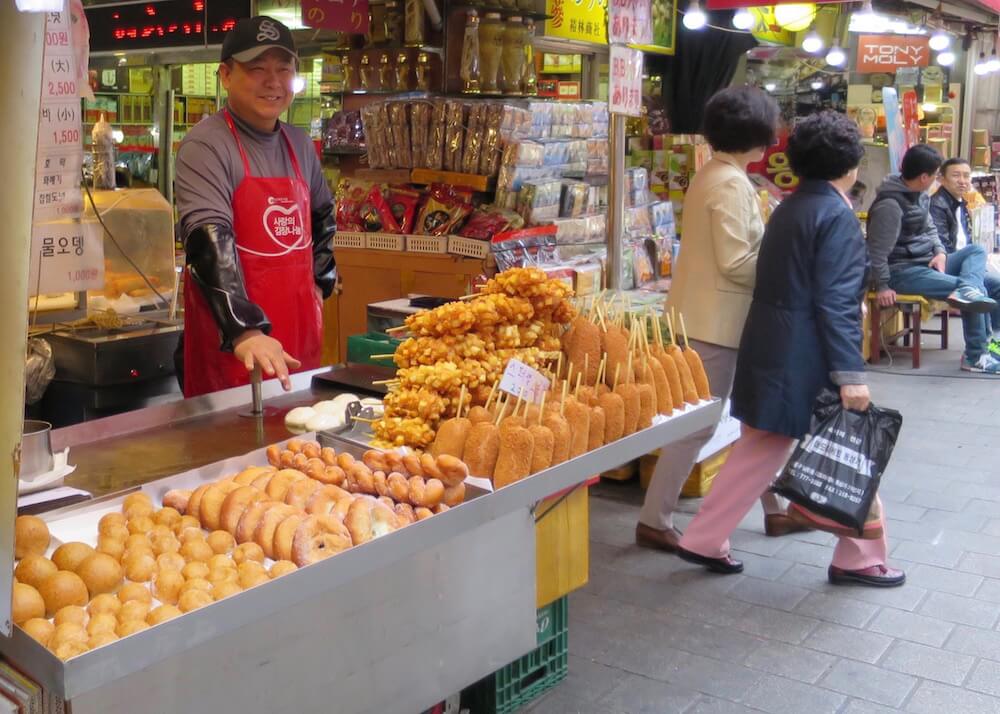 What To Eat In Seoul item #7: Gyeranppang (egg muffins) | ₩1,000 for two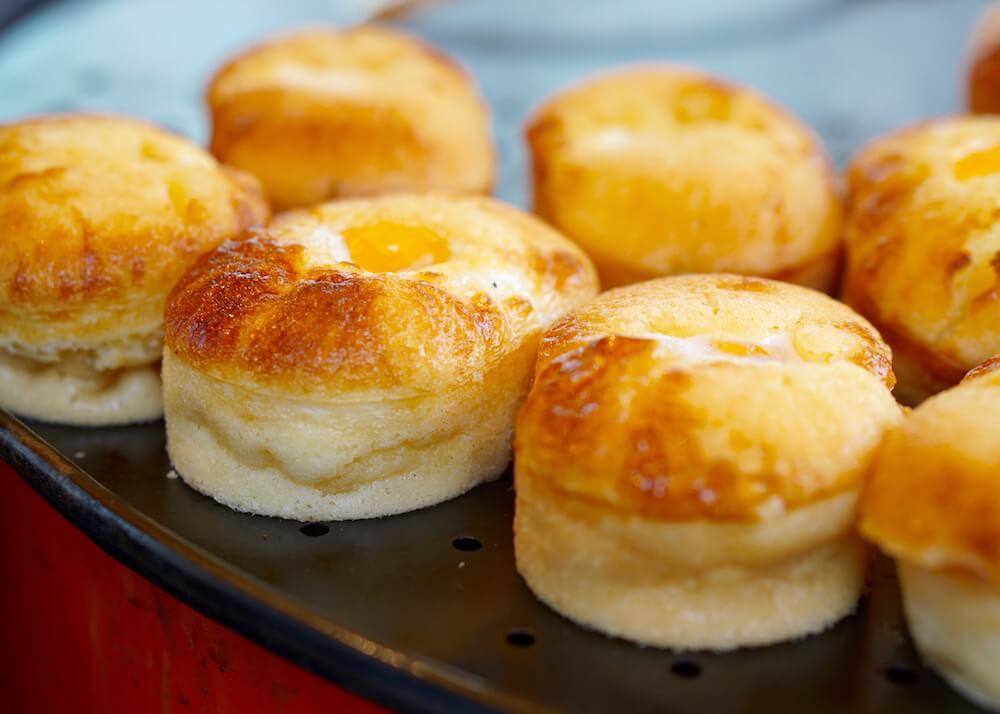 I had no expectations when I tried this muffin and did not realize there was an egg in the middle. This dense egg muffin was so good and had a great combination of savoury and sweet thanks to the egg.
What To Eat In Seoul item #8: Korean street food dessert – soft serve ice cream | ₩2,000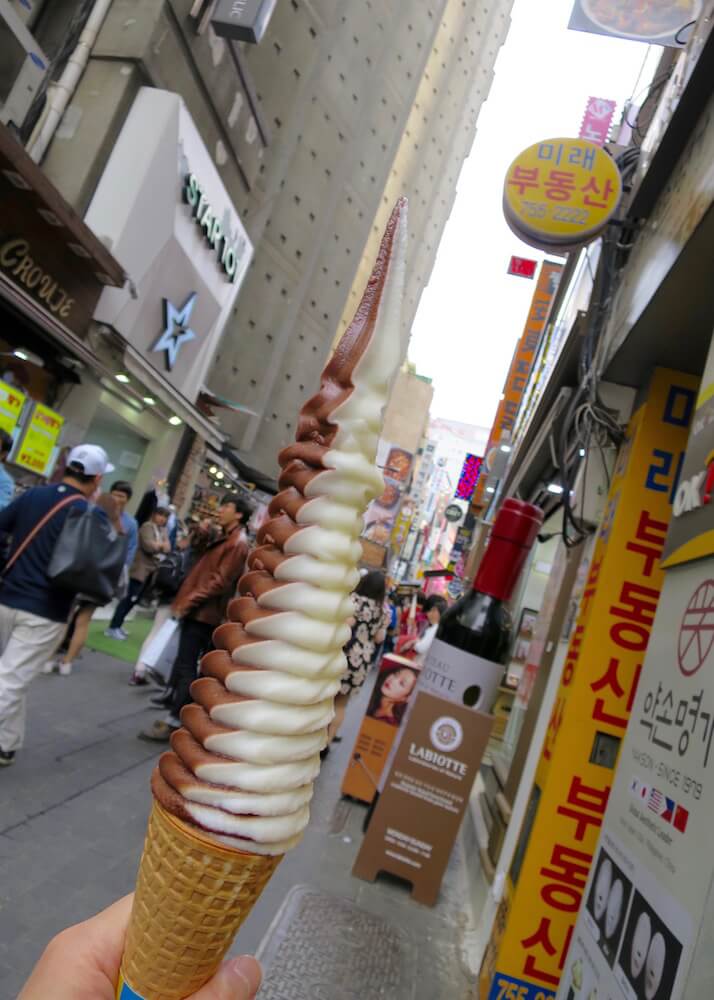 Ok so I'm not going to lie, Korean soft serve ice cream tastes just like any regular ice cream…But this one is special because it's 32cm long! I wouldn't recommend getting this Korean street food dessert in the summer though because it melts quickly.
Personal note: I went to great lengths to find a vendor that served this ice cream… Only because I saw it on my Instagram feed and thought it looked so cool.
What To Eat In Seoul item #9: Nutella shake from Be Bridge | ₩5,200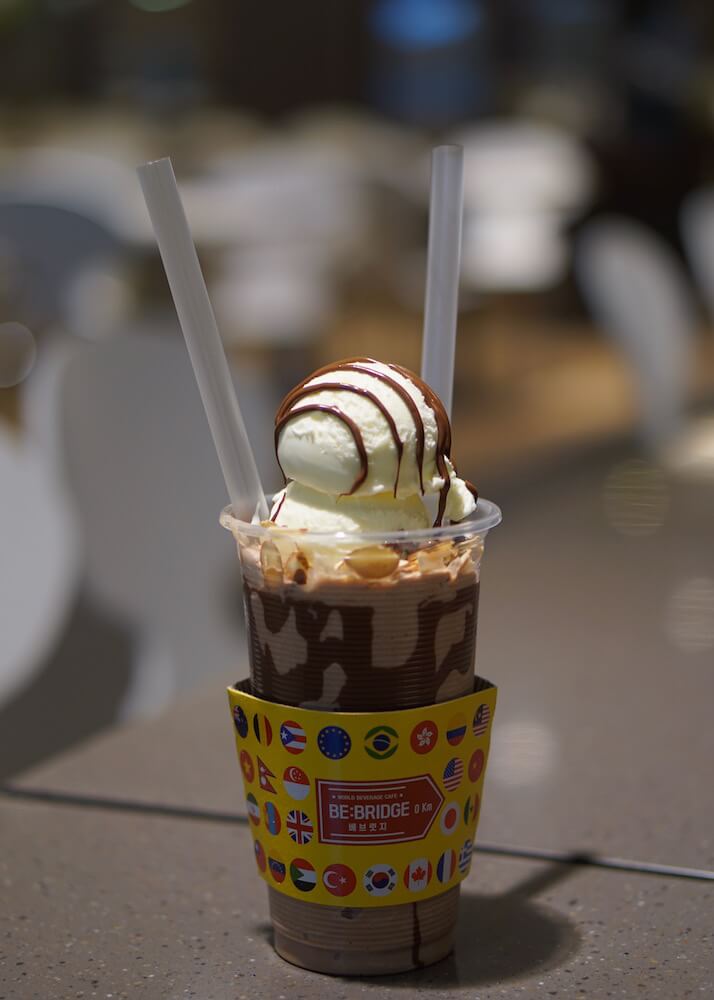 So I know Korea isn't the only place to get a Nutella drink, but this one was so good! I especially enjoyed it after spending 12+ hours walking around Seoul. I happily sat in an empty food court, spending over 30 minutes eating this delicious dessert. This drink was definitely one of my splurges on my trip, but oh…so…worth…it
What To Eat In Seoul item #10: spicy pork dish with side dishes | ₩8,500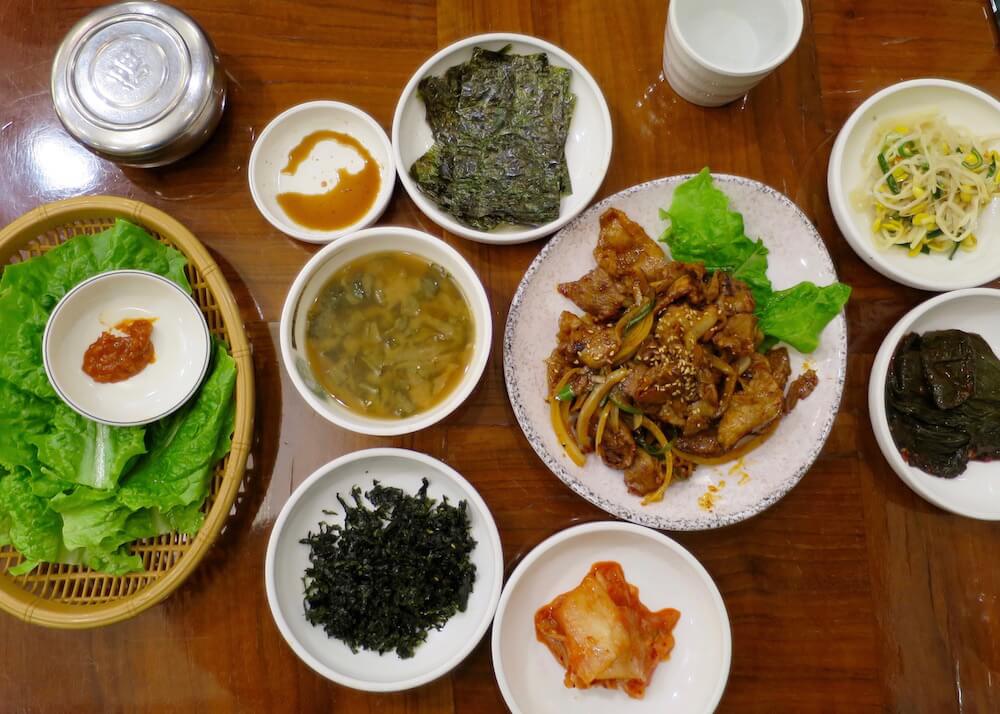 This meal was the only one I enjoyed at a restaurant during my two days in Seoul. This dish is a typical Korean meal and comes with many side dishes. There is kim chi, roasted seaweed, bean sprouts and soup, but I have no idea what the ingredients are in the dish below the bean sprouts, I just remember it tasting like medicine…so if any Koreans are reading this who can enlighten me, please let me know in the comments below!
There you have it; I ate my way through Seoul in under two days by trying many different types of street food. I am usually wary of street food and cautiously eat street food in a foreign country only after spending a few days in the country. Not so in Korea, as the street food vendors are clean and sanitary. Sadly, this post does not cover many of the great looking restaurants I passed by as I scurried my way through the city or some of the cute and popular cafes in Seoul, but that just gives me another reason to come back.
PIN FOR LATER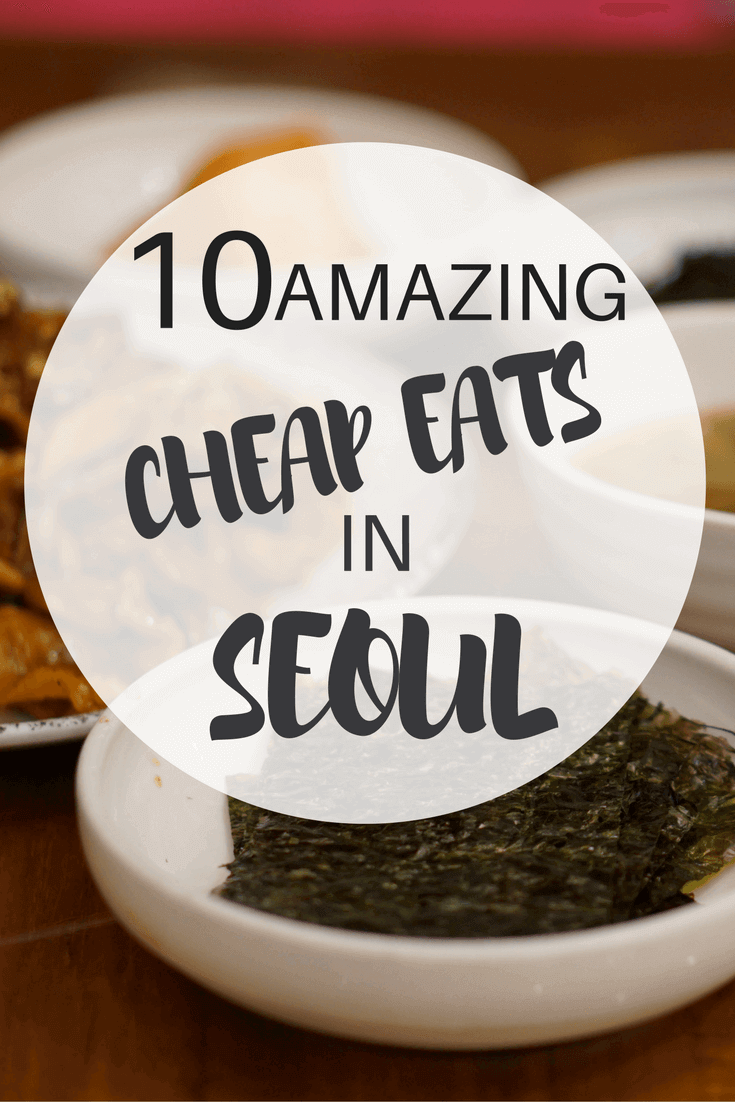 This post was first published in June 2016 and last updated in March 2019