Namdaemun market in Seoul is such a fantastic place to visit. In fact, you can spend a whole day at Namdaemun and still not see everything. This open-air market has over 10,000 shops and is one of the oldest markets in Korea. Also, prices are super affordable since most shops have their own factories, hence the retail and wholesale prices.
If you want to avoid the crowds, try arriving at Namdaemun before noon. Otherwise, be ready to inch slowly from one destination to the next. The only risk of coming before noon is that some stalls may still be setting up, so remember to plan ahead.
What can you buy at Namdaemun market?
I think the better question is what can't you buy at this huge exchange! Keep reading below to get an idea of what you can find and what you can buy at Namdaemun market! Read this Seoul shopping guide for ideas on things to buy and areas that are great for shopping!
Luggage and umbrellas at Namdaemun Market in Seoul
You can find almost everything in this market. Not to worry if you run out of luggage space, you can buy a new one! Forgot to pack an umbrella? Not to fear, Namdaemun has tons for you to choose from!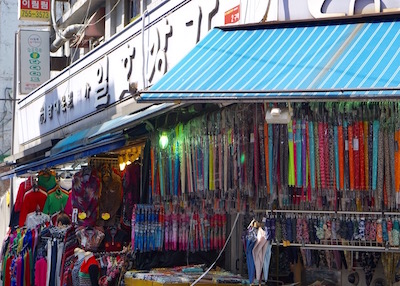 Jewelry, wallets, and women's accessories at Namdaemun Market in Seoul
Ladies, if you love to accessorize, you will be in heaven in this market. There is a huge section of beautiful glittering jewelry that looks expensive but is actually very affordable. Heads up for brides: there's a huge section of bridal jewelry and other lovely accessories that are perfect for bridesmaids gifts. Sadly, I wasn't allowed to take photos in this section, but trust me on this one!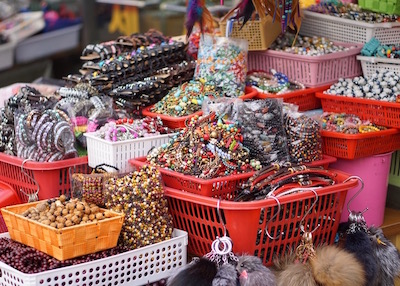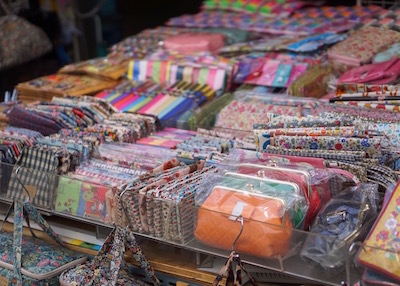 I also saw a ton of other cute accessories for women, like scarves, keychains, and shoes. The same can be said about menswear: you can find anything from accessories to quality suits for men at Namdaemun!
Toys, children's accessories, stationery, and bedding at Namdaemun Market in Seoul
Namdaemun market has a huge section filled with toys and bedding. Also, many stalls sell adorable children's clothing (which I didn't think to photograph at the time. Sorry!)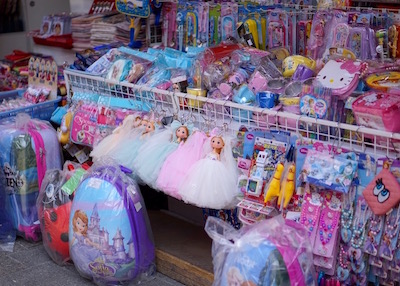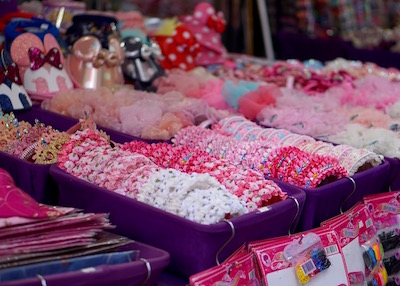 Indoor market at Namdaemun Market in Seoul
There are a few covered markets at Namdaemun if you can manage to find them. The one I came across is located underground and carried household goods, cookware, and even beautiful home displays.
While this indoor market sells some stationery, there is a huge stationery section in Namdaemun market.
The food at Namdaemun market
These photos say it all! Look at the number of cabbage, bowls, and vegetables needed to feed the hungry shoppers! Check out this food tour that will take you to all the best eats in Namdaemun market!
What's unique about Namdaemun are the food alleys where you'll find people patiently waiting for food in these dark and narrow alleyways.
What's helpful is that most places will have a visual sample of the dishes they serve.
Walk at a slow pace as you go through the alley because you'll see something interesting with every few steps. Like this tiny little restaurant where a cute couple was sitting behind the curtains.
Some things to keep in mind at Namdaemun Market in Seoul
While the market itself is open 24 hours a day, most stores set their hours so make sure to plan if there is a particular shop you want to visit. Many shops close on Sundays
Cash is advisable for street food and small purchases, although most stores do offer credit card payments
Camera fanatics can find tons of camera shops near Gate one
I didn't come across stores that sell eyeglasses and contact lenses, but you can buy them here at affordable prices
Enjoy the experience. Wander aimlessly and lose yourself in the maze.
Share your experience at Namdaemun in the comments below! What was your favourite thing about this outdoor market?
PIN FOR LATER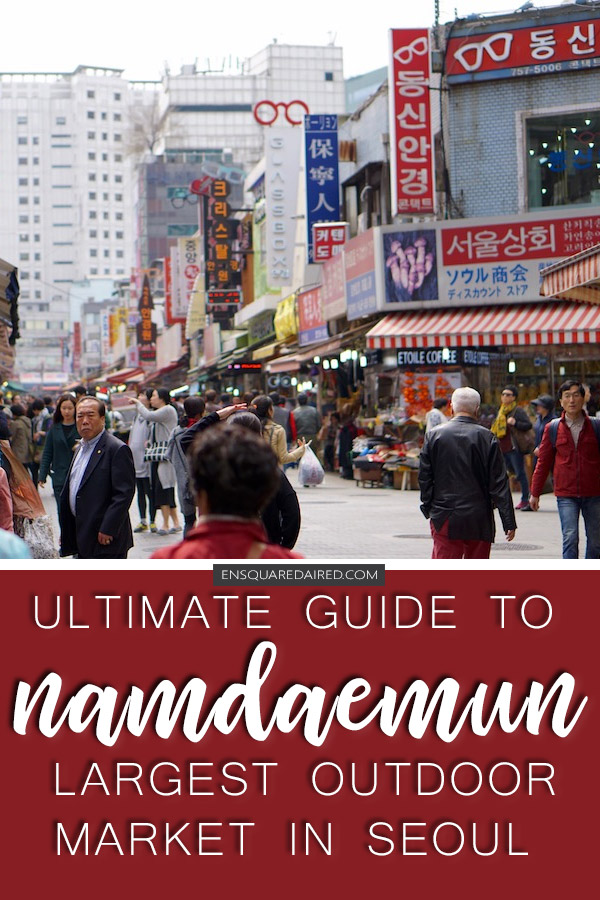 This post was first published on September 2016 and last updated on August 2019