Although South Korea was not part of my original travel plans, I was stoked to learn that I can stopover in Seoul. With only two days in Seoul, my plans revolved around eating Korean food, market hopping, buying cute Korean stationery, and visiting sites along the way. Since my first visit to South Korea was super short, I tried to fit it into my schedule during my year of travelling, but to no avail.
At first glance, Seoul does not feel big, but it is actually very large in terms of population. With over 25.4 million people, Seoul itself is almost the size of Canada! Not surprisingly, this city is also the fourth largest metropolitan area in Asia. What I love most about Seoul is the liveliness of the city, regardless of the time of day.
Here, I have rounded up some practical tips for first-time travellers heading to Seoul.
#1 Travel Tip For Seoul Korea: No English everywhere, so practice excelling in charades
Remember those years you spent playing charades? Would you believe me if I said acting out words is an essential life skill in a non-English speaking country? Seriously, that was how I got around and communicated with people in Seoul. Alternatively, a few basic Korean phrases are helpful to know if you do not want to look like a doofus.
#2 Travel Tip For Seoul Korea: Get a T-Money card if you are in Seoul for more than two days
Get a T-Money card if you can, because it is a huge time and money saver! The card itself costs 2,500 won, but it is so worth not having to line up and fumble for change to buy single journey tickets. Public transportation is always 100 won cheaper with this card, and you can even use it to make purchases at participating convenience stores. You can find more information about the T-Money card on the Visit Korea website.
#3 Travel Tip For Seoul Korea: Most stores accept credit card
This is helpful if you are the type of traveller who does not like to carry too much cash. Find a credit card that has no foreign transaction fees, and you are ready to go.
As always, it is wise to carry some cash as a precaution. Plan to have some cash for street food, T-Card refills, transportation, and little souvenirs from the markets. When arriving at the airport, exchange just enough money to cover transportation to your hotel in Seoul since airports charge higher rates. Foreign currency centers are ubiquitous on every busy corner and your hotel can exchange money for you as well. Even better, to save the hassle of having to figure out how to get to Seoul, book a one-way airport express ticket to Seoul in advance!
#4 Travel Tip For Seoul Korea: Tourist information sites and your hotel concierge are your best friends
Tourist information sites are your friends! Use them to answer all your questions! Typically, when I am lost in a city, I often find a young local to ask for directions. Not so in Seoul, since even the young folk could not converse in basic English. As an added bonus, tourist information centers have reliable Wi-Fi, air conditioning, and various phone chargers! Talk about thoughtfulness!
Alternatively, if you are staying at a hotel that has a concierge service, do not hesitate to ask them for help! If you believe that your hotel has your interests at heart, then you can trust their recommendations.
#5 Travel Tip For Seoul Korea: street food is clean and safe to eat upon your arrival
I'm usually wary of street food and will cautiously eat only after spending a few days in the country. However, because Seoul is so clean and sanitary, I think it's safe to eat street food on the first day you arrive.
#6 Travel Tip For Seoul Korea: The metro system is your second best friend
Get to know the metro system and know where you are going. Considering how people cannot speak English very well, the best person you can depend on is yourself! Every place you can possibly want to visit is conveniently located next to a metro stop. The map may look like a messy web at first, but you will figure out the logic within minutes. Once it clicks in your head, you will want to meet the mastermind behind this genius metro map!
I also noticed the metro is very efficient; never once did I experience a delay during my stay in Seoul. Twice, I had issues with my metro card at the terminal. Before I could look up to ask for help, a metro employee was already there to help me. As well, the metro is very clean; it is not a rare sight to see someone go through the metro to sweep throughout the day.
Tips on how to orient yourself with the metro map: Colours are your friend. Find out where you want to go on the map and make a note of which colour your destination is on. Now match the colour with the line the train is on (i.e. blue is on line 1). Once you figure out your destination and line colour, follow that line colour from your point of origin. Simple, right? I did not realize the colours had a rhyme or reason until a few subway trips later…
If taking the metro isn't your thing, consider taking an affordable sightseeing bus, which will take you around Seoul!
#7 Travel Tip For Seoul Korea: There are many stairs when entering and exiting the metro
Seriously, there is a lot of stairs to climb when entering and exiting the metro. This is something to keep in mind when planning your trips and shoes to wear while in Seoul.
I consider myself decently fit, but I remember the burn in my thighs each time I left the metro. I recall thinking to myself; this is how Korean women stay slim and pretty; their commute is a workout! While there are escalators in certain stops, they are mostly located once you are inside the metro.
#8 Travel Tip For Seoul Korea: Seoul is a safe city
Never once did I feel scared in Seoul, which is unusual since I normally am on high alert while travelling. Nor did I ever feel like any vendor I interacted with tried to rip me off. I guess because Seoul is such a prosperous city, they had better things to do than to steal stuff. While it is important to exercise caution at all times, the brightly lit streets and the sheer volume of people made me feel comfortable walking around the city, even at night.
#9 Travel Tip For Seoul Korea: Possibly the most diplomatic bargaining experience you will ever have in Asia
Koreans are polite bargainers when it comes to negotiating at the markets. There is no yelling, cursing, or dramatic hand gestures; they just say no if they don't like your offer. On the flip side, it could be that I did not bargain hard enough, but I doubt that.
#10 Travel Tip For Seoul Korea: Koreans are kind and beautiful
I have a funny story that demonstrates just how kind and helpful Koreans are. While I was waiting for my train to the airport, this elderly woman kept talking to me in Korean. She also kept pointing and laughing at my suitcase, leaving me even more confused. At some point, I politely ignored her, but she would not give up and kept talking to me until I finally realized she was trying to tell me that I was on the wrong train! I am so grateful to her because I would have missed my flight had it not been her persistence in trying to communicate with me.
As well, everyone here is so beautiful and well dressed. Most women wore heels and I saw many outfits that are unique, trendy, and classy at the same time. That's another reason why I felt safe; why steal my plain bag when you can take an Hermès bag instead?
#11 Travel Tip For Seoul Korea: Wi-fi is everywhere, but unreliable
Even though Seoul is the world's most wired city, I was surprised to find Wi-Fi to be shoddy. While most places offered public Wi-Fi, the hassle of trying to connect was too much and not worth my time. If you don't want to deal with the same trouble, pick up a pocket WiFi at the airport instead.
Other Travel Tips For Seoul Korea
Stay for 4-5 nights. There's so much to do and so many sights to see
If you have an itinerary, be ok with not following it at times. Just go with the flow! You will find that when you reach a neighbourhood in Seoul, you will come across sites you did not know about
Many Koreans can speak Mandarin. Sadly, I have sub-par Mandarin skills so that did not help me much
Get to know your K-pop stars, because there is a good chance you will run into them! Or better yet, immerse yourself in K-pop culture with one of these fun experiences!
What other important tips do you wish you had known before your visit to Seoul? Share your thoughts in the comment below
PIN FOR LATER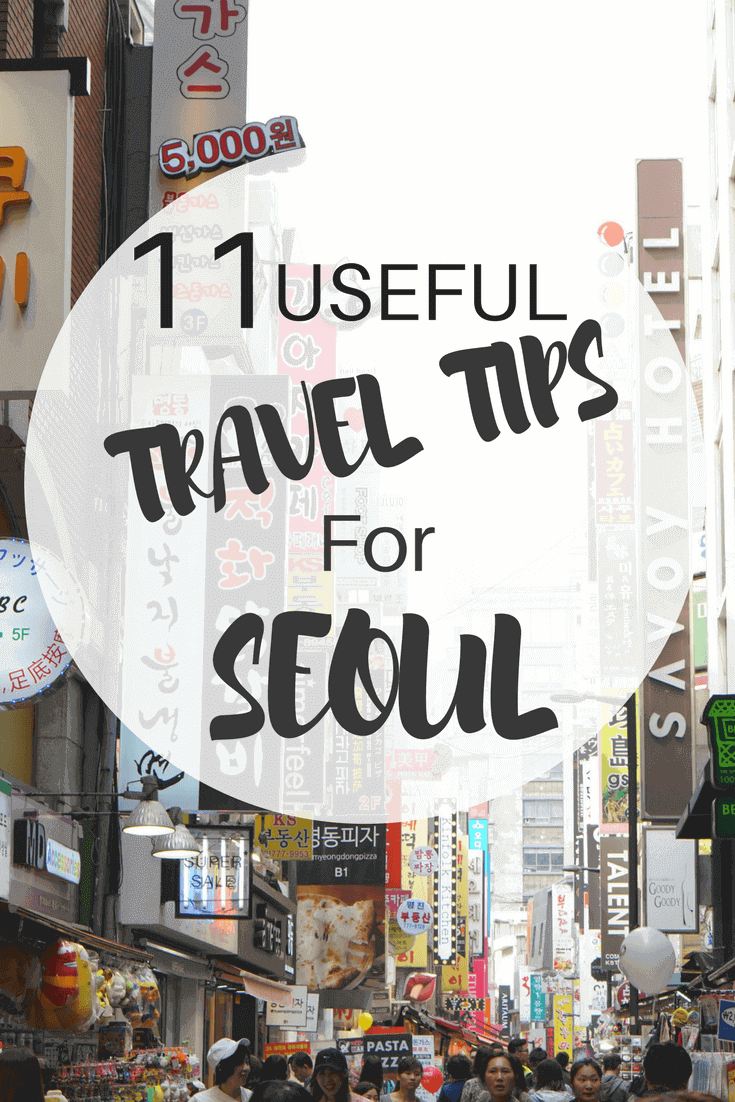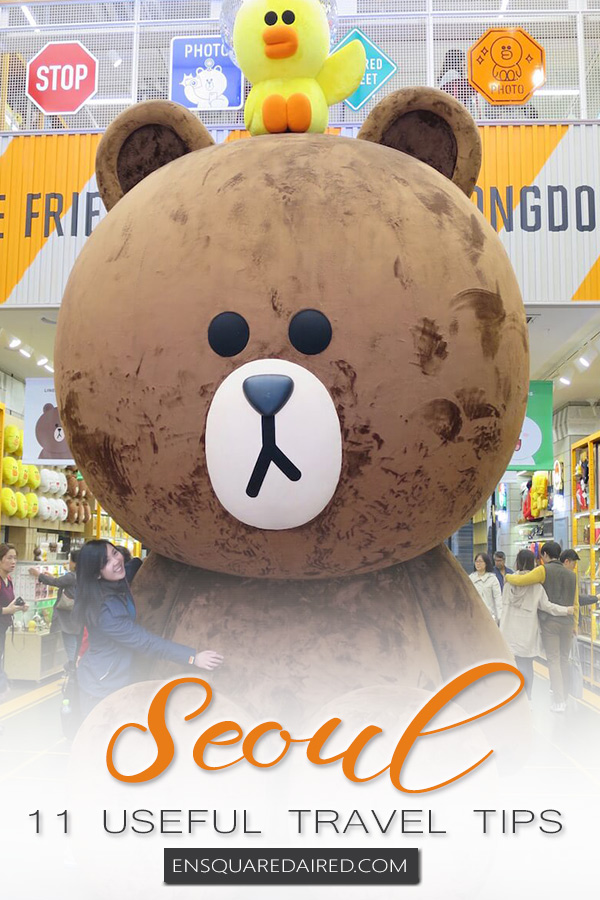 This post was first published in August 2016 and last updated in April 2019