Odaiba, the artificial island in Tokyo Bay is one of the most famous tourist destinations in Japan. Originally a shipyard for the Japanese U.S. fleet, Odaiba is now a hotspot for tourists and locals alike. Whether you are looking to visit the famous Gundam statue or you are looking to be transported to the future, Odaiba is a must-visit during your trip.
The history of Odaiba
Initially built for defensive purposes from sea attacks in the 1850s, this island expanded as a seaport district during the 20th century. Over time, the island became a hotspot that houses many shopping malls, museums, and entertainment. Now, Odaiba is a major commercial, business and entertainment area. Another reason to visit Odaiba is because of the architectural design of the buildings on this island. Admiring the architecture in Odaiba alone will make you feel like you are visiting the future. It still astounds me that many of these futuristic buildings were developed in the 1980s.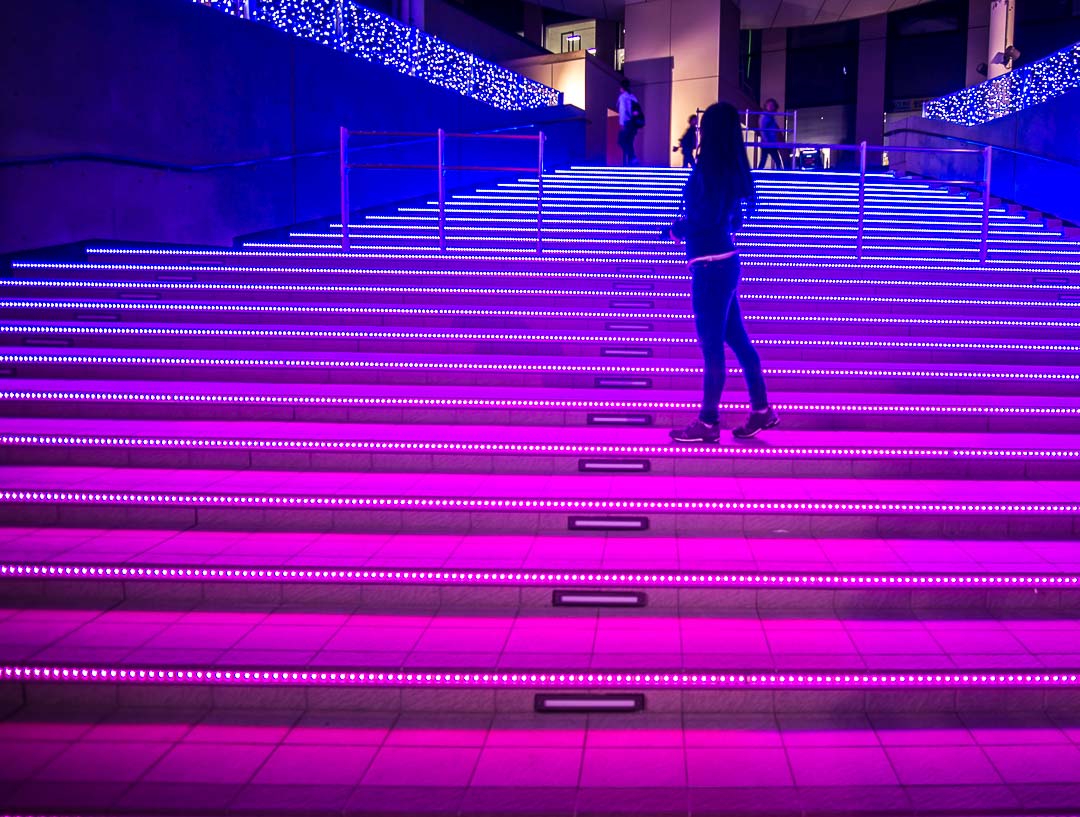 Plan a day trip to Odaiba with one of many activities to do on this island
There are so many options on what you can do to fill an afternoon or a day in Odaiba. Note that you will NOT see everything in one day – sadly, you'll have to pick and choose from this list if you plan to visit Odaiba for just one day.
If you are planning to visit Odaiba and you want to get an idea of all the activities you can do on this incredible island, you'll want to keep this guide handy. This post shows you all the great things to do in Odaiba. Most activities are indoors so you don't have to worry too much about the weather if you're anticipating gloomy days outdoors.
Things to do in Odaiba Tokyo #1: Get a view of Odaiba's skyline in the Telecom Center Building
This square building with a hollow center is hard to miss thanks to its unique architecture. Once you're done admiring it from afar, you can go to the building and visit their observation deck to get panoramic views of the bay and the city. The best time to visit the observation deck is during sunset or at night.
Things to do in Odaiba Tokyo #2: Visit Miraikan – National Museum of Emerging Science and Innovation
Miraikan is a famous landmark in Odaiba and is dedicated to future innovation. This museum covers many subjects, such as aeronautics, medical and other technological advancements. There are many booths that showcase the latest robots. There are also many interactive displays and robots walking around the museum.
Watch this video to get an idea of what to expect at this museum:
Budget for at least three to four hours in this museum.
Things to do in Odaiba Tokyo #3: Walk along the Rainbow bridge
If you are in a walking mood and you want to catch views of the Tokyo Bay and Mt. Fuji, then consider walking along the Rainbow Bridge!
This Bridge is an iconic symbol of Odaiba and is the connection between the island to the land of Tokyo. The Rainbow Bridge is named so because the suspension bridge is best viewed at night when it illuminates rainbow-like colours. What's fascinating about this bridge is that it has enough solar panels to store energy to power the beautiful light shows at night.
I had the chance to drive across the bridge in a go-kart and let me tell you, it was exhilarating and frightening all at the same time!
Things to do in Odaiba Tokyo #4: Watch a light show at the Gundam statue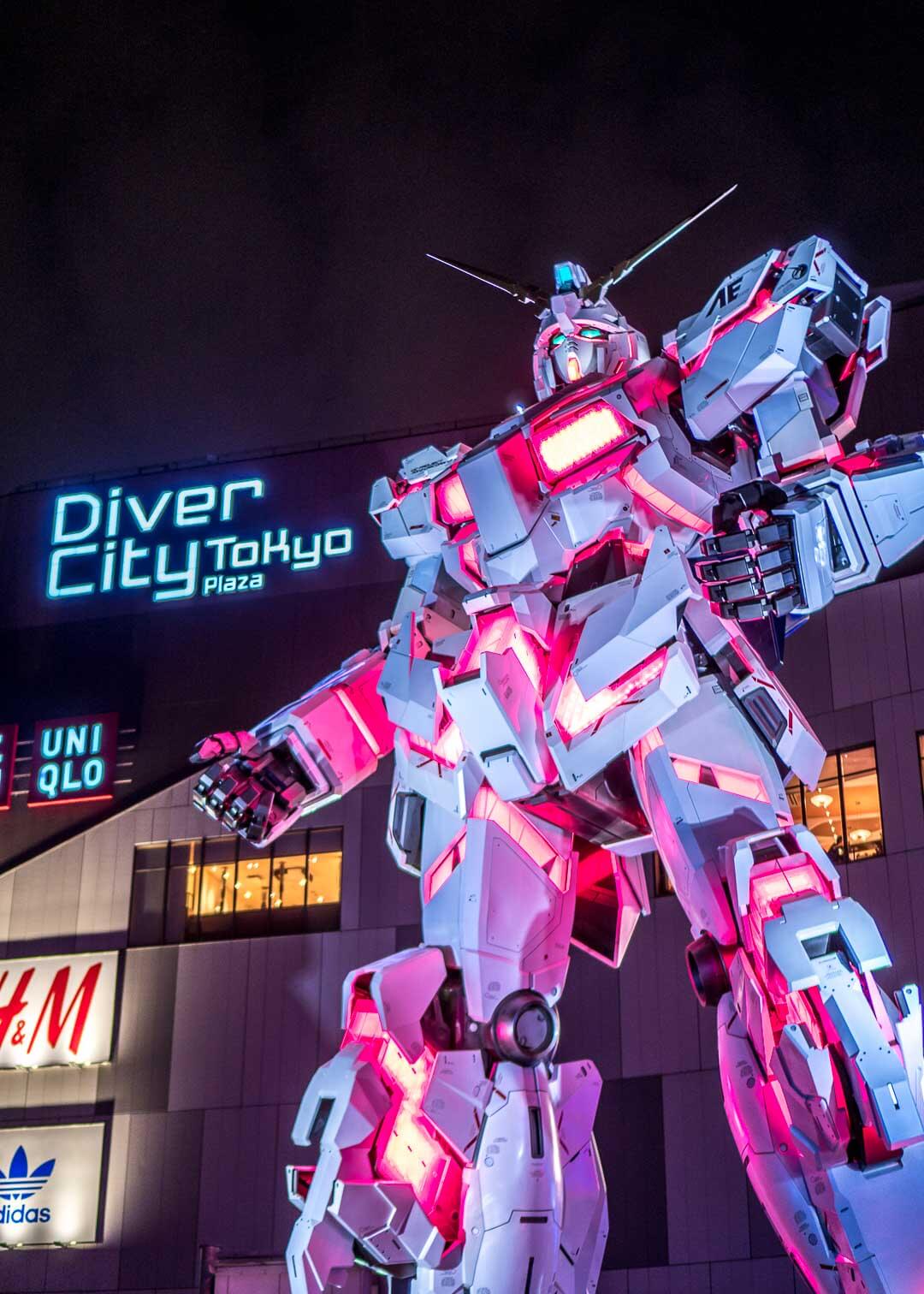 If you are into Japanese anime, then you've likely heard of Mobile Suit Gundam. This popular anime series features giant robots in their show and has generated loyal fans all over the world. The Gundam Statue stands at 19.7 meters tall and is one of the main attractions of Odaiba. I highly recommend visiting at night for the light show where the robot goes into "destroy mode".
Once you're done checking out the Gundam statue, you can head inside for a Gundam-themed café if you are a hardcore fan.
Things to do in Odaiba Tokyo #5:Relax at the Oedo Onsen Monogatari
This onsen is a natural hot spring theme park that has shops and vendors recreating the Edo era. Once inside, you can play Japanese games, eat Japanese cuisine and experience the architecture and baths from the Edo period. You can easily spend a whole day here if you add on the onsen spa packages.
Things to do in Odaiba Tokyo #6: Check out the Statue of Liberty
The Statue of Liberty in Odaiba is a scaled-down replica of New York's statue and sits in front of Rainbow Bridge's walkway. From afar, this statue looks huge, but in reality, this statue is just 40 feet tall. The statue was a temporary art installation to commemorate the French-Japanese relations. Now, it is a permanent fixture because of the public outcry that happened when the Japanese took it down for a year.
Some interesting facts about the Statue of Liberty
The Statue of Liberty was originally a temporary fixture in Odaiba. Yet, the outcry over the removal of this statue made it a permanent spot overlooking the bridge
There are three replicas of the Statue of Liberty in Japan!
Things to do in Odaiba Tokyo #7: Take a ride on Daikanransha, the world's 12th largest Ferris wheel
Get an aerial view of Odaiba on Daikanransha, a 377 feet tall Ferris Wheel. The ride will be 15-minutes long and will give you a panoramic view of Tokyo Bay and Odaiba below. If you're lucky, you may even catch a glimpse of Mount Fuji on a clear day!
Things to do in Odaiba Tokyo #8: Visit the Fuji TV building headquarters
If you have some time to spare, check out the Fuji TV building headquarters. This futuristic-looking building is a great place to get a view of Odaiba and the Rainbow Bridge. If you want to visit the ball of the building, make sure you check the opening and closing times.
Things to do in Odaiba Tokyo #9: Take some fun photos at the Tokyo Trick Art Museum
If you are looking for some goofy photos to take, then this museum is worth visiting. The Tokyo Trick Art Museum has many comic looking pictures on their walls. By angling yourself and posing in certain ways, you can trick the camera to make it look like the art in 3d! This museum is tucked away on the fourth floor of Seaside Mall.
Things to do in Odaiba Tokyo #10: Go shopping on Odaiba Island
Shopping alone at one of the many malls at Odaiba can take up a whole day during your visit. Here are some great places to visit:
DiverCity Tokyo Plaza: This mall has seven floors of clothing stores, Japanese souvenir shops and restaurants. There's also a bowling alley, arcade and karaoke bar in the mall
Venus Fort Mall: This mall looks like a Renaissance Italian city with its beautiful marble columns, Italian statues and water fountains. Another great thing about this mall is the changing ceiling. The clouds will change from day to night and will make you feel as if you are wandering a European city.
Aqua City Odaiba: This large shopping complex has over 140 shopping and dining facilities. Expect to find fashion, shoes, toys, restaurants and accessories. If you want to relax and take a break from shopping, there's a cinema complex in the mall.
If you are a ramen lover, make sure to visit Tokyo Ramen Kokugikan Mai in the mall, which houses six famous ramen restaurants.
Tokyo Craft Town: This artsy shop allows you to buy glass sculptures and unique art candles as souvenirs. If you have time on your hands, you can join a workshop to make your own snow globe! How kawaii is that?
Things to do in Odaiba Tokyo #11: Visit Leisure Land
Another great place to visit is Leisure Land, a gaming complex filled with ninja illusion houses and haunted houses. There are karaoke activities and arcades in Leisure Land.
Things to do in Odaiba Tokyo #12: Spend an afternoon at Café De Miki with Hello Kitty
If you're looking for a quiet place to enjoy a cappuccino, Café de Miki is a great place to relax in Odaiba Island.
As you can imagine, everything served here is Hello Kitty themed and there's even a huge life-sized Hello Kitty plush doll at the entrance!
Things to do in Odaiba Tokyo #13: Visit the MORI building DIGITAL ART MUSEUM: teamLab Borderless
This visually stunning digital art museum is about "borderless worlds" and displays artworks that move and intermingle across the 10,000 square meter exhibition. The borderless artwork interacts and changes at the presence of visitors.
Tips before visiting:
Buy tickets in advance if you plan on visiting to avoid disappointment.
Arrive early to avoid lineups! Come before the museum opens if you hate waiting in line
Other things to do in Odaiba
Have a picnic in West Promenade
Play at Tokyo Joypolis amusement park
Visit the Odaiba seaside park
How to get to Odaiba
You can get to Odaiba in a few different ways:
Take the train to Odaiba
Make sure to sit in the front for an incredible view to Odaiba
Taking the train to Odaiba is perhaps the easiest way to get to this manmade island. Simply ride from your nearest station and get off at Daiba Station. Once there, change stations and take the monorail to Telecom Center.
Get to Odaiba by Tokyo water bus
For a more scenic view, consider taking the Tokyo water bus to get to or from the island. To get the best of both worlds, you can take the train to Odaiba so you can get some great views of Rainbow Bridge and take the ferry back for a different perspective of Odaiba.
You can purchase tickets on the waterfront on the north end of the island and take the ferry back to Tokyo.
Take a tour of Odaiba
If you prefer to leave the planning to someone else, here are some great tours:
Private Tour – Robots and Cars; Experience Japanese Technology: See the more futuristic side of Odaiba in this private tour group. You'll learn about the futuristic developments, come face-to-face with realistic-looking robots at the National Museum of Emerging Science and Innovation and you'll get to visit the Toyota City Showcase.
Half-Day New Tokyo Afternoon Bus Tour (teamLab, Toyosu Market & Cruise)
This tour allows you to visit TeamLab's Borderless Museum and Toyosu Market, Tokyo's newest kitchen which opened in October 2018.
Tokyo Panoramic: Meiji Shrine, Asakusa Temple, Tokyo Bay Cruise & Odaiba Day Tour
Combine your visit with temples, gardens and shopping areas around the Tokyo bay in a day. This tour also takes you to Meiji Temple, the Imperial Palace, and Asakusa.
Stay connected
If data is a must-have while in Japan, you'll be happy to know that WIFI is very easy to buy and use in Japan. Whether you are looking for data to help with menu translations, posting on social media, or using maps to figure out where you are, having a pocket WIFI in Japan will be super handy for you. Book in advance and pick up your pocket WIFI once you land at the airport. You can book your pocket WIFI here.
You can also purchase a 4G SIM card with plans that include voice and data. Make sure your phone is unlocked or else your Japanese SIM card won't work. Click here to book your SIM card.
Conclusion
Odaiba is a great place to spend a day during your visit to Japan if you are looking for a unique and futuristic experience. Planning your trip out in advance is definitely recommended to avoid the lineups and sold out tickets!