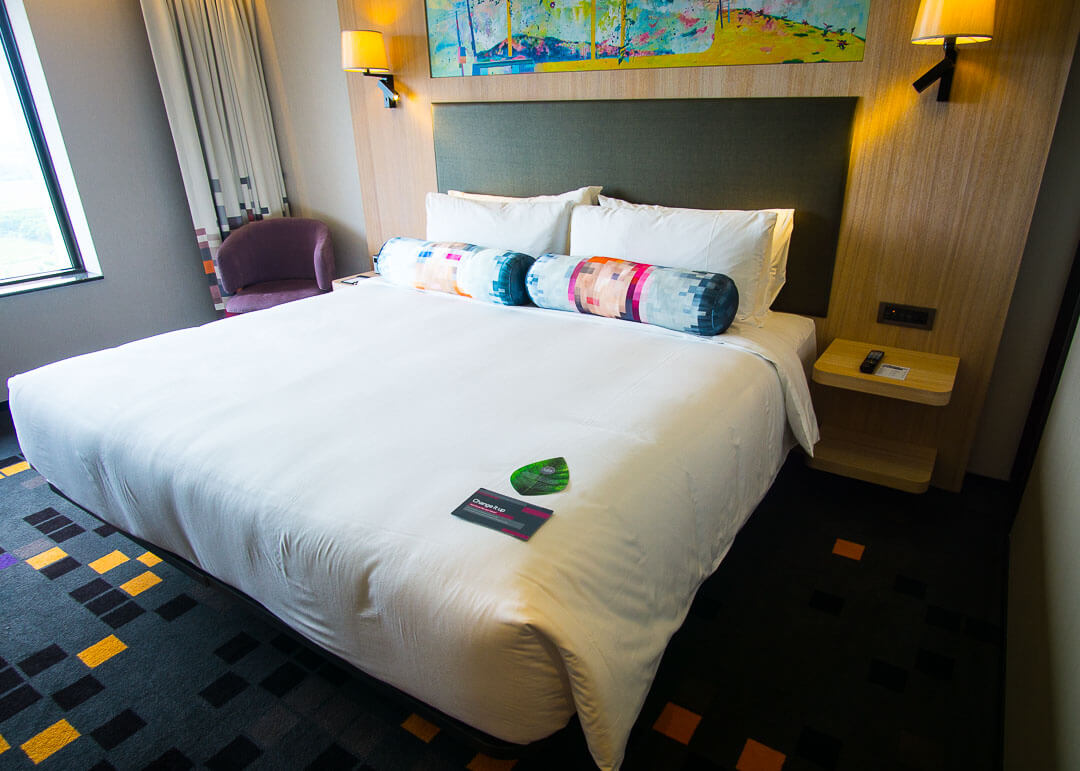 During our year of travelling, we planned on spending three months in Taiwan. We struggled to find accommodations that would fit our plans during Taiwan and so we decided to stay at Aloft Taipei Beitou for a few weeks. We chose this hotel because of its location, price and availability.
If you are visiting Taipei and you are looking for an affordable modern hotel in a convenient location, then Aloft Taipei Beitou may be for you. This review is likely the best you'll find about this place since I stayed here for almost three weeks while in Taipei.
The Ambiance of the Aloft Taipei Beitou
This mid-priced hotel has a spacious and modern feel as soon as you enter the lobby. The lobby itself is very spacious and has a pool table, a roomy lounge and a bar. It definitely has a family-friendly vibe as it is common to find parents enjoying cocktails while kids are running freely in the lobby.
On weekends, the lobby is very vibrant with live music and guests sometimes heading down to watch soccer on some of the television screens.
The room at the Aloft Taipei Beitou
Our room was the Savvy room and was comfortable for the two of us. The furnishings are new and the colour scheme is very bright and cheerful.
We had a great view of Guandu from our window. There was a typhoon during our stay and I was able to catch it on my window ledge in my room:
The bathroom had modern finishes and has a standing shower
The service at the Aloft Taipei Beitou
The front staff is very professional, friendly and helpful.
Another great perk about this hotel is that you can bring your pet! If you book in advance at Nook, you can also bring your dog down to the restaurant, which is a nice touch for pet lovers.
Like other Marriot hotel chains, my room came with a welcome gift for my stay. We received a basket of cherry tomatoes on our first night at Aloft Taipei Beitou
The location at the Aloft Taipei Beitou
The location of this hotel is not as convenient as one would like in Taipei, but it's still not bad. It is a bit out of the way compared to the rest of Taipei but you can still get to the Taipei Main Station in 30 minutes. You can walk to either Beitou or Qiyan MRT station in under 10-minutes. The walk itself is not too scenic as the hotel is located in a more residential area. It's also a great location for exploring Tamsui and the Beitou hot springs.
The facilities at Aloft Taipei Beitou
Nook
Our room included complimentary breakfast at Nook, a casual dining area on the third floor. The terrace outside of Nook is spacious and a great place to relax.
W XYZ(SM) Bar
The bar is spacious and gets very lively at night. Whenever FIFA games were playing, the whole lobby was filled with people watching the game on TV
Re:fuel by Aloft
A nice thing about this hotel is that they have a grab and go eatery for those who don't feel like venturing out to a convenience store. Unfortunately, Family Mart and 7-Eleven is a bit of a walk from this hotel so having this eatery in the hotel itself is very convenient. If you are a Marriot member, you will get one complimentary drink from the eatery per day.
The Gym
The gym is open 24/7 and has a great view of Taipei. I often came up here to refill my water bottle and found it to be empty most days.
The laundry room
Having access to laundry was a huge perk for us! There was rarely ever a wait to use the laundry machines.
Conclusion
The Aloft Beitou is a great place for couples and families. We would definitely consider this hotel when we return for a future visit to Taiwan.