If you are here reading this post, chances are you are spending some time in Northern Thailand to visit one of the most beautiful (if not most beautiful!) temple in Thailand!
Yes, that might sound like a bold statement, but honestly, a visit to the Wat Rong Khun white temple in Chiang Rai will leave you speechless.
About Wat Rong Khun 
Often referred by foreigners as the White Temple, Wat Rong Khun is a private temple that is owned by Chalermchai Kositpipat. This beautiful white temple sits outside of Chiang Rai and is one of the most famous temples in Thailand. While this temple opened its doors to the public in 1997, Wat Rong Khun existed long before the 1990s. However, it was in such bad shape by the end of the 20th century that Chalermchai decided to rebuild the temple by funding the project with his own money.
To appreciate the beauty of Wat Rong Khun white temple in Chiang Rai, you need to know the history
This blog post is photo heavy and super long. This post is meant to be a comprehensive guide for anyone who is planning a visit to Chiang Rai's white temple. There are plenty of symbolic messages that may be missed without prior knowledge before your visit to Wat Rong Khun. Read on, and you'll see what I mean.
I wish I could have spent more time at the Wat Rong Khun white temple in Chiang Rai
While I could have spent half a day at this temple, I only got to spend an hour or so as part of our day trip to Chiang Rai from Chiang Mai. Luckily, G♥ and I were fortunate enough to have a private tour that our hotel recommended to us to Chiang Rai. That meant we had Patrick, our excellent tour guide all to ourselves to ask a gazillion questions.
"Only death can stop my dream but cannot stop my project" – Artist Of Wat Rong Khun white temple in Chiang Rai
Chalermchai's vision of the white temple is to bring awareness to Thai Buddhism and mix Thai art with the modern world. His dream is so grand that the project, which started in 1997, will take over 90 years to complete. Chalermchai is a planner and has prepared construction plans long after his death.
Chalermchai put a lot of work and thought into this temple. Every detail has a riddle, teaching, or symbolism linked to Buddhist philosophy. There is so much detail in the design of this temple that even most Thais are unaware of the meaning.
A visit to Wat Rong Khun white temple in Chiang Rai starts with a superhero and a sinister welcome
If you are like me, a google search of Chiang Rai's white temple shows snapshots of a glistening temple. At a distance, it almost looks like this temple fell from heaven. And so, I was surprised when I saw a superhero, followed by creepy figures at the entranceway.
We were first greeted by this superhero:
Sorry guys, my lack of awareness of superhero characters is pretty bad. My conversation with Patrick went something like this:
Patrick: You know who this superhero is, right?
Me: ………………No…………….
Patrick: You don't recognize this character!?!?!?!
Me: *Blank stare*
Patrick: *facepalm* It's _____ from the Avengers! (Please fill in the blank… I don't remember the name of the superhero)
Me: Ohhhhhhh! I think I saw that movie! I remember… falling asleep
Patrick: *Sigh* let's move on
To this day, I still don't remember the name of the superhero. Patrick may have mentioned another movie, and this character may not be from the Avengers. Please feel free to enlighten me if you recognize this character.
Anyway, I digress.
As I continue on my path, I encounter creepy headless characters near the entrance.
These headless figures represent how humans give into temptations of negative emotions. The disembodied heads are also symbolic of leaving your demons at the entrance. I get goosebumps just looking at these photos.
As well, some statues show the sins of alcohol and smoking.
Why is the white temple white?
I next come across a beautiful Buddha statue. The Buddha is white, while everything else is gold. It's important to note that the theme of the two primary colours starts here. Traditional Thai temples are colourful and adorned with gold. Chalermchai defied that tradition and used white to make his artwork stand out.
At Wat Rong Khun, Chalermchai used gold and white as the two main contrasting colours. Gold symbolizes humans' desire for material objects as well as the focus on the human body instead of the mind. The colour white represents a pure mind and the movement towards focus and merit.
An observation I made at this temple is how white is extensively used at this temple in comparison to gold. I suppose another interpretation of this imagery could be that the mind is far greater than the body.
The white theme continues, even beneath the waters. The pond encircling the temple is home to Japanese albino koi carp.
In case you didn't know, carp fish comes in different shades of colour. Koi carp are commonly gold and red with specks of black on their scale. Chalermchai requested that only Albino Koi carp (which are rare to source) live in the pond.
I'm telling you, every tiny detail in this temple is not overlooked. There is intention and meaning to every aspect of this temple.
Related: Chiang Mai Street Food, A Delicious Thai Food Experience
The semicircle, representing life, as known to humans at Wat Rong Khun white temple in Chiang Rai
The arch represents life and suffering as humans know it. The fang-like sculptures portray Rahu's mouth.
The imagery behind the semicircle is crazy detailed. Look closely, and you'll see depictions of hellish hands, skeletons, and tons of penises. There are images of ghostly faces who look like they're in pain and agony. There are also other gruesome figures, like an evil fish feasting on a human hand.
All these items symbolize the dark side of human's greed, hell, and suffering. There are so many hidden messages within the semi-circle. For example, those penises embedded in the carvings represent the adverse effects of procreation. Overpopulation is one of the leading causes of some of the world's most significant problems.
However, the message here is simple. If one can fight greed and the lust of desires, one can cross the bridge of rebirth. The bridge will then lead one to nirvana.
Honestly, photos don't do justice to the beauty and detail of this temple. Here's a video montage I made of Wat Rong Kun – hopefully, it'll give you a greater appreciation for this temple:
The bridge of "the cycle of rebirth" at Wat Rong Khun white temple in Chiang Rai
Metaphorically speaking, if one reaches the Ubosot (the main temple), they have achieved nirvana. The only way to reach the temple is to cross the bridge, named the "cycle of rebirth."
This bridge represents the rebirth of life to the land of Nirvana with Buddha. Symbolically, when one crosses over from the cycle of death and rebirth, one is free of suffering.
A side note if you are visiting this temple: I should warn you, traffic only goes one-way once you are on the bridge, due to the immense number of visitors. There is usually a person on a loudspeaker telling visitors to keep moving. If anyone spends too much time on the bridge, he/she will call you out!
Yeah… I got called out a few times. I have no shame, so I didn't feel embarrassed… but I can tell Patrick felt mortified on my behalf.
The ubosot (ordination hall) At Wat Rong Khun white temple
The ubosot is the most prominent building at Wat Rong Khun. The ubosot blends traditional Thai temple elements with contemporary design.
This temple glistens under sunlight thanks to the combination of white plaster and mirrors. The mirrors reflect light, thereby reflecting Buddha's wisdom to the universe.
Once inside the ubosot, beautiful murals depicting life, death, and rebirth cover the walls. Unfortunately, photographs of the paintings are not allowed. I suppose that's also an excellent reason to visit the temple and see the memorizing artwork in person. Perhaps, not allowing photography could also be so that visitors are present in the moment when viewing the artwork.
The murals inside Ubosot At Wat Rong Khun white temple in Chiang Rai
The paintings are a bit bizarre. Let me tell you what you will see first. And then I will explain why.
The beautiful paintings showcase Buddhist images with modern-day characters, events, and companies.
For example, expect to see:
Batman
Darth Vader
Elvis Presley
Freddie Kruger
George Bush
Harry Potter
Kung Fu Panda
McDonald's
Michael Jackson
Neo from The Matrix
Spiderman
Superman
The Hulk
The Terminator
Transformers
These heroes and villains are alongside scenes of suffering, like the plane crashing into the twin towers in New York and nuclear wars. As well, paintings of an apocalyptic end to the world fill the walls along with natural disasters. Chalermchai attempts to entwine chaotic modern themes with Buddhist motifs.
There are also images of the natural cycle of life for humans: birth, adulthood, illness, and death. These depictions are encapsulated within lotus flowers around the ubosot walls.
And then there is a large wall with a mural of Buddha, along with white statues of Buddha. Buddha sits with serenity above all the chaotic imagery.
The meaning behind these murals At Wat Rong Khun white temple in Chiang Rai
At first glance, one might describe the paintings inside the ubosot as eccentric and random.
But once you understand the stories behind these images, you'll appreciate the message. There is so much meaning within these four walls, and there is a lot of beauty to take in. Patrick explained that the paintings depict human nature's destructive ways in this world.
Chalermchai also refers to the murals as the death of innocence. His painting portrays the misery and distress in today's society. All these modern-day characters represent distractions in the modern world. As well, another clear message is that violence, greed, and hedonism is not the way to live. These diversions prevent humans from finding enlightenment.
And while modern society has tons of heroes, none of them can save us from war, greed, and humans' destructive nature.
A note to readers: If you search on google, you'll find images of the murals inside the Ubosot. If I can offer any advice, it would be to not look for these pictures online and rely on your imagination instead. As I mentioned earlier, photos of the paintings are strictly forbidden and is a tremendous disrespect to the wishes of the artist. Additionally, seeing these images over the internet will ruin your visit for when you do get to look at these paintings in person.
After the ubosot At Wat Rong Khun white temple in Chiang Rai
To be honest, there isn't much after you finish viewing the murals in the ubosot. The rest of the temple site is still under construction. After all, there's yet another 50+ years worth of development planning.
Silver leaf chimes at Wat Rong Khun white temple in Chiang Rai
The artist created a meaningful way for visitors to be part of Wat Rong Khun, by way of leaf chimes. There are thousands of metal chimes, where guests can write a prayer or message. These chimes are then stacked to create beautiful prayer trees and covered walkways.
Each chime presents a donation from a visitor to help support the temple, which costs 30 baht($0.90 USD) per chime.
The artist refuses to accept donations, as a way to have complete control over his vision. The limit of a single contribution cannot be more than 10,000 Baht (under $305 USD).
The golden building at Wat Rong Khun white temple in Chiang Rai
Last, but not least, there is one gold building that stands out among the white buildings. That, my friends, is the bathroom.
Remember what I said about the artist's use of gold at Wat Rong Khun? Gold symbolizes material possessions, greed, and people's wish for money. Here at this temple, the only gold building happens to be the one that houses human waste.
Do you get the pun intended by the artist? Making the public bathroom gold is Chalermchai's way of showing us the real value of material things. In the end, it's just a pile of crap!
By the way, the toilets are also gold.
Tips and things to consider when visiting the Wat Rong Khun white temple in Chiang Rai

Buddha glistening in the sun
Avoid all physical contact when taking photos with the opposite sex. In fact, it is a good idea to maintain distance out of respect for this holy place
The white temple is open year-round and costs 50 baht to foreigners. That's under $1.50 USD per person (hurray for budget travelling!)
Plan to spend about one to two hours at this temple
Visit Wat Rong Khun white temple when the sun is shining. It will be hot, but the temple will glisten in the beautiful sunlight
To appreciate this temple, hire a knowledgeable tour guide or read up on the history of this temple. Or, keep this blog post handy before your visit 🙂
Avoid visiting over the weekends as this temple becomes very crowded. I visited Wat Rong Khun on a hot April day, and it was still filled with people
Wear proper clothes. Cover your shoulders and make sure your pants are below the knees
Don't start walking on the bridge until you're ready to go! There's no turning back, and you'll be disappointed if you decide that you want to go back to admire the semicircle
Once on the bridge, walk slowly… there's no turning back and the temple workers will scold you over the speakerphone if you stop on the bridge for too long
If you have time the time, stay in Chiang Rai for awhile instead of making a day trip to Chiang Mai and get away from the beaten path
"We will die. The goal isn't to live forever; the goal is to create something that will."
My visit to the Chiang Rai white temple was everything I dreamt it to be, and so much more. I love Chalermchai's vision to create a temple that will exist long after he passes away and the subtle messages in his art that remind us that there is more to life than our physical body and material objects.
Have you visited the white temple in Chiang Rai? Share your experiences in the comments below
Pin for later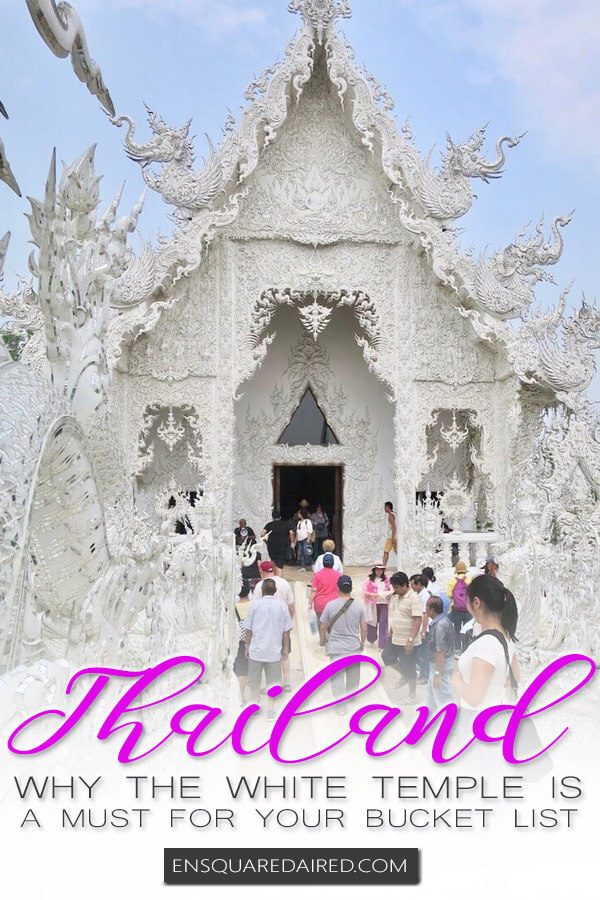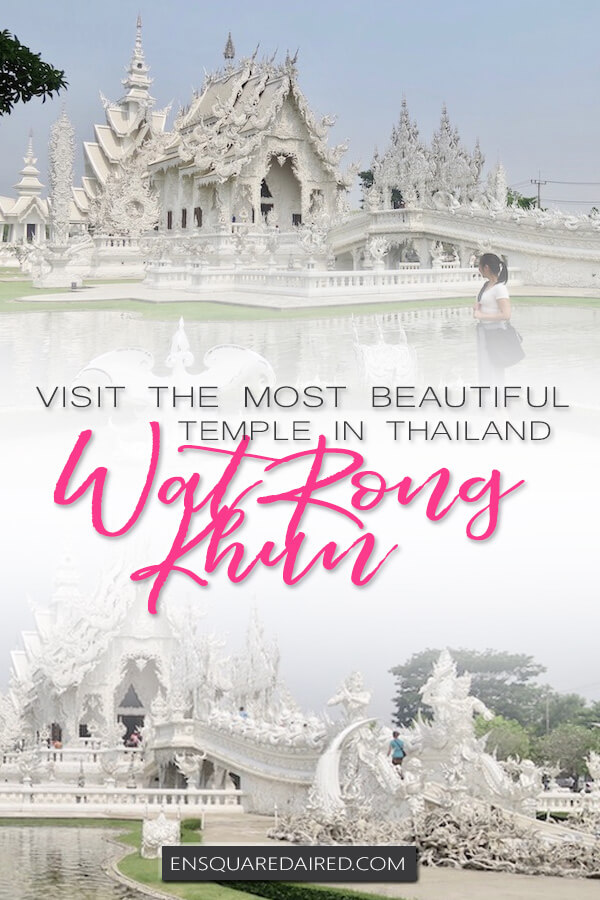 This post was first published in March 2017 and last updated on January 2020