Alright, so if you're reading this page, you are just as confused as I was about booking Phuket tours. There's so much information on the internet and so many websites where you can book tours online. But if you dig deeper, you'll learn that the best deals are if you book trips in person, or through this online website called Klook.
But wait a minute,
Which tour operator should I choose for my Phuket tours?
How do I book my Phuket tours?
What should I do to avoid getting ripped off?
How do I know if the Phuket tour I booked will be safe?
Should I book my tour online or in person?
And a million other questions that will come to mind when you start planning your Phuket trip. I get it, I understand it. I was so perplexed and a bit anxiety-ridden and experienced decision paralysis thanks to the endless choices when I was planning our Phuket trip too. Which is why I wrote this guide to help you with your trip!
Should I book my Phuket tours in person?
If you're like me, and you want a stress-free vacation where everything is preplanned, booking tours during your vacation is not the ideal scenario. And possibly viewed as the worst use of precious vacation time. But, there are benefits to booking your excursion while in Phuket.
Note: I travelled to Phuket during the low season (that was intentional) and scored a lot of good deals. You might want to consider booking things in advance if you are travelling during the high season. 
It's cheaper, by at least 50%
Yeah, all the prices you see online? Well, the same tour will cost 50% in person at most travel kiosks. I don't know why but it just works that way. The one exception where I've seen competitive prices online is if you book through Klook, where some of the excursions are the same price as what I saw while in Phuket. For example, I did the James Bond Island tour and paid 2,700 baht for two people (about CAD 105 or USD 81 for two). Klook has a similar tour for $45 USD. If you decide to book online, make sure research about the tour operator's safety standards before you book!
Booking in person gives you flexibility
You can book tours as late as 6 pm the day before the trip departs. Obviously, there's a risk that the tours might be full, but the benefit is that you can plan around avoiding lousy weather. Weather is significant to consider, especially if you are visiting Phuket during the rainy season as I did. After all, do you think you'll enjoy your island hopping tour if it's raining like a madman outside?
In our case, we thought we'd do two full-day tours but decided to book the second tour after we finished the first one. We realized after our James Bond tour that one sea excursion was enough for us and didn't proceed with the second tour. Booking our tour in Phuket gave us that flexibility.
How to shop for Phuket tours in person?
Ok, so once you've landed in Phuket, you'll notice a ton of tour desks in the city. The first encounter will likely be in your hotel lobby, with a gazillion brochures for you to choose. You'll also start to feel nauseated with the infinite amount of choices when it comes to tours. For example, different tour groups will have the same itinerary with varying types of boats. Or, there will be itineraries that are almost identical, except one or two activities are swapped out. Are you pulling your hair yet? The paradox of choice becomes very obvious when shopping for tours, and making a decision will be difficult.
You'll then step outside and see street vendors every few meters selling the same tours as you saw in your hotel. The only difference is that street vendors will be cheaper than the hotel prices by about 100-200 baht. It's also easier to negotiate prices with street vendors if you are booking more than one tour.
How do these travel kiosks work and why are there so many?
You'll understand what I mean when you arrive in Phuket. There are so many tour stands; they are a dime a dozen, and it's confusing how they operate. I suspect that each kiosk is independently owned and they make arrangements with the tour company on your behalf on the spot.
You might save money by booking the tours at these kiosks, but the customer service will not be there. The problem I have with these booths is that these stands are random and located in the middle of the street. So once you book your ticket, you're on your own. You can try and ask for the vendor's number, but even then, there's a considerable chance that they won't take your call to help you (this happened to me when I booked a minibus transfer in Ao Nang).
What happens when I book Phuket tours in person?
Transactions in Thailand can be entirely different than what you're used to back home. This thought might not cross your mind until you're ready to pay and you have no idea what to expect.
Case in point: My credit card company was very confused about how a kiosk had charged my card three times but wouldn't provide the service.
You find a travel kiosk you trust, and you look at all the pamphlets
You tell the seller which tour you want to book
He or she will make this ominous "phone call" to check if there's space
The seller will then provide hotel information to the tour company to arrange for transportation
You then pay for the service. Usually, cash is the preferred payment, but some (very rare!) booths will take credit card. It often comes with a 3% credit card transaction fee
You are given a receipt and wait for a bus to pick you up on the day of the tour
What happens if something goes wrong? Who do you call? Is there a contact person?
Ah, so here is an important question you need to ask yourself. Once you walk away from the stand, there isn't much of a relationship between you and the seller. After all, they already have your money, so they're not in an obligation to help you if things go wrong. They won't communicate with you if the bus comes late, or worse yet if there was a misunderstanding and the tour bus never comes to pick you up!
What do you do? Who are you going to call? Are you going to walk down the street to inquire about what's happening and why you haven't been picked up yet? And if something goes wrong, how do you even hold these people accountable? You can't leave a review online, and they aren't really associated with any company.
This reason is why I recommend booking your tour through a reputable hotel. If you find that you don't want to book through your hotel, then consider finding another reliable hotel nearby.
Our experience with exceptional customer service for Phuket tours
It took us a long time to decide on which tour operator and tour to book. After speaking to a few vendors, we decided to book through our hotel.
We found Siriwan, the seller to be very trustworthy and attentive to our needs. We had asked other kiosks about safety, tour information and quality of service but no one gave us an honest answer. Siriwan was the only person who was able to respond to our questions. While her prices were higher than the vendors outside the hotel, her service was exceptional. For example, on the day of the tour, she made sure to communicate with us that the driver was running late. When the driver finally arrived, she made sure we got into the right vehicle. She also gave us her phone number in case we needed any help from her. This woman is so dedicated to her job that she works 13-hour days, to ensure that she's there for her customers when they leave and come back to the hotel.
Of course, on the night of the tour, I got super sick and couldn't sleep all night
I was so ill that I contemplated cancelling my trip because it was that bad. But, being the person that I am, I decided to suck it up anyways and figured I could just sleep on the boat if I felt ill.
Well, let me tell you, long days out in the sun + lack of sleep + sickness + boat trip don't go very well together. But somehow I survived.
As I got off the minibus, I saw Siriwan run towards me with a concerned look on her face yelling "Miss Nancy, Miss Nancy, are you ok?" Our minibus brought us back to the hotel 30 minutes later than usual, and she was worried that something happened to me. She told me later that she saw how pale I was in the morning and was super concerned about me all day!
Things to consider before booking your Phuket tours
Preparation will make your decision making easier (good thing you're reading this guide!) and so I've written a list of questions to help you decide while in Phuket. Keep in mind the questions below are for island day tours and land tours as well.
What activities do you want to do?
The list of activities is endless on Phuket. Let me give you a few ideas:
ATV travel
Phuket city day trip
Phuket to Phi Phi island tour
James Bond Island tour
Safari tours
Canoeing
Kayaking
Snorkelling
Island hopping tours
Rafting tours
What kind of boat do you want to take on the tour?
Types of boats are something to consider, especially if you're booking the island hopping tours. That's because there are so many different types of vessels.
Long tail boats
Long tail boats have large engines with propellers in the waters, hence the name. These boats are not a good idea when you're in open water because they're so small. In fact, you'll likely transfer from a speedboat to a long tail boat when you get closer to the islands because some passages are too narrow for speedboats and cruise boats to navigate. Note that these boats tend to be noisier than the speedboat and cruise boats thanks to the engines.
Speedboats
These boats are the most ideal for island hopping tours.
Cruise boats
The boats are bigger and offer a more comfortable ride. It's ideal especially for those who get seasick. The only downside is that bigger boats mean more people, so the experience at sea isn't as intimate as the speedboats. Cruise boats also have a more comfortable indoor space to shelter from the sun.
How is safety taken into consideration?
Safety was a big big deal for us because of all the horror stories we heard about boats in Asia. Safety is something you want to consider. The basic things are:
Are the boats well maintained?
Do they have enough working life jackets on the boat within easy access to the guests?
Will they cancel the tour if the weather is terrible?
It's best to find these answers through research and reading reviews about the tour company. If you ask the travel kiosks, they might tell you anything you want to hear just to get you to book with them.
How much will it cost?
While I don't recommend booking the cheapest option, you still want to do some research to ensure you're getting a good deal. The last thing you want to do is overpay for the same service worth half the price.
Which company do I go to book my Phuket tours?
This question is a tricky one, and it's best to do your research before you arrive in Phuket. We did not have a clue on which tour group we wanted to book with and ended up researching while in Phuket. Not the most ideal way to spend your vacation, especially if you have limited time. We lucked out with being super confused and overwhelmed in Phuket because we were staying in Phuket for an extra long time during our year of travel.
If you're island hopping, is it better to do your excursion in Phuket or on another island?
This question is essential to consider, mainly because you will save on travel time. For instance, we were thinking about visiting Phi Phi from Phuket but then realized that since we will be in Ao Nang, going to Phi Phi from Ao Nang is the better option. Phi Phi island from Phuket is two hours one way, whereas leaving from Krabi would have been a 90-minute journey.
Cheap Phuket tours are not always the best option. Safety should be your number one priority!
Especially when you're doing the day tours visiting islands. You are in open water, and you're subjected to crazy waves in the sea. Booking with a provider who cares about your safety should be your number one priority, not the price! Trust me when I say this, the safety standards in Thailand aren't the same compared to western countries, so the onus is on you to watch out for your safety. Do you want to be on a crowded boat, or on boats that are not well maintained? Or do you want to deal with boats who don't have enough life jackets? Or maybe they do have enough life jackets, but they are all tied together so that in the event of an emergency, it might take you a few minutes to untie them?
You also want to go with companies who are willing to cancel the tour if the weather is terrible instead of going ahead in lousy weather. There are far too many stories of boats going in open waters with terrible weather, putting people's lives in danger. Or they will cram as many people as possible on the ship, making the tour an unenjoyable experience. The reason why this happens because tour operators usually refund 100% of your money when there's bad weather. That means lost revenue!
Phuket tour prices
Based on what I've seen, prices for tours range from 800 baht to 4,000 baht. Day tours to the islands are usually within the 3,000-4,000 baht range for typical island day tours. But wait, they will always tell you about a "promotion" which can be around 50-60% off the quoted price on the pamphlet, especially during rainy season. If you book more than two tours with them, they will usually give you an extra discount!
Best way to book Phuket tours in Thailand
Well, there you have it, you are now ready to book your first tour in Phuket! If you still want to book online so that you won't have to waste time planning your trip while in Phuket, you can book your tours through Klook, which has competitive prices and is a hassle-free way to book your tours in advance.
PIN FOR LATER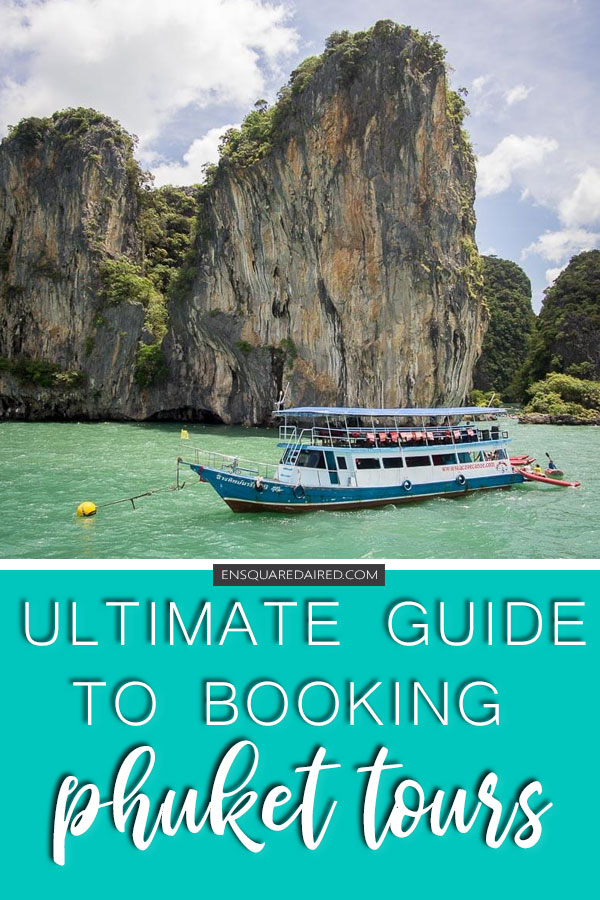 This post was first published on January 2018 and updated on March 2020