Getting from Phuket to Krabi was one of the longest days of my life. The journey started at 11 am when we were picked up from our hotel and ended at 6 pm by the time we arrived at our hotel.
If you're new to the website and want to follow my year of travelling, visit this section for all my posts related to long-term travel. You can also start from the beginning of the series by reading this article. Here's a short summary about me leaving home for a year to travel.
Phuket to Krabi travel options
Before arriving in Phuket, we initially thought we'd be coming by ferry. It would have felt like a mini cruise, and we would be able to check out the scenery. But, after working out the logistics and prices, we decided to take the bus instead, especially since we were in Phuket during the rainy season when the waters can be choppy. Here's a summary of what we knew at the time of booking, and the breakdown of each alternative.
Private taxi from Phuket to Krabi
Phuket to Krabi travel time: 2.5 hours
phuket to Krabi transfer cost: 3,500 baht per car
Pros of hiring a private taxi
We would be picked up from our hotel in Phuket and dropped off at our hotel in Krabi.
We could make stops along the way to scenic viewpoints for photos.
Cons of hiring a private taxi
A private taxi is the most expensive option. After a scary one-hour car ride from Phuket airport to our hotel, I preferred not to be alone with a stranger in a private car.
Ferry from Phuket to Krabi
Phuket to Krabi travel time: 3 hours
Phuket to Krabi transfer cost: 800 baht per person
Pros of taking the ferry
Travelling from Phuket to Krabi by ferry would have been a beautiful and scenic view. It would have felt like going on a boat tour.
Cons of taking the ferry
It might not be safe to take the ferry. We were in Phuket and Krabi during the rainy season when the waters were choppy.
We would have to arrange transportation to get from our hotel to the Phuket dock with our luggage. Finally, we would then have to transfer from the Krabi dock to our Krabi hotel. So essentially, it would be slower than the minibus door-to-door transfer since we had to wait for the ferry.
Bus from Phuket to Krabi
Phuket to Krabi travel time: 4 hours
phuket to Krabi transfer cost: 850 baht per person
Pros of taking the bus
The price is comparable to the ferry and cheaper than hiring a private taxi.
We would be on a bus with other travellers instead of alone with the driver. The drive on land is pretty scenic.
Cons of taking the bus
It would take a longer time to arrive in Krabi.
Based on the above information, we decided to take the bus, which made the most sense for us. After spending a dreadful hour-long ride from the Phuket airport to our hotel, we wanted to avoid being stuck in a car with a stranger. There is power in the masses, which felt safer to us. By taking the minibus, we would be with 12 other passengers in case our driver tried any funny business.
How we booked our minibus tickets to travel from Phuket to Krabi
Remember all the travel kiosks that you will run across to book your Phuket tours? Well, these vendors also arrange transportation for you as well. We had two options: either book through the hotel or book from the street kiosks. Unfortunately, our hotel at BYD Lofts only offered private taxi transfer, so we decided to go back to Best Western to book our minibus. We made some price comparisons before going back to Siriwan to book our transfer, the kind lady who helped us with our James Bond Island tour. She also accepted credit card payments (with a 3% surcharge), which we always preferred to cash payments.
Sadly, Siriwan wasn't there when we arrived to book, but her colleague Rin was available to help us. Because we spoke with Siriwan first, Rin called her on her day off to confirm details of our transfer.
She helped book our transportation to Ao Nang and made a special request for the driver to drop us off at the hotel. This treatment is not the norm as the bus usually drops passengers off at the Krabi bus station. From there, passengers have to find their own transportation to the hotel. Since we were staying at a new hotel in Krabi, the bus driver was unfamiliar with the hotel location. Rin confirmed the address by calling the hotel and wrote down the number of the hotel for the bus driver in case he needed to call them in Ao Nang. Talk about great service! Of course, we had this special treatment only thanks to Siriwan, who promised that we would get hotel drop-off if we booked through her.
What happened when we took the bus from Phuket to Krabi
The travel day to Ao Nang was one of the most interesting travel days I've ever had. To start, we were picked up at our hotel at 11 am, and we didn't arrive at our hotel in Krabi until 6 pm. So much for a four-hour bus ride. What happened between those seven hours, you ask? Well, let me tell you. It was very crazy, but it didn't start out that way!
A bus with about six passengers in a 12-person minibus came to pick us up at our hotel. The minibus arrived about 20 minutes late, but we were ok with that since there were few passengers on the bus.
Not bad! With all this space, we thought we were going to have a relaxing trip. As we kicked up our feet and got settled in, the driver goes around Phuket to pick up other passengers. He continues to drive around the city for 30 minutes before he makes a sudden stop. In his broken English, he told everyone to get off the bus.
Wait, what… What is going on…?
Not knowing what to do, we get off the bus. The driver then ushers us to get on another bus where we join other locals. Not only was every seat taken by a passenger, but there was a ton of cargo on the bus, on top of our luggage as well.
These moments are when being able to transform yourself into the ball becomes a life skill. Asian squat is necessary, and it's easier to get comfortable when you curl up into a ball.
We quickly realized that this was not the ideal way to get from Phuket to Krabi, but hey, it was quite enjoyable. I sat next to Thai people, which I thought was pretty cool. The driver couldn't speak much English, so it was hard to ask questions. We just played follow the leader, and that was it.
At some point, the bus driver made a bathroom stop. Luckily, the toilets were quite clean. Of course, they were squat toilets, and you needed to bring toilet paper, but that's normal in Asia.
The bus ride from Phuket to Krabi
It was a long and arduous one, but I didn't find it to be too bad. I am most comfortable sitting crosslegged anyway, so I found the ride to be fine. I passed the time by listening to podcasts and catching up on friends' voice iMessages. It was a quiet ride, and I had to be mindful to not laugh too loud from my friends' funny jokes to avoid disturbing the others.
The ride was very scenic
I wish I had taken more photos of the roads, but I was too squished to even think about that. It was cool to see the landscape change from Phuket to limestone mountains in the horizons. The first sight of limestones was breathtaking.
Finally arriving in Krabi!
After a few hours on the road, we finally made it to the Krabi bus station! Relief! All passengers are told to get off the bus and wait inside the bus terminal. At this point, we assumed that another bus would come and transfer us to the hotel since we are 30-minutes away from our destination. What happens next is crazy as we ended up getting in a stranger's car in Thailand to be driven to our hotel. WHAT!? We realize now that we never asked HOW we will get dropped off, we just assumed that another bus would come pick us up from the Krabi bus station! How wrong I was.
Luggage and storage on the Phuket to Krabi bus
One of the most significant concerns we had during the trip planning stage was the ease of travel by bus and train since we had a huge luggage and a carry-on. While it's not a lot of stuff for a year of travelling, it is a pain to deal with when many transfers are involved.
When it came to bus travel, we were worried about stuff getting stolen, given all the crazy stories we hear about bus travel in Thailand. Luckily, this was not the case for us since our luggage was within our peripheral vision at all times.
As I mentioned earlier, the minibus that ended up taking us from Phuket to Krabi was already packed to the roof with passengers and stuff. Our suitcase was the last to go on the bus, and we had no idea how they were going to rearrange the stuff. As it turns out, the driver must have taken some Tetris course because he managed to fit our luggage in the gap between my seat and the passenger door! His secret weapon was using a tiny wooden stool to balance the luggage! Talk about impressive! It was a proud moment as it reminded me of how resourceful we Asians can be. It's one of our talents!
How safe was the ride from Phuket to Krabi by bus?
I was a bit anxious about the bus ride, given the crazy stories I've heard about bus travel in Thailand. Fortunately, the bus driver was a good one – he drove at a decent pace and didn't do anything crazy on the road. There was no hectic driving.
How comfortable was the bus ride from Phuket to Krabi?
I was pretty comfortable. The bus was old but clean. There were seat belts, and there was AC, so I was happy. Since I sit cross-legged or with my feet on the seat anyway, it didn't matter that I didn't have leg space. G had a seat all to himself, and he seemed to be comfortable. He did have to hug his backpack the whole time, and I had my stuff at my foot, along with all this other random cargo.
Stop locations
We weren't expecting many stops, but we had a lot. We stopped at:
Transport Office Company Limited, 154 Phangnga Rd, Tambon Talat Yai, Amphoe Mueang Phuket, Chang
Wat Phuket 83000 to transfer to another minibus
Phang-Nga Provincial Transport Station, 4 Soi Lungkai, Thai Chang, Amphoe Mueang Phang-nga, Chang
Wat Phang-nga 82000 for a few mins – Toilet stop
ปั๊มLPG Ptt ถนน ศรี พังงา ตำบล กระบี่ ใหญ่ 81000, Tambon Pak Nam, Amphoe Mueang Krabi, Chang Wat
Krabi 81000w – no idea why we stopped. We just waited for the driver
Tambon Pak Nam, Amphoe Mueang Krabi, Chang Wat Krabi 81000 – our final stop at the Krabi bus terminal
Things to consider when you book your transportation
Read reviews about the bus company. Find out the name of the bus company
Consider what would happen if you can't ask questions in English if you can't speak Thai
Consider buying data so that you can track where you are going while on the road
Phuket to Krabi
While the bus ride from Phuket to Krabi wasn't bad, I think I might try the Ferry next time. I did find that it was a great way to travel with the locals and experience travel the way they did. And because I was not in control of what was going on, it was one of those moments that reminded me how sometimes, you just have to go with the flow.
PIN FOR LATER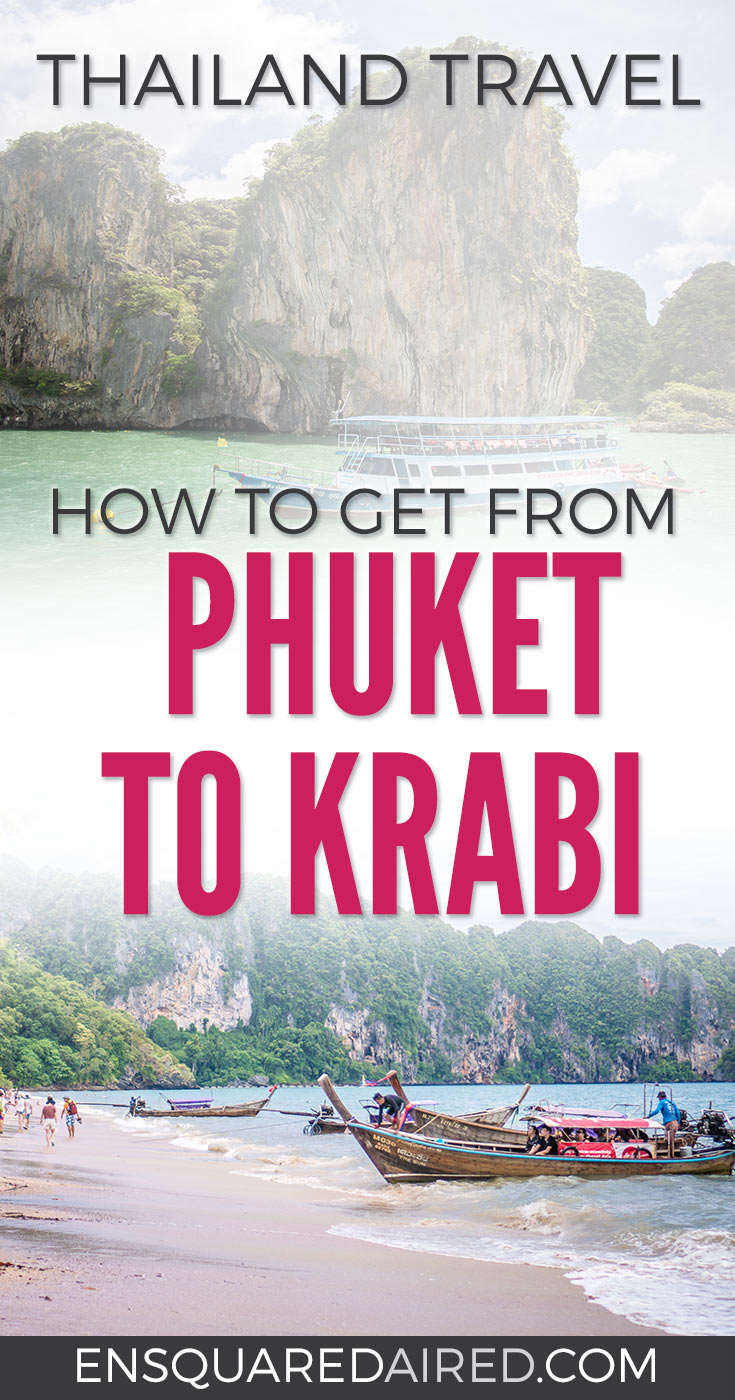 This post was first published in January 2018 and last updated on December 2019