Once a French colonial building, Ta Prohm Hotel opened its doors as one of two hotels in Siem Reap in 1993. This fact is astounding, considering how there are currently over 300 hotels in the city. Back in the day, the hotel was so busy that guests would pay to sleep on the lobby floor. All they needed was basic bedding and a mosquito net to get through the night!
---
This post was written in collaboration with Ta Prohm Hotel
---
Along with backpackers crowding the foyer back in the day, the hotel also welcomed notable figures:
Yasushi Akashi, Undersecretary-General for Humanitarian Affairs and Emergency Relief Coordinator
Vũ Khoan, former Deputy Prime Minister of Vietnam
Chuan Leekpai, 20th Prime Minister of Thailand
A step into this place feels like it could be a museum. That's because the owner is fond of preserving and sharing the Cambodian culture to the world. Even the suites have history to them, as some have furniture dating from the Sangkum Reastr Niyum period.
Read Next: What Is One Life Changing Year And How Is It Related To My Decision To Travel For A Year?
The design of Ta Prohm Hotel Siem Reap
The antique feel is intentional – you can sense it the moment you walk through the doors of Ta Prohm Hotel. The first thing you'll notice when you enter the hotel is how everything is of wood. The floors, walls, artwork, furniture – everything follows that theme. In a sense, the intent behind using wood is to welcome guests into a Cambodian home because most traditional dwellings are of wood.
What's impressive is that the wood is well-preserved even after almost 20 years after it opened its doors.
The artwork at Ta Prohm Hotel Siem Reap
The artwork is incredible as it models some of the most beautiful works you will find at Angkor.
The carvings you see in this hotel are thanks to Professor Kov Sokhan from the Royal University of Fine Art. It is so impressive to see in person, and it shows the talent behind this professor! If you have an eye for art, you will appreciate the level of skill and detail the professor put into these carvings.
A tour of the artwork at Ta Prohm Hotel Siem Reap
We were fortunate enough to get a personal tour to see all the artwork by Srey Mach and Ly Leakhena. The girls were patient with my questions, and there were lots of giggling involved as we toured the hotel.
Every floor of the hotel has different styles of apsaras, varying in posture and outfits. Whenever a new king took power, new apsaras were created to reflect that era.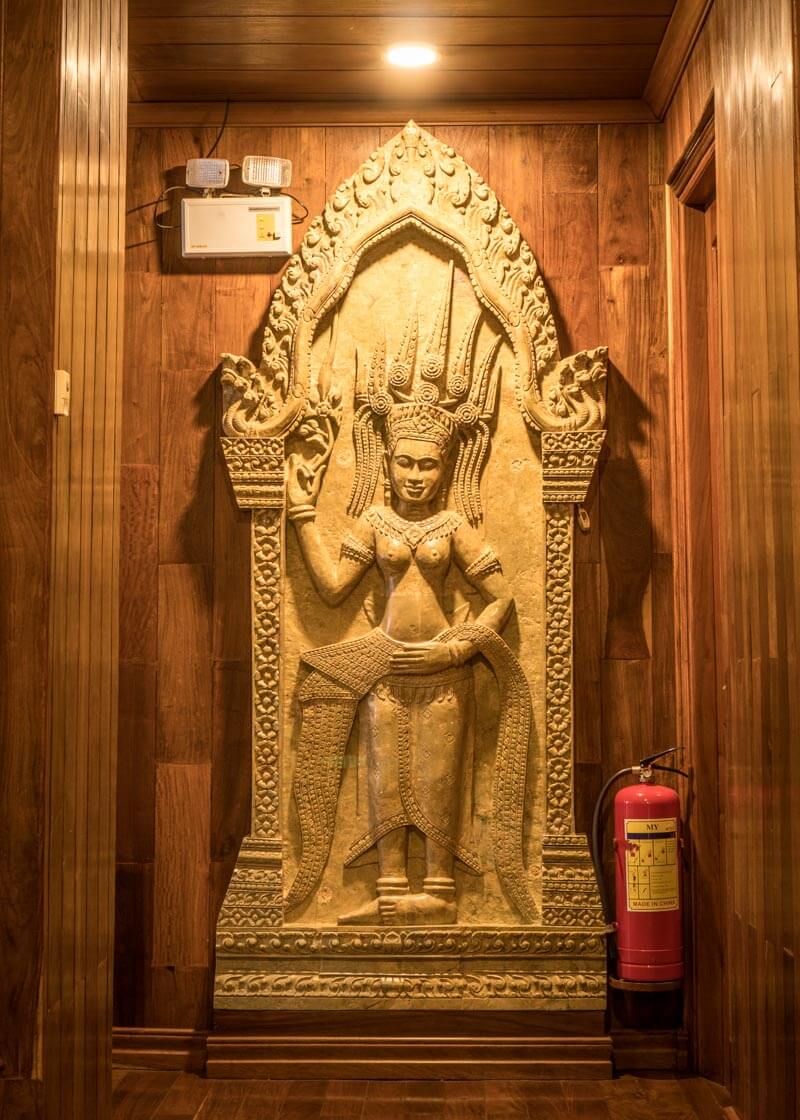 Apsaras from different eras shown above. Notice the different crowns on their heads, as well as differences in their outfits. Each floor has Apsaras located in the corner to add variety to the hotel.
Read Next: Life As A Nomad | Third Month Highlights, Mostly In Cambodia
Lakhaon Nang Sbek (Khmer Shadow Theatre)
King Jayavarman VII
Srey Mach lent me her guidebook about Angkor Wat, which I spent the whole night reading. Cambodia remembers King Jayavarman VII as one of the country's most incredible leaders, which I found fascinating. He is the leader who brought Buddhism to the kingdom and built many hospitals, roads, and schools for his people. As well, many temples around Angkor today was constructed during his time. The most famous ones that you may be familiar with are of course Bayon, Ta Prohm, and Preah Khan.
The king was a firm believer in Buddhism and felt his people's suffering was his own. As a result, you'll see many statues of King Jayavarman VII with a calm and peaceful expression. Most sculptures represent him in deep meditation while sitting cross-legged.
"When men have lost their children or their wives since a long time, no matter how deeply they cherished them, if they had others, they will end up forgetting their sorrow; but when they have lost, even for a very long time, their father or mother, as parents cannot be replaced, there is no limit to their sorrow" – Preah Khan stele
The two famous temples you'll likely see in Angkor was constructed to honour the King's parents. Ta Prohm (aka the Tomb Raider temple) was dedicated to his mother while he devoted Preah Khan to his father.
The room at Ta Prohm Hotel Siem Reap
The wood theme carries through in all the room to match the Cambodian motif that you see in the main areas of the hotel.
All furnishings are wood-based – the bed frames, seating areas, desk, closet and even the ceiling is wood.
The bed is on the firm side, but that's common in Asia. The lighting in the room is darker than what these photos portray. We found the reading lights to be enough for late night reading.
The Service at Ta Prohm Hotel Siem Reap
The staff always greeted us with warm smiles, friendly service and are quite lovely if you spend time talking to them. Lonh was one employee who remembered our query about laundry upon check-in. He made sure the hotel met our requests, which left us feeling happy.
As long-term travellers, laundry service is a big thing for us. When Lonh gave us a tour of our room, we looked in the closet and saw that laundry is priced on a per item basis. As we have simple items that don't need any special care, we wanted cheaper laundry options. Lonh noticed our hesitation and told us that the hotel could provide laundry service on a per kilo basis.
As we walked downstairs the next day, Lonh immediately talked to his colleague about our laundry and took our clothes. We were happy with this option as it meant we didn't have to find a laundromat and make time to pick up our clothes. It was great to see that the hotel was giving us an alternative to this simple service.
Sometimes, it doesn't take much to please travellers. Simple acts of service like this are all it took to make us happy.
The Breakfast at Ta Prohm Hotel Siem Reap
We were impressed with the large buffet breakfast spread and the menu changed slightly on a daily basis, adding more to the food choices.
There was a vast selection of western and Asian choices at the breakfast buffet. Sausages, potato wedges, and stir-fried dishes were some of the items at the buffet. There was also congee, fresh noodle soup, and an egg station.
While there are many buffet choices, a la carte option is available as well
What I loved most about the breakfast were the simple, healthy options available. There were tons of fresh fruit and vegetable dishes available, including steamed sweet potato! Did you know that out of desperation for vegetables, I paid $6 CAD for 100g of sweet potato in Bangkok just before Cambodia? No joke! So you can imagine how happy I was to see steamed sweet potatoes in the complimentary buffet breakfast!
The ambiance of the restaurant is also quite relaxing. Opened windows allowed an airy breeze to enter the room as we were enjoying our breakfast. You could hear the bustling of the city as the city starts to wake up.
The location at Ta Prohm Hotel Siem Reap
The most significant selling feature of the hotel is the proximity to Siem Reap's center. Ta Prohm Hotel is close to the Old Market, the Night Market, Pub street and other little streets filled with interesting shops and eatery. The location was so convenient that it was not more than a three-minute walk to most of these areas. Each time we found an interesting place we wanted to visit, we were shocked at how it was less than a five-minute walk from the hotel!
Because it is in the heart of Siem Reap, we found the area pretty safe to walk around at night.
The Restaurant at Ta Prohm Hotel Siem Reap
We were surprised at the size of the restaurant when we first walked into it. The dining area looked like it could comfortably fit every guest in the hotel.
What impressed us the most was the artwork in the restaurant. Almost every part of the ceiling had beautiful paintings of Khmer culture. A few pictures were of Angkor Park with facts about the temples.
The restaurant has a few Tomos motorcycles on display. Intrigued, I asked Srey Mach the meaning behind the bikes. She told me that the bikes were from 1964, a year when Cambodia's economy was doing well. People in Cambodia were becoming more prosperous and were able to afford Tomos bikes. Hence, these bikes are a symbol of prosperous times for the Cambodian people.
This Hotel In Siem Reap Near Pub Street Is In A Great Location
Indeed, our stay at Ta Prohm Hotel gave us an excellent exposure to the Khmer culture. As travellers, we aim to learn as much as we can about the country we are visiting. As a result, we are grateful that Ta Prohm Hotel provided a good foundation for us to learn about the country's history.
For more information, visit their website or contact them at info@taprohmhotel.com.
PIN FOR LATER