During my year of travel, I planned on staying in Japan for over a month. As you probably know, Japan is one of the most expensive places to visit. In talking to friends, family and researching the internet, the consensus was to budget around USD 250 a night for a hotel. I don't know about you, but that's a LOT of money, especially for someone who is on an RTW trip budget!
So I kept digging and digging because I didn't want to drop that much money on hotels in Japan. After doing quite a bit of research, I decided to divide more time in Tokyo (it needs more time exploring than you think!) and book my accommodations a bit further out of the central city to save money. I ended up stumbling upon the Best Western Tokyo Nishikasai which was about USD 95 (CAD 127) a night. You can check the latest prices on Agoda, or Booking.com
Why I chose the Best Western Tokyo Nishikasai
Because I knew I'd be spending most of my days outside the hotel, I was looking for a place that was affordable, close to the Tokyo Metro and clean. Given the affordable price, I was compromising on time, especially time on the MRT rides. I estimated that it would take between 30-40 minutes for most of the main attractions. That seemed fair to me considering the money I'd be saving.
I later learned that the distance wasn't so bad after all. I happened to visit Tokyo at the same time when my friends were in the city, and they were only a 20-minute subway ride away. That was a good benchmark because they were NOT on an RTW trip budget and yet still stayed outside of the main areas of Tokyo.
The ambience of the Best Western Tokyo Nishikasai
The hotel is very clean and family oriented. I later learned that because it is close to Disneyland Tokyo, lots of families stay here for that reason. The décor is clean and minimal.
The hotel room at the Best Western Tokyo Nishikasai
I've always heard that the hotel rooms in Tokyo are small, but that doesn't change the fact that I was SHOCKED when I walked into the hotel room. This hotel room is the tinest I've ever stayed in before visiting Japan.
The entrance was barely wide enough to fit my suitcase, and the bathroom is tiny! It did come with a Japanese toilet though, which is a unique experience.
And yet, somehow this room was able to fit in a double bed, couch and a desk! Talk about impressive.
Despite its size, the layout of the room is well designed. They managed to fit in a TV, fridge, closet, humidifier and we were able to get lots of lighting during the day. The humidifier is a must because the room is very very dry.
The best part about the room is that it's very very very clean
It's perhaps the cleanest hotel I've ever stayed at so far. It's so spotless that their vinyl shower curtains which look very old do not have that weird musky smell that comes with old shower curtains.
We received bathrobes and slippers which were a nice touch.
Another great thing about this hotel is that the room is very quiet. Unlike other best western hotels where noise is an issue, I didn't experience this problem at this hotel.
The room also comes with free Wi-Fi, which is a huge plus considering how data in Japan costs an arm and a leg.
The service at the Best Western Tokyo Nishikasai
The staff members at this hotel are next level polite. Like they'd apologize many times for making us wait a few seconds. Their English was also decent enough that they could help you with most common requests.
If you are planning to visit Tokyo Disneyland, you should check with reception if they still offer the FREE shuttle from the hotel. The ride is about 15 minutes and a nice perk if you are planning to visit the theme park. Make sure to book the shuttle service in advance to avoid disappointment and ask where you get dropped off so you can plan your route.
The food at the Best Western Tokyo Nishikasai
Our room came with breakfast, which we made sure to eat almost every morning. The spread was more Japanese style and had an array of pickled vegetables, udon noodles, and miso soup.
Of course, there is congee and a few western dishes to choose from the selection as well.
The breakfast choices had enough for you to enjoy a few times and not get sick of in the morning.
The location of the Best Western Tokyo Nishikasai
Before arriving in Tokyo, I felt this hotel was far away from the main areas of the city, but it wasn't so bad after all. There are grocery stores, a Family Mart and 7-Eleven near the hotel and lots of restaurants. All these places are less than a five-minute walk away from the train station. I found that this area was great to explore and it was nice to get away from the Tokyo crowds. The best part is that there is no long wait whenever we choose to have dinner in this area since it's not as crazy busy as central Tokyo.
The area also has a small city town feel, yet its packed with people
You never feel alone, yet you never feel overwhelmed by the crowds. You can hear karaoke playing in the background; people are cycling around. There aren't as many cars, and it has a nice vibe, even at night. The walk from the hotel to the Nishikasai station is less than three minutes which was nice.
The Best Western Tokyo Nishikasai is in a safe area
We arrived in Tokyo from our New Zealand flight late into the night, which violates my usual rule of arriving in a new city before sunset. But that didn't matter because we knew we'd feel safe in Japan. When we got off of the Nishikasai MRT stop, the first thing we saw upon exiting the MRT was a police station where we got directions to our hotel. Even when we got lost in a dark alley on our way to the hotel, we felt completely fine.
One of the reasons why we felt safe was that there was always people walking around. The area also had a lot of hotels, with workers who are very friendly and polite. We got so lost at some point that we walked into a random hotel to ask for directions. The staff members not only gave us a map but left the hotel to show us the right direction!
The facilities at the Best Western Tokyo Nishikasai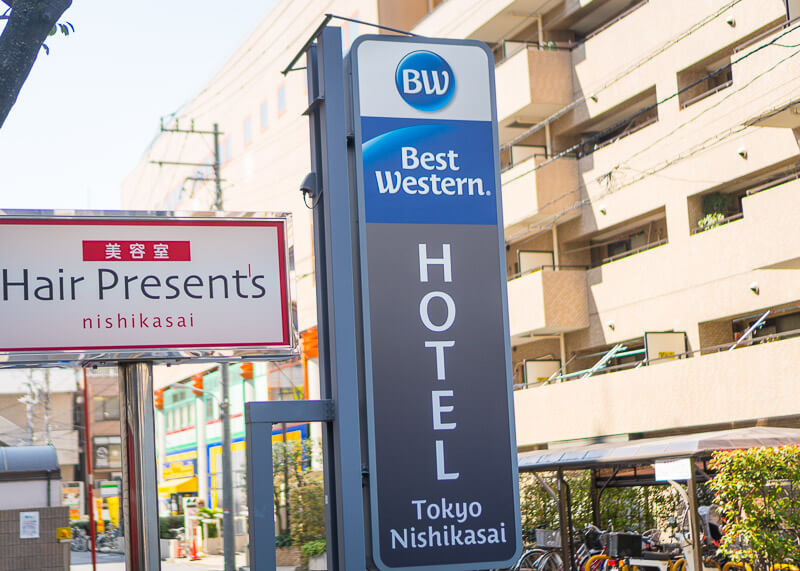 This hotel came with basic facilities, like a business center and a restaurant. There are also meeting and banquet rooms if needed.
Laundry
While this might not be a selling point for you, it was a huge one for us since we were travelling for a year with very few clothes. The washer costs 300 yen while the dryer is 100 yen and is open all day and night.
If you want to learn more about what you should pack for your trip, read this post about what to wear when in Japan.
Would I recommend the Best Western Tokyo Nishikasai?
Yes, in a heartbeat given the price of the hotel. In fact, I've already decided that I will most likely stay at this hotel during my next visit to Tokyo thanks to its reasonable price and location to the MRT. The hotel is in a vibrant neighbourhood with a very local residential feel. It has quite a few shops and restaurants, but without the crazy crowds, you'd experience in the heart of Tokyo.
Pin for later