Having an authentic ryokan experience was a must-do for me during our trip to Japan. Since this trip was part of our one year travel, staying at a place that is reasonably priced was important for me.
After doing a ton of research on ryokans, we settled on Tenbouen Kinosaki Ryokan based on price, location, and positive ratings.
If you are looking for affordable accommodation in Kinosaki Onsen town, then you will find this post useful. I will walk you through my experience at this ryokan to help you decide if this ryokan is for you.
But first, what is a ryokan?
A ryokan is a traditional Japanese inn that features public baths, multi-course meals, and communal spaces for guests to relax. The rooms often have the traditional tatami mats and you sleep on Japanese futons. You are also expected to remove your shoes at the entrance and walk inside with slippers.
Ryokans range from budget to luxury style and some are more authentic than others. Traditional (and more expensive) ryokans will serve dinner in your room while others have a main dining area. Some ryokans have a private bathroom while others offer a shared public bathroom.
The purpose of ryokans is much different from hotels. In Japan, many travellers will travel far distances to relax in a hot spring bath and eat a traditional multi-course meal. In essence, it's their way to pamper themselves! For tourists, visiting a ryokan is still something worth considering and possible to fit in any itinerary, especially if your Japan itinerary is longer than 14 days.
Why I chose to stay at Tenbouen Kinosaki Ryokan
It seemed worth it for the price you get. I mean, ryokans charge on average $400-$600 USD a night, so it's definitely very expensive. Yet, this ryokan is well priced with dinner and breakfast. What I also liked about this ryokan is that it is in Kinosaki Onsen town. This meant that we could have an authentic experience and be able to visit public onsens. As well, this beautiful little town is only a two-hour train ride from Kyoto, so we didn't have to go too far to get there. We considered visiting Kinosaki Onsen from Osaka for a day as a possibility but realized we wanted to stay overnight in Kinosaki Onsen and scrapped that idea. 
Our stay included free transportation to and from the town, as well as free access to each of the public baths.
The room at Tenbouen Kinosaki Ryokan
There are a few styles of rooms to choose from: a regular guest room, a small room, and a large room. From there, you can choose if you want your meals served in your room or served in the dining room. While there are no showers in any of the rooms, some come with ensuite bathrooms. Considering how you come here to spend the day in onsens, it makes sense now why the rooms don't come with showers.
We booked a Japanese-style room with the ensuite bathroom and chose to have meals in the dining room
I was so excited to see our room after we checked in. It is super cute and super traditional. I didn't know what to expect when it came to having a toilet in our room and was happy to see a sink in the room. I guess that makes sense…
The room was set up with a traditional Japanese table and chairs. There is a small heater underneath the table. The chairs are comfortable and come with a hand rest.
There is also a TV and safe included in the room, as well as a kettle, fragrant device and matcha tea box. We had matcha tea in our room (yay!) and could buy other drinks from the lobby.
Our room is very small though and we had to make an effort to stay organized to maximize the space.
We had a window in our room, but no pretty views since the ryokan is on a slope.
It is best to bring a small suitcase since there are only stairs in this ryokan. Fortunately, we planned it out so that we were able to leave our big suitcase in our Kyoto hostel.
Room change from resting area to bedtime
The room can only be one functional space at a time. What I mean by this is that it can only either be a sitting area or a bedroom. The transformation from the sitting area to a bed happens when we have dinner in the main dining area. By the time we come back to the room, it is set up so that we can sleep!
I slept very well on the Japanese futons. I found the futons to be super comfortable and fluffy.
The only downside to our sleep was that it was freezing all night! We didn't realize until the morning that there was a heater in our room. Whoops.
As for the noise, we didn't hear much since our room is on the second floor at the end of a hallway.
The service at Tenbouen Kinosaki Ryokan
Exceptional service began the moment we walked into the ryokan. I appreciated how the staff guided us and answered our questions with patience. They walked us through the ryokan features, the yukata rentals and left us feeling at ease.
In case you didn't know, the Japanese are very clean, to the point where they even cleaned the wheels on our suitcase before bringing it to our room! They are that clean! I can relate though because I am a clean freak too; dirty suitcases are not allowed indoors.
I took advantage of picking out a pretty yukata to wear to town since they are free to rent. Of course, I had no idea how to tie on the belt. Luckily, one of the staff members helped me with my belt.
Free admission to all the onsens
Our booking included free admission tickets to all the onsens in town. Our tickets came in laminated pockets that we could hang over our necks. You did need to dress in a yukata and geta to enter the bathhouse as the tickets are not valid if you are in normal street clothes.
Free shuttle buses from Tenbouen Kinosaki Ryokan to the town
Because the ryokan is a bit far from town, shuttle buses are available to drop off guests. The stops are quite convenient as guests have different options for drop off and pick up in the town. There is a shuttle bus that leaves at around 9:30 to drop off guests at the JR station. After that, the shuttle service doesn't resume until 4 pm. Thus, it's best to leave early in the morning and then get picked up at one of the three pickup locations.
The three locations are:
Ichi No You bath house
Kinosaki motor pool
Sato no you bath house
We found it to be convenient enough with a bit of preparation and planning. The shuttle times vary throughout the day and it is best to check the schedule. Remember to plan for your pick up when you are ready to go back to the ryokan.
What to bring to the bathhouses
Since the ryokan isn't next to all the onsens, it is best to bring what you need for the day when you leave the ryokan. As a rule of thumb, bring most of the things that you would need after your shower. Note that some bathhouses provide lockers while others didn't have any so leave your valuables at the ryokan.
What to bring when you leave the ryokan: For women
undergarments (for outdoors)
money
cell phone
pass
skincare
makeup
comb
large and small towels
The onsens have shampoo and conditioner, but you can bring your own if you are particular about your shampoo. 
What to bring when you leave the ryokan: For men
pass
bag
money
cell phone
undergarments
cream
large and small towel
any hair products you might need
Where can we wear our yukatas?
So here's another question that I was a bit perplexed about since I've never been to a ryokan. Upon arrival, you have a yukata that you can change into once you're in your room. I was self-conscious and didn't know where I could wear my yukata! I learned that we can wear our yukatas:
In the dinner room
Inside and outside the ryokan
Around the town
The Food at Tenbouen Kinosaki Ryokan
Included in our stay is a kaiseki meal which is quite possibly the highlight of the ryokan. Kaiseki or kaiseki-ryori is a traditional multi-course dinner with many unique dishes. The presentation of the food to balance the texture, appearance, taste, and colour is an art in itself. As quality is very important, seasonal ingredients are used for this type of meal. You get appetizers, fresh sashimi, soup, grilled fish and meat, a hot pot dish, rice and of course, dessert. Another great thing about kaiseki meals at this ryokan is that the menu changes on a daily basis. That meant we had the chance to try a variety of dishes.
Dinner on the first night at Tenbouen Kinosaki Ryokan
We ate a lot for dinner. We had:
squid, sake, chicken on the spoon
duck
sashimi – shrimp, salmon, and tuna
cold udon noodles
Japanese pudding
hot pot on the left with pork belly and chunks of pork fat. It was sweet and reminded me of Khao ka moo
steamed rice with bamboo, and bits of meat and tofu
pickled dishes
soup with bean curd and a little meatball
chicken karage
dessert
The food was so good and it left me feeling full but not extremely full.
First breakfast at Tenbouen Kinosaki Ryokan
Our first breakfast was delicious! We had:
salmon
pickled vegetables
miso soup
rice
seaweed on the side
bean paste that needed to be made
udon noodles with a boiled egg
orange juice
cold noodles with egg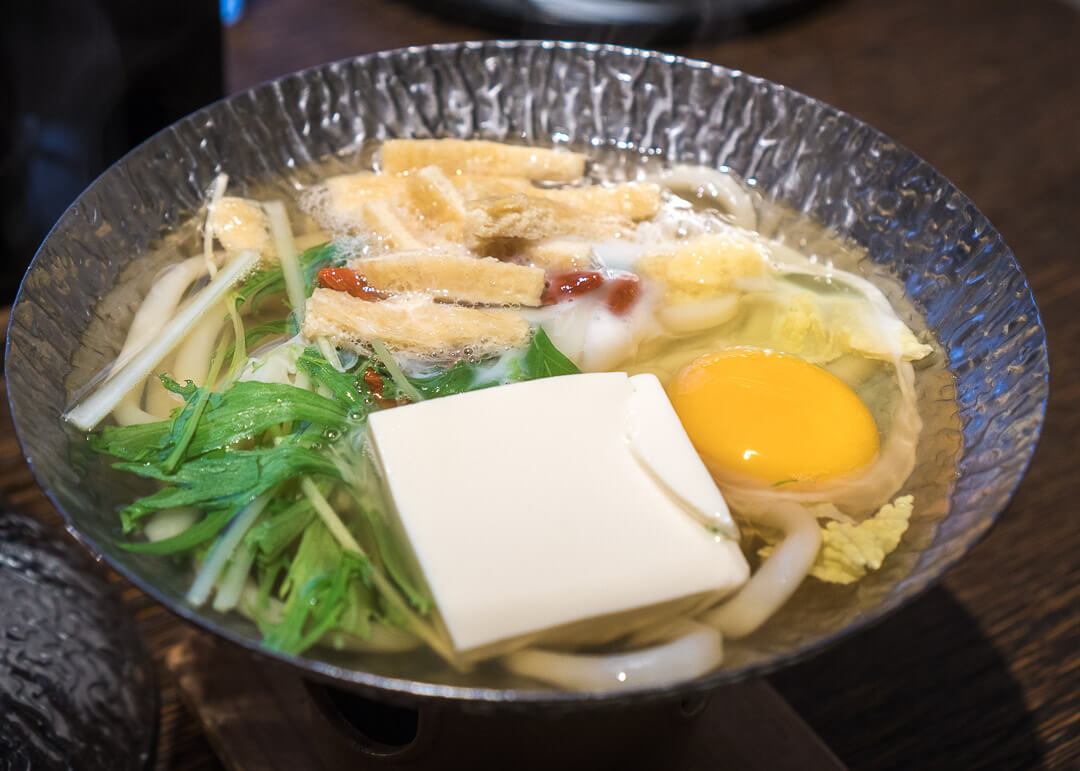 Second dinner at Tenbouen Kinosaki Ryokan
We ate the following:
squid sashimi (I didn't like it)
soup with wasabi and rice ball
tuna sashimi
crab cakes
salmon (was actually the same one from the morning)
hot pot with pork, beef and vegetables
rice with baby squid
strawberry dessert with orange
Third breakfast at Tenbouen Kinosaki Ryokan
Our last breakfast was more simple but still delicious.
The location of Tenbouen Kinosaki Ryokan
One reason why this ryokan is cheaper compared to others is that it's a bit of a walk to get to the city center. And when I say a bit of a walk, I really mean it's only about fifteen minutes. However, imagine trying to walk around in a geta on concrete. It's not easy when you're trying to balance yourself on these wooden sandals.
Once you get to the city center, there are grocery stores, restaurants, and food places in the area.
How close was it to public transportation?
About a 15-minute walk from the station or a free shuttle that takes about 5 minutes to get to the ryokan. On the day of arrival, our train came to  Kinosaki Onsen at 1:50 pm, but the next shuttle to our ryokan would be at 3 pm. We decided to walk, which ended up working out as the walk along the lake is quite scenic. 
The facilities at Tenbouen Kinosaki Ryokan
This ryokan has one free massage chair which felt so good on the muscles after spending a day in the onsens.
Since there are no showers in our rooms, we would need to bath in the communal shower near the onsen. The onsen only opens for a few hours in the morning and then at night so be sure to plan your showers accordingly. Yes, you are bathing completely naked with other guests on little stools in the ryokan in case you are wondering. And yes, it is a bit awkward at first but you adapt easily when you realize no one cares that you are naked. There is a change room and a room for make-up, mascara and free Shiseido products for you to use.
There's also a room where you can read manga!
Conclusion
I loved every minute of my stay at Tenbouen Kinosaki Ryokan and would consider staying again. While it is a bit far from the town, careful planning around the shuttle bus schedule makes it worth it.
PIN FOR LATER