I am a stationery fanatic, and I love Korean stationery. Aside from food as a guide to my travels, visiting stationery stores is another important aspect of my travels.
While this guide is meant for visiting looking for Korean stationery stores in Seoul, I have included a list of online stores that carry adorable stationery for you to check out if you aren't able to make it to Seoul (yet!)
My first inkling about visiting Seoul to find stationery was in 2011 when I was in Bangkok. While on that trip, I encountered tons and tons of cute Korean stationery and thought to myself, one day, I'll visit Korea and buy all the stationery I can dream of buying. Fast track to my month-long trip to Asia where I was able to stopover in Seoul for two days. Hurray! Two days in Korea, a partial wish come true! Naturally, I put together a short list of stores to check out with the little time I had in Seoul.
The chosen ones (aka, the list of Korean stationery stores to visit)
Other popular Korean stationery stores to check out
While I haven't had the chance to personally visit these stationery stores during my trip to Seoul, these shops are places you'd want to consider adding to your hunt for cute Korean stationery. Some are online shops too so you can buy all the adorable stationery you want in the comfort of your own home (Hurray! *Jumps with joy*)
The disappointment of not finding cute Korean stationery stores came too early
I was slightly disappointed after visiting almost all the stores on my list. While each store did carry cute stationery, the selection was pretty limited and small. I tried asking the tourist information centers and my hotel concierge for help but to no avail. The places they recommended were large department stores that did not carry the selection of cute stationery I was looking to buy. Where are all the Korean stationery that I come across outside of Seoul?
By the end of my first day, I gave up looking for good stationery shops.
On my second day in Seoul, I went back to Namdaemun market because I was craving Korean dumplings and Korean street food. While there, I wandered around…only to realize there is a whole street filled with cute stationery stores in the market!
Alpha 알파
Now, let's start by talking about the king of all stationery stores. Alpha has multiple locations in Seoul, but the mother of all Alpha stores is in Namdaemun market. There are four floors of stationery heaven, with over twenty rooms filled with cute stationery and art supplies. There is a paper room, an art room, a pen room… yes, a pen room. Seriously, it is a room full of pens. I spent 1.5 hours at Alpha but could have stayed longer if not for my same-day flight to Bangkok.
Full disclaimer: While I did visit Alpha the previous day, I only saw the main floor. Moral of the story: always look up.
Not only does Alpha have four floors of incredibly beautiful supplies, but they also have an alleyway full of cute stationery! The alley carried some beautiful Korean cards.
Alpha carries supplies for those who want to build miniature models.
At first glance, Alpha looks like it carries some random cute stuff, but upon further inspection, you'll see that they sell some legit serious products. Take the Rhodia notebook collection, as an example. If you are into calligraphy, you will know that Rhodia is a premium paper product and is amazing for calligraphy. The smoothness, the whiteness of the paper…oh, the beauty! If you don't understand now, you'll understand when you use Rhodia.
Other cute Korean stationery stores in Namdaemun market
After you have visited Alpha, you will find some stores in the same area that carries the cutest arts and crafts supplies.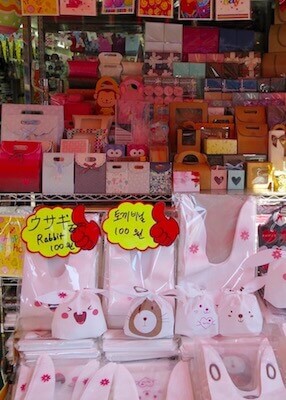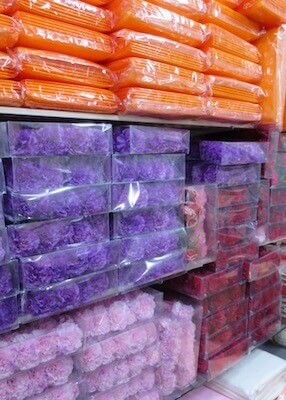 Some things to keep in mind when searching for cute Korean stationery stores in Seoul
You will find many cute DIY arts and crafts kits that produce adorable products. The only downside is that the instructions are in Korean and there are no diagrams
Most places take credit card, although cash will probably make the transaction easier
Know what you are looking for and plan on what you want to buy. Otherwise, expect to feel lost in all the products that you will see. You will also feel lost in a heap of emotions as you imagine all the possibilities of what you can create
Fun DIY activities to check out for your Seoul vacation
Seoul, <In Arnold Schwarzenegger's voice> I'll be back.
This post was first published in August 2016 and updated on June 2019
PIN FOR LATER