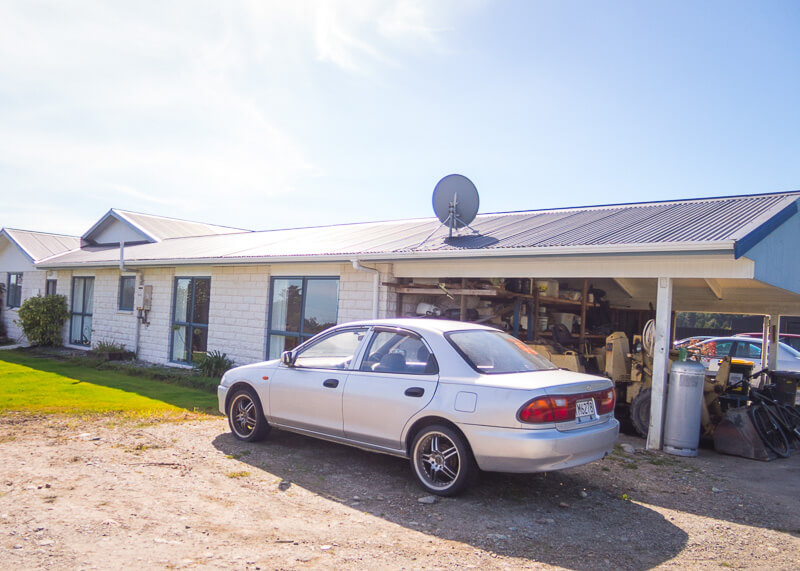 We visited a small town called Hokitika during our month long trip to New Zealand. Hokitika was a stop for us as we made our way up from Mount Cook to pass through Punakaiki, Wharariki Beach, Nelson, and Picton before touring the North Island. Since this town had a population of 3,000 during our visit, you can imagine that it was a bit of a challenge to find accommodations.
Luckily, we stumbled upon Blue Spur Bed and Breakfast, a small guest home with one of the nicest people you could imagine.
Self-check-in at Blur Spur Bed and Breakfast
We arrived at Blue Spur at 7 pm and were a bit perplexed at check-in. There was a whiteboard listing our names and room number, but no one was on the property. G walked around the rooms before realizing that we could simply check ourselves into our room. The door to our room was opened, and the key was there, but we couldn't find the owners. So we settled ourselves in and made dinner. As I went to grab dessert from the car, Ron, the owner drove in and checked in on us to make sure we were ok. He told us about the festivals and mentioned that if we needed a ride into town, he could take us. How nice is that?
Our little instruction sheet had the following message:
"At times, we will get things wrong and things will not work as they should. If we have left you short, please advise us as most things can be fixed at a moment's notice"
I knew right away that I would like these two lovely owners from this message alone.
The story behind Blue Spur Bed and Breakfast
Ron is a really friendly person and loves sharing stories. We learned that he and his wife bought this bed and breakfast for them a few years ago to have during their retirement years. Before owning this bed and breakfast, the couple owned a Hokitika holiday park. He shared stories of those days when he first started in entrepreneurship. Everyone called him an idiot for doing so, but he believed in his heart that it could be a successful venture. Turns out, he was spot on with following his intuition.
Ron also shared some interesting stories about his life. Not only was he born on a dairy farm, but he was expected to go and work in that field.
This bed and breakfast got its name from the two geographic areas in New Zealand. I'm not going to try to pretend like I can explain it so you can read more here.
The room at Blue Spur Bed and Breakfast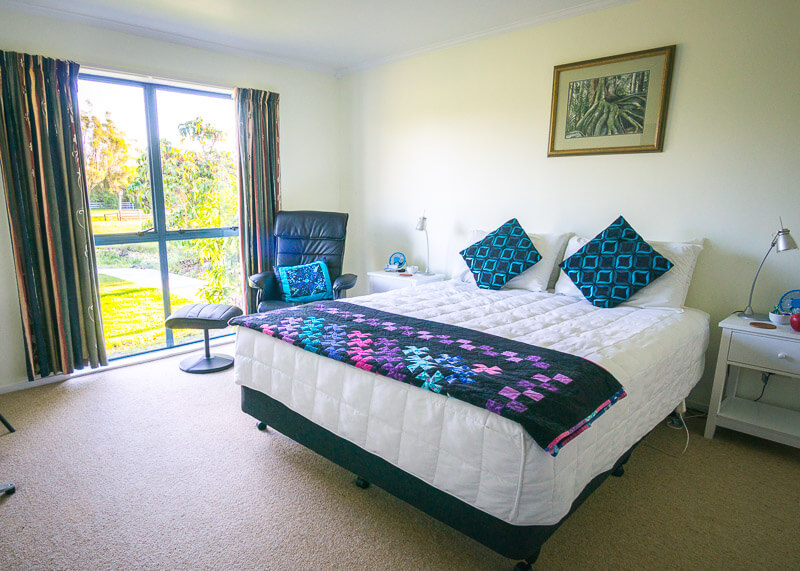 The room had a lot of thought and care put into the room, which was a nice touch. We had chocolate on the bed stand and USB fans to keep us cool. The room was already very well lit but it was nice that they had two reading lamps on each side of the bed.
There was a heater in the bathroom and a heater in the room, which we appreciated because I get cold easily.
The area is very quiet at night so we didn't have to worry about any noise.
Shared kitchenette
We had a shared kitchenette, which was useful enough for us to make a light dinner. Ron came home later and offered to open his kitchen for us, which was a very nice gesture.
The four-bedroom area which is separate from the main home felt like a shared room within a home. Yet, it was not noisy at all and we never heard our neighbours.
The service at Blur Spur Bed and Breakfast
Everything about the bed and breakfast was great. Ron was always there when we needed him and they really cared about delivering exceptional service. The only issue we had was that we weren't able to use our credit card the day we were leaving because the machine was down. Fortunately, we had some emergency USD money that we used to pay for our stay. Otherwise, we'd have to go into the town to find an ATM.
The Food at Blur Spur Bed and Breakfast
The food was pretty good. We had a standard breakfast with eggs, bread, bacon, and ham, along with a bit of a continental breakfast. There were cereal, fruit and muesli.
The location at Blur Spur Bed and Breakfast
The location is considered "out of town". To get to town, you have to drive for about five minutes on the main road before you get into town. Yes, Hokitika is that small. But that means we were far away from the hustle and bustle and it was very quiet.
The facilities at Blur Spur Bed and Breakfast
There is a small kitchen for guests with a toaster, kettle, plates, bowls and utensils. I couldn't help but smile when I opened the drawer and saw wooden chopsticks – that was very thoughtful of the Asian guests like me!
There's also a washing machine on-site which really comes in handy when you are doing long term travel.
Blue Spur Bed And Breakfast is great if you're stopping by Hokitika
I really loved this bed and breakfast and would recommend it to anyone who is passing through Hokitika in New Zealand. This pleasant experience has me on the lookout for more bed and breakfasts in future travels.
PIN FOR LATER