If you're in New Zealand, Christchurch is a place that you'll likely be flying into to start your journey. That was the case for us since we used Christchurch as the start of our road trip on the South Island of New Zealand.
If you are looking for an affordable serviced apartment, then you will like Fino and Suites.
About Fino Hotel and Suites Christchurch
This hotel is more like an apartment than an actual hotel. The location of the place is as convenient as it can get in Christchurch. In fact, you can walk to most of the must-sees in Christchurch. If you have pets, then you're in luck because there are pet-friendly rooms that you can book.
Note: this hotel was under the Best Western brand during our stay
First impressions of Fino Hotel and Suites Christchurch
Hotel looked modern and clean and was not busy although it was fully booked during our stay. The reception is minimal and had more of a concierge feel at an apartment than anything.
The room at Fino Hotel and Suites Christchurch
All the rooms at this location are more like serviced apartments than like hotels. Each room comes with living areas, dining areas and a full-sized kitchen. Because I was a Platinum member with Best Western, we were upgraded to a massive two-bedroom suite on the fourth floor.
Each bedroom came with their own closet. There are heaters in the bathroom for chilly nights.
I loved how there was a huge dining room table so that we can work in a large and comfortable setting.
The kitchen
The kitchen has everything you would need to have a homecooked meal!
All units come with an ensuite washing machine, which was perfect for us. Laundry always required a bit of planning during our year of travel but not so at this place.
Reception even provides laundry detergent, which saves us the need to go and buy some offsite. We were able to get a clothing rack from the front desk for us to dry our clothes.
The living room
Our unit came with a full sized living room with tons of seating spaces.
Quiet nights at the Fino Hotel and Suites
I was a bit nervous when I read the reviews online about how noisy it gets at night. Fortunately, I did not experience any noisy neighbours at all during our stay. Maybe it was because our room was at the end of the hallway or because we were in a large suite, but I heard nothing.
The service at Fino Hotel and Suites Christchurch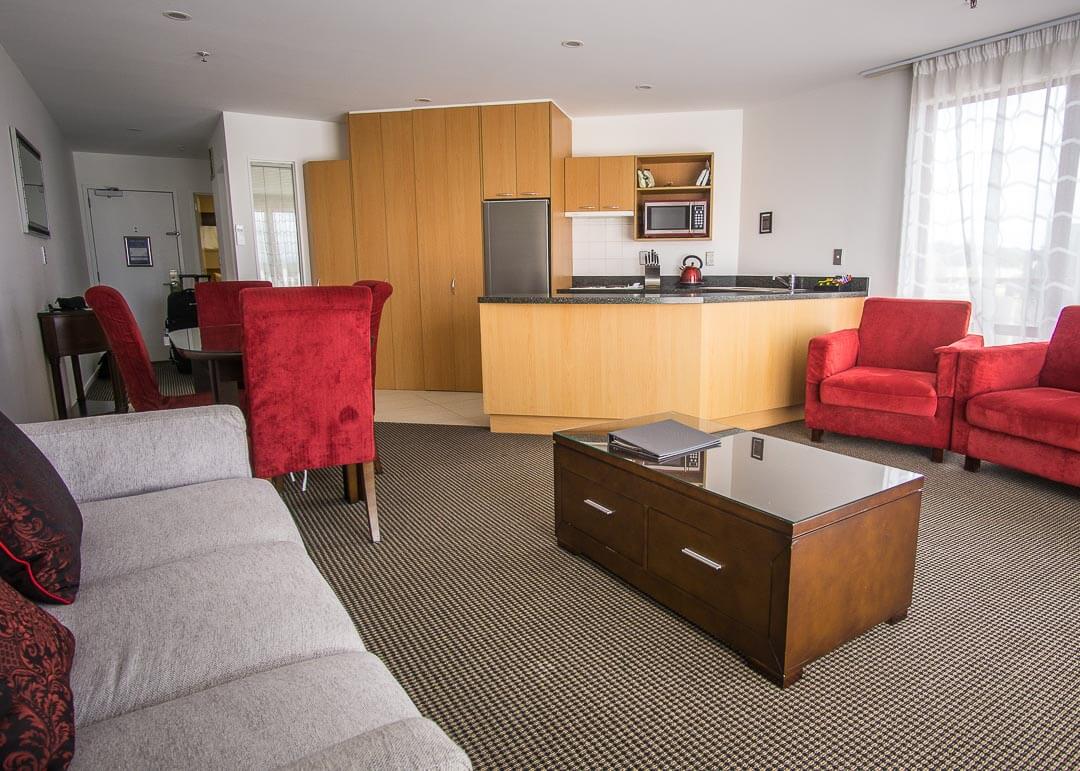 I have no complaints about the service at this hotel and thought it was nice that they let us check in early.
We arrived at the hotel at 9 am on our first day, which was way earlier than the standard afternoon check-in. We asked the front desk if we could check in early because we had not slept in a proper bed for over a day at that point. Unfortunately, the hotel was fully booked, but the reception offered to call us as soon as our room was ready. Leaving our luggage with them was easy, so we did that and set out to find a place to pass the time.
We then settled in a nearby coffee shop, trying very hard not to pass out while waiting for our room. Fortunately, our room was ready at 12:30 and we were able to come back and take a much-needed nap.
The location of Fino Hotel and Suites Christchurch
Since we didn't have a car in Christchurch, being able to walk to different places was essential for us. While it was easy to get different sites in Christchurch, it was challenging to find cheap food in the area. We were also on a budget of around $30 a day for food which presented an even more significant challenge for food. We did make plans to walk to the Pak'nSave grocery store, which was a pleasant 25-minute walk.
Conclusion
I loved staying at this apartment and would stay again if I were to visit Christchurch. If you are looking for a place that is clean, comfy and in a great location, consider this hotel