The Aoraki Mount Cook Alpine Lodge is in one of the most beautiful places in New Zealand. Location wise, this lodge is right next to the Aoraki Mount Cook Visitor Center and a short drive to the Tasman Lake and Lake Pukaki.
We chose this hotel because there was absolutely none available in the area. NONE! We were ever so happy that we could even find accommodation! Even though it was outside of our budget, we didn't care. We booked it right away, and that was that.
We initially wanted to stay in Mount Cook for two nights, but there was not a single place that had any rooms available. Because of the lack of availability in the region, we had to change our itinerary to stay in Mount Cook for one night. The extra night that should have been in Mount Cook was allocated to Lake Tekapo.
The ambiance of the Aoraki Mount Cook Alpine Lodge
It was a beautiful quaint little lodge with 16 rooms. It reminded me very much like some of the lodges I stayed at in Banff. As you walk into the front doors of the inn, the reception is there to greet you.
The room at Aoraki Mount Cook Alpine Lodge
We stayed in room one on the first floor. The view was ok, although I can only imagine how beautiful the view would have been had we stayed on the second floor.
The room is on the smaller size, but clean and comfortable. The room does have a motel feel rather than the lodge, and the décor is dated, despite being built in 2005. The shower is part of the bathroom floor with only a shower curtain acting as a separator between the toilet and the water faucet.
It's definitely a no-frills room with a steep price for what you get. But hey, the area lacks a lot of accommodation so price wise, it's all relative.
While I read online that you could hear your neighbours, I heard nothing at night. The area gets really quiet at night where you don't hear anything.
Property features of Aoraki Mount Cook Alpine Lodge
In case you didn't know, wifi is like a rare commodity in areas like Aoraki/Mount Cook. The fact that this lodge offered limited wifi of up to 1gb per room was quite impressive. Although really, should you be spending that much time on the internet when you are this close to beautiful nature?
The lodge also has free coffee and milk in the common area and laundry facilities.
Also, parking is included and free with your stage.
While the hotel does take credit card, there is a surcharge (2.5% when we were there) on top of the total cost.
There are no elevators, so you'll have to carry your bags up two flights of stairs if you stay on the second floor.
Communal kitchen and common space of Aoraki Mount Cook Alpine Lodge
While there are restaurants that are a short drive away from the lodge, it is best to buy your food in advance and cook in the communal kitchen. There is everything you could need to cook a good meal and tons of fridge space for your food. We packed food that was easy to eat and prepare, but other travellers brought in a grand feast!
We saw four other Chinese families cook the most wonderful meals – stir-fried dishes with soup, meat and fresh vegetables. They even brought their own chilli sauce, which I suspect is not from New Zealand because I never saw it in any grocery store!
The service at Aoraki Mount Cook Alpine Lodge
The owners of this lodge are helpful and friendly. They addressed all the questions we had and had a book of restaurant recommendations with their full menu. That was helpful because we could decide on the spot if we wanted to do the long drive to the restaurant or stay in and prepare our food.
The reception does close at night though so make sure to get all your questions addressed before it gets too late.
The location of Aoraki Mount Cook Alpine Lodge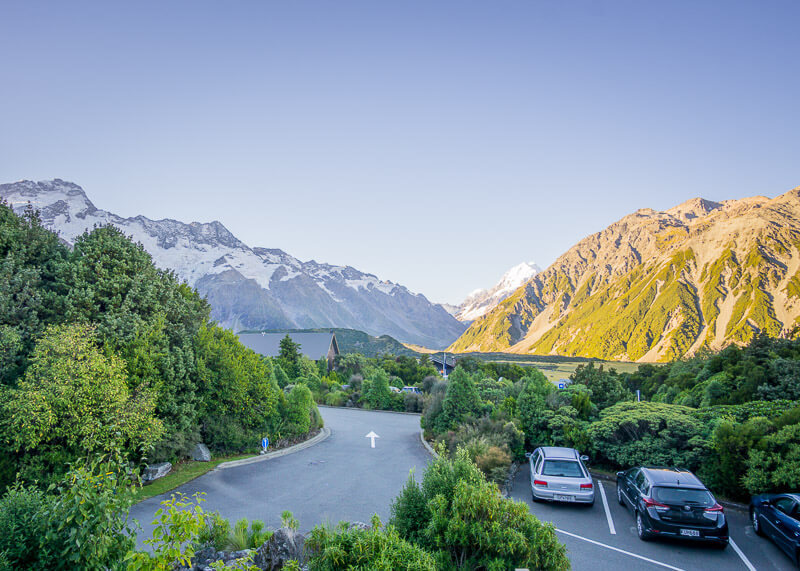 This lodge definitely wins brownie points on location, and I wish we could stay there for more than two nights. As we drove to our next destination the day after, I was so sad to be leaving such a beautiful area.
The lodge is only a two-minute walk to the Aoraki/Mount Cook Visitor Centre and centrally located so that you could walk to the village amenities. There are no supermarkets in the village though so make sure to buy groceries beforehand. You also need to fuel up in either Lake Tekapo or Twizel as fuel is hard to find in the village. There are also no ATMs in the town so make sure to bring money before you come to the village.
Since the village has very little to no streetlights, we ventured out at night to take photos. Let's just say it was a bit scary as no one seems to go out at nightfall.
While on the pricey side, Aoraki Mount Cook Alpine Lodge met our needs
I think most internal travellers will feel the sticker shock of this lodge. But keep in mind that most places get booked out months in advance. For that reason, this lodge is ok price was considering the huge demands for accommodations in the area. You'll want to try to book your lodge at least eight months in advance as this place gets booked up fast!
PIN FOR LATER