If you want to immerse yourself in the Christmas spirit, the Christmas market in Toronto is for you. Whether you are a local or tourist, the Toronto Christmas market is one that everyone can enjoy. The Distillery District Christmas market is whimsical and full of Christmas cheer. It could be thanks to the cobbled streets that date back to the early 19th century or the beautiful Christmas lights and art decorations. Who knows, but this Christmas market aims to create the magical feel that comes with the holiday season.
If it's been a while since you last visited the Toronto Christmas Market or your first time, read on for nine things to do at this year's Christmas Market.
#1: Admire the giant Christmas tree at the Toronto Distillery District Christmas Market
This 54-foot Christmas tree is without a doubt, the highlight of the Toronto Christmas market. And that's no surprise, considering how this picturesque tree has over 18,000 ornaments and lights to make it all that more magical. The gold ribbon you see on the Christmas tree runs over 1.5 kilometres (that's 0.93 miles) in length.
You can also pick up a locally-grown Christmas tree at the Christmas Market in late November to early December. Forests Ontario will plant a new tree for every tree purchased and also give you one free entry ticket to the Toronto Christmas Market.
You can also relax by the stage near the giant Christmas tree where you can hear different musicians at scheduled times. Each day has a musical theme such as classical music or Jazz so be sure to check out the schedule before you go. You can also sing along with the Christmas carolers who will be singing Christmas classics.
#2: Take photos by the instagrammable places and art installations at the Toronto Distillery District Christmas Market
There are so many pretty places to take pictures at the Toronto Christmas Market. I mean, even some of the outdoor bathrooms have fancy pink trees that will keep you occupied while waiting in line. There are so many different signs and sculptures for you to take photos.
I swear, everyone who was at the Christmas market had a huge professional camera because it's so picture worthy! The beautiful light decorations, Christmas tree and the old buildings make for a beautiful backdrop. Of course, there is also a Santa Claus house where you can take a photo with Santa.
Fur parents, you can bring your pets to get a photo with Santa Claus on Tuesdays! How cute is that!
#3: Take a ride on the Ferris wheel and carousel at the Toronto Distillery District Christmas Market
But of course, a market must have a signature carousel and Ferris wheel to add to the festivities. Dress warmly though because it will be a lot colder at the top of the Ferris wheel!
#4: Eat delicious food at one of the many European-style wooden booths at the Toronto Distillery District Christmas Market
Make sure to go to the Toronto Christmas Market on an empty stomach because there are so many delicious things to eat and try at this event. Giant turkey legs, poutine, chilled cheese and potato tornadoes are one of the many things that you can eat while at the market.
If you find the food price a bit too much on the high side, then consider eating at some of the permanent food vendors. Some places that won't disappoint are Soma, Brick Street Bakery, and Cacao 70
#5: Enjoy alcoholic drinks at the Toronto Distillery District Christmas Market
Whether it is spirits, beers, mulled wine, vodka or even sake, you can find something to try if you're into alcoholic drinks. Of course, most of the outdoor lounges serve a glass of traditional Glühwein (mulled wine) which is worth trying. Or you can booze up your hot chocolate and eggnog for a sweet treat.
#6: Do a Christmas walking tour at the Toronto Distillery District Christmas Market
Note: I attended a media Christmas walking tour on behalf of Go Tours Canada
Ranked one of the top 10 walking tours in Toronto, the Christmas walking tour with Go Tours Canada is a fun way to learn about the history behind the distillery district. Not only is this tour good for tourists, but it's also great for locals too! I didn't realize how little I knew of the Distillery District until after this tour despite considering this place my hometown now (what a terrible Torontonian)! It felt a bit sad that I've been to the Distillery District many times and yet knew nothing about its rich history. Not to worry if you miss this tour during the Christmas season because this walking tour is available throughout the year.
#7: Buy Christmas gifts at the antique-style shops and artsy boutiques at the Toronto Distillery District Christmas Market
If you love shopping for unique gifts, you'll love the Christmas market! While there are a ton of shops that are open year-round, you'll find a lot of unique handcrafted products available for sale at this time of the year. Find anything Christmasy related from cute Christmas décor to the classic Russian dolls.
Even if you are not into buying Christmas gifts, window shopping for those one-of-a-kind Christmas gifts is still a fun activity.
#8: Check out the art on display at the Toronto Distillery District Christmas Market
There's so many historical displays and art displayed indoors. If you are Canadian, you will be in awe to see how Toronto used to look like versus now. There's also the Thompson Landry Gallery which is the only place in Toronto that has artwork coming solely from Quebec.
#9: Pick up some free stuff at the Toronto Distillery District Christmas Market
Ok, with over 600,000 people in attendance per year, brands are of course going to jump on that foot traffic on their marketing efforts. There's not much, but still fun to check out some of the booths like the GayLea booth.
While not exactly "free," there's an Indigo popup shop worth checking out.
When to go to the Toronto Distillery District Christmas Market (especially if you don't like crowds)
Ok, so if you try to avoid crowds as much as I do, here are some recommendations on when you should go:
Tuesdays and Wednesdays are the best days to experience the Toronto Christmas market. Admission is also free on the weekdays (save for Friday after 5 pm). Go when it gets dark, but don't wait until it gets too late (5:30 pm arrival is a good time)! The later it gets, the busier it gets and the colder it gets. I've been told that the peak busy time is around 7 pm on weekdays
If you must go on a weekend, go early in the morning or late at night
Visit the Toronto Distillery District Christmas market as soon as it opens. The closer the date to Christmas, the busier it gets
What are the prices of the Toronto Christmas Market tickets? How much is the Toronto Christmas Market?
Here is the lowdown on admission prices:
Free: Tuesdays through Thursdays. Friday admittance is free until 5 pm
Regular ticket $6: That's the price you pay if you enter the market on Fridays after 5 pm or anytime on Saturday and Sunday. Anyone over the age of 2 has to buy a ticket for entry during this time
Express pass $20: This pass allows you to bypass the lineup to get into the Christmas Market. I've read online that the wait can be as long as an hour if you go during the peak times over the weekend. Unfortunately, the Express Pass doesn't allow you to bypass any other lines once inside the Christmas Market
The Toronto Christmas market is a not-for-profit organization. All fees collected during the market are re-invested into the festival's installations and infrastructure. A part of the funds also goes to charitable organizations too.
Where to get tickets for the Toronto Distillery District Christmas Market if you're visiting on the weekend
Make sure you get the tickets first before lining up! Either do so online or buy onsite at the tent (don't line up before you get your ticket! Remember, no re-entry is allowed so once you pass through the entrance gates, you cannot enter the Christmas Market at a later time.
I've read online that you can also bypass the entry ticket rule on the weekend if you have a restaurant reservation confirmation. Make sure to confirm with the restaurant and ask about how to avoid the entry ticket rule.
How to get to the Toronto Distillery District Christmas Market
The best way to get to the Toronto Distillery District Christmas Market is either by public transit, cabs, or Uber. If you decide to drive on the weekend, be prepared that you might have to wait quite some time to find a parking spot.
What subway stop is closet to the Toronto Distillery District Christmas Market?
The closest subway station is union station, which is a 20-minute walk along the esplanade. If you don't want to walk, you can take the King St. Streetcar to save yourself a few minutes of walking.
Other tips for the Toronto Distillery District Christmas Market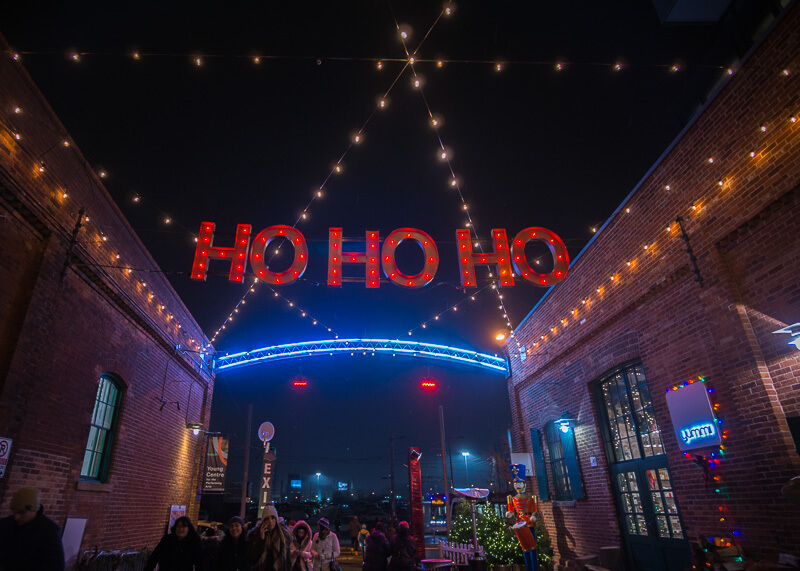 Lost? Can't find the bathroom? Ask questions at the info booth!
Dress warmly! If you feel cold, find places with space heaters and outdoor fire pits. You can also slip in and out of stores to stay warm. The best place to keep warm is at El Catrin's heated patio, where it's so warm that wait staff will walk around without a jacket
There is parking, but it will take some time to find parking! Cars can line up for blocks waiting to get in and around the area during peak hours
It gets crowded but we Canadians are friendly. Expect to hear a lot of "sorry's" the more crowded it gets