After spending almost two weeks in Kuta and Seminyak, we were ready for a change. We heard that spending some time in central Bali is important, and we decided we'd give Sukawati a shot during the first month of our year of travelling.
How Far Is Sukawati From Ubud?
Sukawati is overshadowed by Ubud, which is a shame. We initially wanted to stay in Ubud, but after seeing how busy the area is during peak season, we started to look for alternatives. Sukawati seemed like a reasonable option, considering how central the location is on the island. We also learned that Sukawati was only a 30-minute drive to Ubud, so we figured that was good enough for us.
If you're new to the website and want to follow my year of travelling, visit this section for all my posts related to long-term travel. You can also start from the beginning of the series by reading this article. Here's a short summary about me leaving home for a year to travel.
About Sukawati Bali
Sukawati is a small region in Bali with a population of about 110,000. Aside from the famous art market, you don't hear much about this area. In fact, even Wikipedia seems to have limited information about Sukawati.
What I loved most about Sukawati Bali is the fact that this place is not touristy at all
We were shopping in stores alongside other locals and eating where they were eating. In fact, even laundry shops existed to serve the residents in Sukawati. This whole time, we thought that laundry stores that we saw in Seminyak and Kuta were for tourists. It was only when we visited a laundry facility in Sukawati that we realized that not all homes in Bali have a laundry machine. I suppose that makes sense in Asia and I shouldn't have been surprised. Owning a laundry machine is a luxury in many countries.
At first, I was a bit concerned about walking around with my bag. We were coming from Kuta where bag snatching is rampant. But the staff at our hotel assured me that I would be ok, so I took their word and carried my bag when I was in Sukawati.
Sukawati is not pedestrian friendly and is easier to get around if you had a driver. Taxis are few and far in the area, but if you used the Blue Bird Taxi Bali app, you could hail a cab through your phone.
Food was a lot cheaper here compared to Kuta and Seminyak! In fact, everything is a lot cheaper here compared to the southern area of Bali.
We wished we stayed in Sukawati earlier because it would have made touring the island much easier! The island has a lot of cars but not the infrastructure to support the number of vehicles on the road. Hence, traffic delays are common, and we spent a lot of time stuck in traffic. For example, it took us two hours to get from Kuta to Ubud and an hour on our way back. The distance between Sukawati and Ubud is only a 30-minute drive.
Things to do in Sukawati Bali
I'm only going to list out the places near Sukawati and not the other areas you should check out when in Bali. A lengthy guide on things to do in Bali will be coming your way so stay tuned.
Disclaimer: Why yes, I am writing out a guide for myself for the next time I come back to Bali haha. We were feeling a bit exhausted by the time we got to Sukawati and didn't explore as much as we wanted to. Oh well, there's always next time.
Sukawati Traditional Market
This market is also known as the Sukawati Art Market and is the one place that puts Sukawati on the map. A few tours even include a stopover to this area as part of their itinerary. The market sells unique Balinese art and souvenirs for your peops back home. Some even say that this art market trumps the one in Ubud. But don't take my word for it, because I didn't visit either market. There's no point for us to buy anything since stuff weighs us down and we are travelling with minimal luggage.
Taman Ayun Temple
Obviously, this gorgeous temple is a popular place for tourists to see in Bali. We visited this temple when we were in Seminyak, which was a pain because we'd be stuck in traffic for hours! If only we had planned better to tour the island while we were in Sukawati!
Tip: Go earlier in the day if possible. By the time we left this temple (around 3 pm), there were tons of tourists behind us. Most tours include a visit to this temple before heading to Tanah Lot to catch the sunset. We did the same, but we beat the crowds to get a better experience, muahaha!
Tegenungan waterfall
This gorgeous waterfall is just a short drive north of Sukawati! I had it on my to-visit list, but we decided to cut it out at the last minute. We already did so much before our stay in Sukawati, and we weren't quite bikini body ready for photos. I am looking at pictures of this waterfalls as I write this post and I'm having regrets. Booo… oh well, there's always the next time.
Sukawati Canyon (Beji Guwang Hidden Canyon)
I don't think this canyon is a common place for tourists to visit in Bali. It's a bit more adventurous too because it involves river trekking in waist-high water. Goa Rang Reng is also another beautiful waterfall in the area that I am discovering only now as I write this post *smh*
Barong and Kris dance at Putra Barong
This dance is a popular show that many people tend to see during their trip to Bali. We weren't one of those people because again, we were pretty tired at this point. Well, I was keen on seeing the performance but Gary, not so much. Hopefully, we'll have the chance to see this dance on our next trip to Bali. Mr. Wayan from The Swaha Hotel Bali said that we could see the early performances since we were so close to the area… buttttt we didn't make it (I know, we really suck at this point).
Other places that are within a 15-minute drive are:
Fire dance
Bali bird park
Reptile park
Bali Zoo
Celuk village
Balinese wood carving process
Sanur beach
The airport is also only a 30-minute drive from Sukawati, and I'm willing to bet you won't be stuck in traffic if you stay here.
Where we stayed in Sukawati Bali
We stayed at The Swaha Hotel Bali where Mr. Wayan, the hotel owner, has decades of experience in the industry. He is well connected on the island and provides great feedback on ideas for a great Bali trip! If you arrive in Bali and have no itinerary planned, you should consider staying at this hotel. Mr. Wayan will gladly help you with your itinerary and plan for a more efficient route to explore Bali. He's also an awesome person to talk to and you'll learn quite a bit from this wise and humble man.
What the atmosphere is like in Sukawati Bali
Gary and I enjoyed exploring places by foot, and that's how we got around in Sukawati. It's a place where they don't get a lot of tourists wandering the streets. As well, English-speaking locals are few and far, which means finding creative ways to communicate. Most times, the conversations don't go very far, and there are funny looks and lots of laughing from both parties.
Sukawati has a residential feel, and we stood out like a sore thumb while in the area. But it was fun to explore and observe how locals go about their daily lives. Food stalls were few and far in Sukawati, but we managed to find some in front of a large grocery store.
We found a supermarket that catered to the community, and we bought our groceries there. Watching how the locals interacted with each other was fun in itself.
We also got to see the impressive architecture of the residential homes in Sukawati Bali. Many homes were magnificent and looked like temples themselves. Now that I think about it, I didn't see many homes in Kuta or Seminyak. I'm sure they exist, but it was never along the way of wherever I was walking.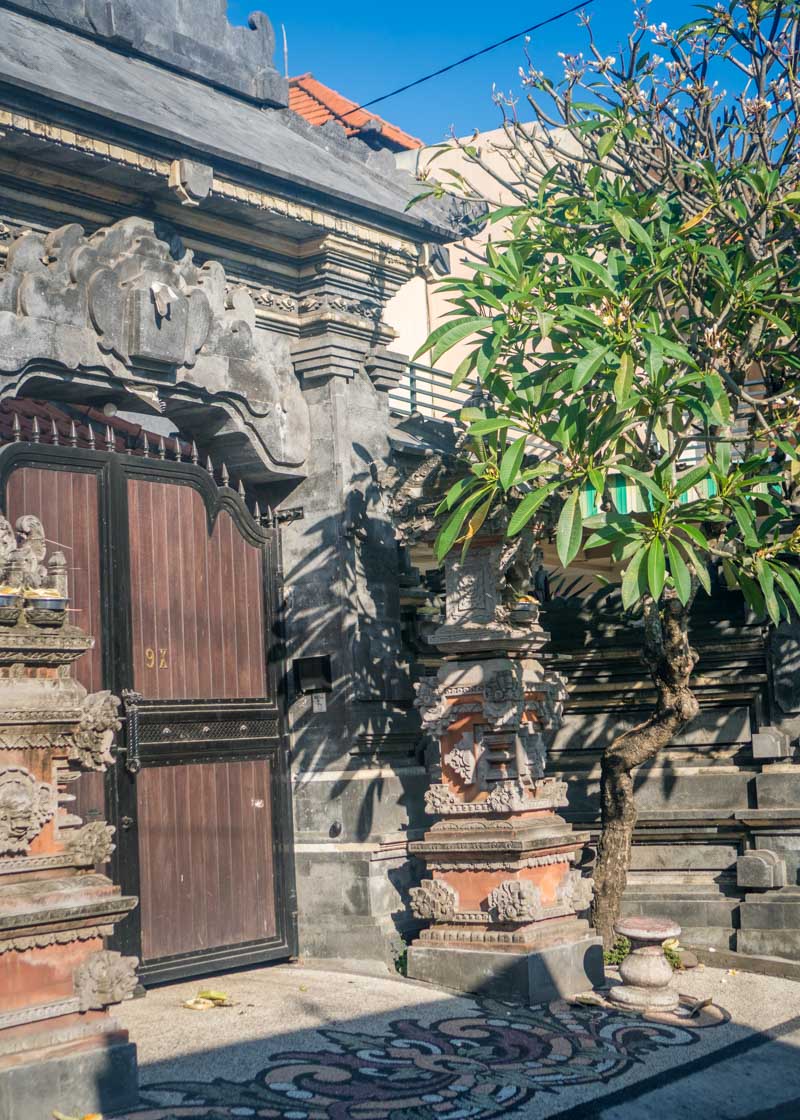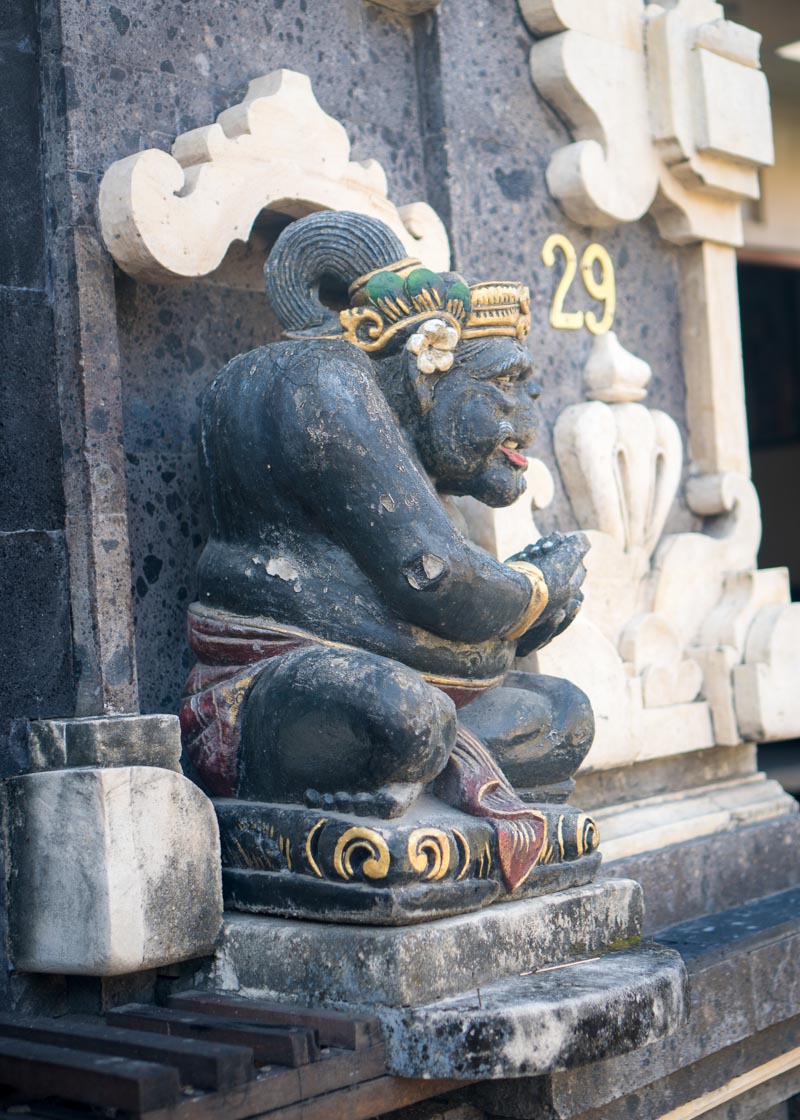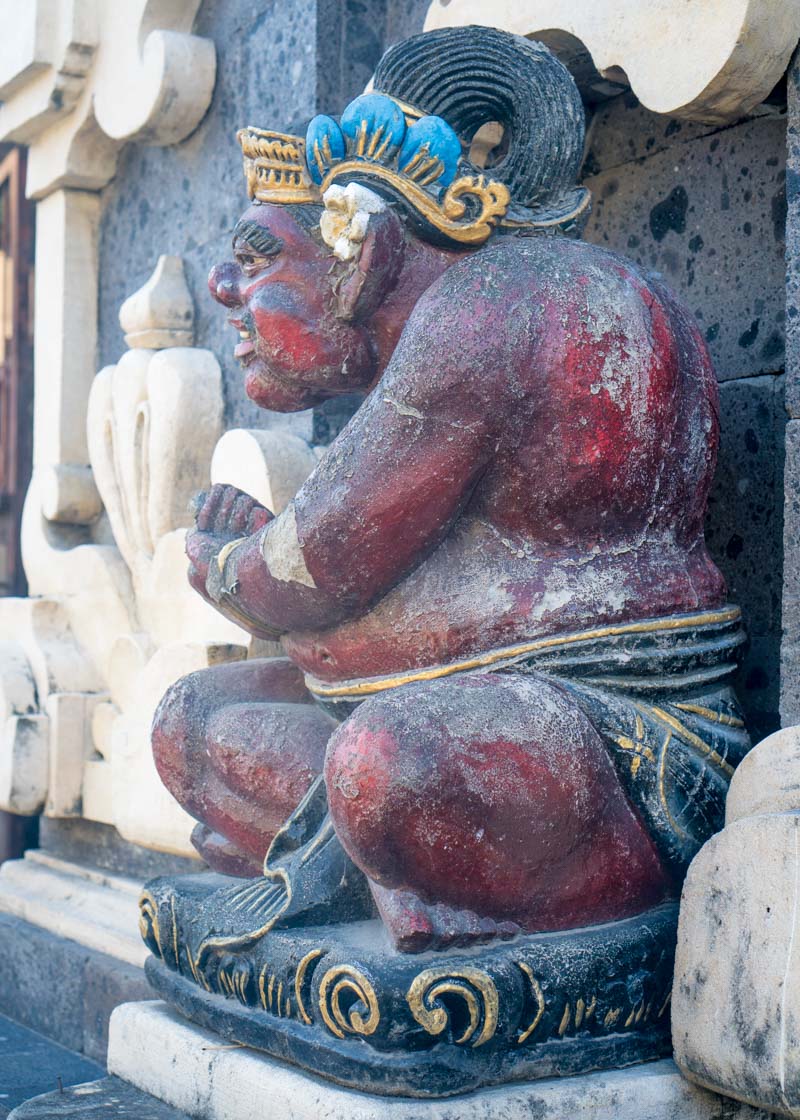 Sukawati Bali, a local destination for artisans
It wasn't until we stayed in Sukawati that we learned how this area is home to talented wood carvers and painters. That might explain why the Sukawati art market is a popular place to buy Balinese art.
There were also rice fields everywhere in Sukawati Bali
While they aren't as picturesque as some of the famous rice paddies in Bali, they were still a sight to see. What's interesting are the close encounters I had with the rice farmers. They'd make their way home from work, walking right behind us. Sweat and dirt covered their faces, reminding us of the harsh labour that comes with growing rice. In case you didn't know, harvesting rice requires a lot of physical work in the hot tropical sun. It's not an easy job, and it is a reminder for us to not take rice for granted. Seeing the rice farmers up close reminded me of the ways my family tried to teach us kids to not waste food. They would tell us how sin it is to not finish our food.
Growing up, my parents, aunts, and uncles always made my cousins, and I finish every last grain of rice in our bowls. They used to tell us stories of how we would go to hell when we die as a way to scare us to finish our food. All that rice that we never finished on earth? Well, they will turn into maggots, to which we will have to eat in the afterlife.
My cousins and I would debrief after each tale and talk about what we learned from our parents. We would then use our imagination to create a collaborative image of a place we did not want to end up in after we die.
The sweet locals (including Mimi!) in Sukawati Bali
We somehow made friends with the local laundromat (who had a CUTE dog named Mimi!) and a local vendor who serves delicious fried vegetables.
One time, we wandered the neighbourhood and found a place for laundry. As we inquired about prices, this little puppy peered behind the clothes. Mimi took our cooing as an invitation to play, and she started running towards us at full force. This tiny little bugger was so adorable and played with us with no signs of feeling tired. At some point, we had to leave, and instead of going back to her home, she kept following us! So so cute!
Every time we'd pass by the laundry shop in Sukawati, little Mimi would sit on the porch, watching out for us. When she would see us, she would run to us and greet us as if we were her best friends whenever we passed by the shop.
Here is a short clip of the playful Mimi. That little bugger licked my camera and kept biting my sandals! I miss her whenever I watch this video!
The kind Balinese vendor who sold us delicious fried stuff was another person we saw on a daily basis. At first, we had no idea what he was selling. Was it meat? Was it vegetables? No clue at all. Luckily, a Balinese customer explained what the items were to us in English.
Mr. Wayan, a generous man from Sukawati Bali
Of course, the one person who made our stay memorable was Mr. Wayan from The Swaha Hotel Bali. He is a very kind man who taught us so much about the Balinese culture and shared some of his life experiences. There were many times when I felt as if I was speaking to an uncle who was imparting his wisdom on us. We also had the chance to meet two of his daughters, who indeed are lovely people. Spending time with his family often reminded me of what it meant to be Asian. Even though Balinese culture is different from where my parents come from, there are certain beliefs that reminded me of what it meant to be Asian. There was often this unspoken understanding that didn't need elaboration; it was a very easy and natural conversation.
Sukawati Bali, a small Balinese town
We loved our stay in Sukawati and wished we considered this place sooner. Sukawati would have saved us a lot of time when it comes to exploring the northern parts of Bali and visits to Ubud.
I suppose we could have stayed longer, but we already had arrangements to end our trip in Bali *tear* in Nusa Dua.
Read Next: A Moment Of Reflection In Nusa Dua
PIN FOR LATER