During my year of travel, I wasn't sure of my plans in Vietnam because they kept changing. G♥ and I planned to spend over a month in the country, but many itinerary changes led us to spend two weeks in Vietnam.
As we were debating about a trip to Sapa and Halong Bay, we decided Hanoi would be an excellent base for us while we decide. We knew for sure we would be visiting Ninh Binh, but the rest was still up in the air.
Visiting Hanoi for the second time
While this trip was my second time in Hanoi, I was quite shocked to see that there was so much to do and eat in the city. Looking back, my first six week trip to Asia was very much rushed, especially in Vietnam. This time around, I was glad that we had the chance to travel Northern Vietnam slowly and take in the city.
Why I chose to stay with the Sheraton Hanoi Hotel Vietnam
Given that I was a platinum SPG member, choosing to stay at Sheraton Hanoi was an easy decision. Sheraton tends to offer one of the best perks compared to the other SPG hotel brands. How can I pass a good offer like that? Although I have no idea what it's like now that SPG and Marriott have merged.
What's the ambiance of the Sheraton Hanoi Hotel Vietnam like?
Everything about the hotel is grand, unlike the rest of Hanoi where shops are narrow and built below high rises. After spending ten days in Hanoi and Ninh Binh where things aren't as convenient, I felt a feeling of comfort when I walked into the Sheraton Hanoi. I remember thinking to myself "OMG I feel like I'm in North America" and felt so happy at that point, especially after travelling nonstop for over five months at that point.
The hotel room at Sheraton Hanoi Hotel Vietnam
The room is huge and overlooks the Tây Hồ (West Lake) and Red River. The colour palette of the room is more on the beige and cream side.
There are two LCD TVs, which we spent a bit of time watching CNN for once to catch up on the crazy shenanigans happening around the world.
The office area was my favourite
I can't tell you how nice it felt to finally work on a proper desk again! The back wall has shelves, which makes me feel as if it's an office. There's tons of cabinet space in the area, which is excellent for those who are staying here for a longer duration.
We were in room 1402 where our executive suite is 721 square feet. Considering how we've been staying in small spaces and hotels, this hotel room felt like a mansion to us!
The room separation is excellent because I've been spending time with G♥ in confined spaces for the last five months. One morning, I woke up early and decided to update this blog post! To be able to write on the office desk while G♥ was still sleeping was a nice change. For once, I could do as I please without worrying about waking him up with my music or from turning on the light.
I love Sheraton hotel beds and had very restful nights of sleep during our stay. I've been sleeping in firmer beds because most places in Asia have firm beds. The plush and soft bed was a welcoming change and made me miss home a bit.
The view from the room was nice – it overlooked the Hồ Tây (West Lake) along with the main entrance of the hotel.
The noise level at Sheraton Hanoi Hotel Vietnam was minimal
Because there was an adjoining door in the living room, noise from our neighbours travelled through, and I could hear our neighbour snore very loud one night while we were in the office area. The noise didn't bother us though since our room was so big and we had a bedroom door to block out the sound.
The service at the Sheraton Hanoi Hotel Vietnam
Check-in was a breeze at the Sheraton. We initially checked in at the main lobby. Once the staff member recognized that we are platinum members, he asked if we wanted to check in through the Sheraton Club Lounge instead. When we decided to give it a go, he walked us up to the Sheraton Club Lounge and passed us over to his colleagues.
The service here is impeccable. I was upgraded to an executive suite. We had welcome fruits and came back to dessert every single evening. Crazy, considering how we had free breakfast and access to the executive lounge.
During our stay, the Sheraton hosted a massive event with actresses and famous models
The concierge is incredible. We came back one night and saw a massive crowd of people waiting in the front. Intrigued, we asked the concierge. He told us that the spa is celebrating a 15 year anniversary and that they had famous actresses and models coming to the event. He walked us over to the event and gave us a bit of an overview, which was nice.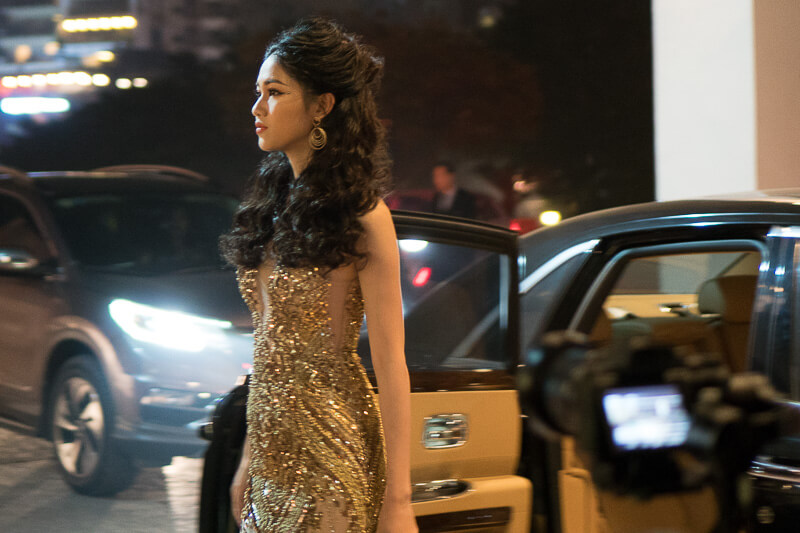 Our maid was awesome and she left us dessert every day! She also left us a thoughtful handwritten note on our last day.
Unlike other executive lounges where I am invisible (which I don't mind), most of the staff knew my name and always greeted me whenever we visited the club lounge.
We also struggled to figure out how to get to the airport on our own and decided to pay a premium price to get to the airport. While it is expensive by Asia standards, it's still reasonable at $35 USD. Since we were leaving early in the morning to catch our flight to Chiang Mai, I figured I'd rather pay extra to feel safe.
We interacted with many different staff members and found them to be professional in all aspects. From the doorman to the concierge, everyone was professional, and the service was consistent.
The Food at the Sheraton Hanoi Hotel Vietnam
Because I am a platinum member, we had the choice to either eat breakfast in the SPG lounge or the restaurant. We choose to eat in the restaurant since the breakfast spread was larger. Boy, did the spread not disappoint. The main breakfast had a good mix of western and Asian food, but I loved how it has a Korean spread and some decent Japanese food.
Of course, there was Vietnamese food too, but I tried to stay away from the Vietnamese section since I wanted to eat authentic dishes from the street.
There was also a massive selection of hot dishes, such as sautéed vegetables, baked chicken, lentil curry, fish teriyaki, and even nasi goreng.
The location at the Sheraton Hanoi Hotel Vietnam
The place is the worst part of the hotel. It's about an hour walk from the Old Quarter, and there's not much around the area. Yes, it's in front of a lake and yes, the view is nice, but it would be great to be close to food and attractions.
It often took us a long time to get back to the hotel (about 40 minutes). There is a main road that was under construction, causing delays. We also took forever to catch a grab car one time which was so annoying. Since public transportation is practically non-existent in Hanoi, ordering a cab is a must. Either that or walking down narrow streets where you're dodging traffic and signs all at the same time.
The facilities at the Sheraton Hanoi Hotel Vietnam
The gym at the Sheraton Hanoi Hotel Vietnam
The gym was huge and spacious. We had no idea there was also a jacuzzi in the gym area until our second last night. We were planning on using the facilities one day, but then we ran out of time.
The pool at the Sheraton Hanoi Hotel Vietnam
The pool looks large and well maintained, but unfortunately, we didn't have the chance to enjoy the pool since it was too cold!
The executive lounge at the Sheraton Hanoi Hotel Vietnam
The lounges have a happy hour from 5:30 to 8:00 pm every day, where there's a good selection of alcohol for guests, as well as finger food. At 6 pm, they start serving a full portion of Pho, which was quite tasty!
The lounge was quite good and relaxing. There were some evenings where it was quite busy during happy hour, but overall, it was a peaceful setting.
Sheraton Hanoi Hotel Vietnam is so worth the price (or point redemption)
I definitely think the Sheraton Hanoi Hotel in Vietnam is so worth the price for what you get. The customer service is exceptional, the rooms are great, and the food is delicious. The location and the fact that it is outdated is the only downside and something to keep in mind if you decide to stay here.
Would you stay at the Sheraton Hanoi Hotel in Vietnam? Leave your thoughts in the comments below.
PIN FOR LATER