Visiting the Historic City of Ayutthaya (a heritage site!) is a favourite for those travelling to Bangkok. Considering how the old city is about 50 miles (80 kilometres) north of Bangkok, visiting Ayutthaya from Bangkok is easy and convenient.
I've wanted to visit Ayutthaya for a very long time now – let's say almost a decade of dreaming. There is something about leisurely biking around the temple ruins that appealed to me. 
While I've been to Thailand a few times before my year of slow travel, I saved Ayutthaya for when I had enough time to spend a few nights in the ancient city. I tried planning for Ayutthaya the first few times I visited Bangkok but honestly reading about all the options left my head spinning and I gave up on trying to plan for Ayutthaya.
If you are feeling the same way about deciding how to get from Bangkok to Ayutthaya, not to worry!
If you are trying to figure out the best way to get to Ayutthaya, I wrote this guide especially for you. And while I walk you through the different options on getting from Bangkok to Ayutthaya, I am going to spoiler alert this post for you and say that train travel offers the most value if you plan it in advance. 
Once you navigate through the different modes of getting to Ayutthaya, travelling from Bangkok to Ayutthaya is a breeze thanks to its close proximity. And lucky for you, I've made a guide to walk you through all the options on how to get from Bangkok to Ayutthaya, how to book tickets, prices, and some other things to consider before your trip. 
Want someone else to take care of all the logistics at an affordable price?
If you want to have someone take care of the transportation to Ayutthaya and take care of the logistics when visiting the different temples, consider booking tour guides at an affordable price!
Options on how to get from Bangkok to Ayutthaya
Thanks to its proximity to Bangkok, there are only about a gazillion transportation options for Ayutthaya (ok, mainly six).
You can get from Ayutthaya to Bangkok by:
Train
Private car transfer/Taxi
Minivan
Bus
Cruise
Bangkok to Ayutthaya train travel
If you ask most travellers on how to get from Bangkok to Ayutthaya, you'll find a unanimous agreement that train is the way to go. Not only is the train a cheap option, but it is a scenic ride, and it's affordable. The only downside is that if you are tight on time, the train ride is the slowest option and there could be delays.
Travel time: Approximately 2.5 hours
Transfer cost: Prices start at 20 baht for third class train tickets (no assigned seating and open windows) and 345 baht per person for the second class (air conditioning and assigned seating)
Pros of taking the train
Cheap and affordable
Very comfortable ride. The trains are in great condition and lots of leg room
You can buy snacks on the train
There are toilets on the train
Cons of taking the train
Not the quickest way to get to Ayutthaya
You'll need to figure out how to get to Hua Lamphong Station (which is easy but can be a bit far depending on where you plan to stay in Bangkok)
Delays are frequent on the train
Before travelling by train in Thailand during my five-month stay, I read online how Thailand trains are notorious for delays. I took the train on at least five separate occasions and never once did I experience a delay. Maybe I got lucky?
Private car transfer/Taxi from Bangkok to Ayutthaya
Private car transfer is a great way to get to Ayutthaya as long as you find a reliable, safe and honest driver. I mean, you get picked up, and you arrive at your destination, so you don't have to worry about the logistics (continue reading about the other options to learn how getting to Ayutthaya requires some planning!). Price is the biggest con since it is expensive. However, if you can find more people to split the cost of hiring a car transfer, this option would be great for you. Click here to see more options on private transfers.
While taxis are an option from Bangkok, I try to stay away from cab drivers, especially ones from Bangkok. If you want to learn my crazy experiences with Bangkok taxi drivers, click on this link and scroll down and read why I hate taking taxis in foreign countries (spoiler alert: the taxi breaks down on the highway as I am about to catch a flight from the airport. Classic). If you decide to take a cab, consider asking the hotel to book one for you and make sure you agree on a price before leaving. I'd like to think that since their reputation is on the line, they would find one that is a good and responsible driver.
Travel time: Approximately one hour
Transfer cost: Prices vary between 2,600 to 3,500 baht for a full day charter
Pros of taking the private car transfer/taxi
You'll arrive door-to-door from your Bangkok accommodation to your location
Taxis are easy to flag in Bangkok
The easiest way to get to Ayutthaya
Most efficient
Flexibility in the schedule. If you decide to go longer, you can stay for an extra fee and you can explore Ayutthaya at your own pace
You will be driven around to the different sites, which saves you time from having to walk or bike in the sweltering heat
Cons of taking the private car transfer/taxi
Expensive relative to the other options
Taxis in Bangkok can be a hit or a miss
Driving in Thailand can be scary, regardless of whether or not you are the driver or the passenger
Travel time may be longer if you get stuck in traffic
Questions to ask before you book a private car transfer
I've had my fair share of private car transfers, ranging from sketchy to extremely safe. Regardless of who you decide to book with, I suggest asking the following questions:
Are there seatbelts?
Is there air conditioning in the vehicle?
How many seats are there in the car?
Is there proper insurance? If so, what kind of insurance?
How old is the car? Is it modern?
Are toll fees included in the price?
Are parking fees included in the price?
Can the driver speak English?
Book a two-day private car transfer from Bangkok with an English-speaking guide
So taking a private transfer to Ayutthaya is one thing but if you don't want to deal with planning the logistics of which temples to visit and how to get around, considering booking this 2-day private tour from Bangkok. I won't lie, Ayutthaya is not the most comfortable place to travel as it is harder to get by with English and it is HOT all the time! What's great about this tour is that you'll have an English speaking guide accompanying you during this private car (aka think air-conditioning when you need it!) 
Minivan from Bangkok to Ayutthaya
If you can find your way to the Mo Chit bus station, you can take a van from Bangkok to Ayutthaya. To find the minivans, you can ask around for directions or head to one of the counters for instructions on how to catch a van. Keep in mind that the minivan makes lots of stops, so don't get off the minivan until you arrive at your last stop! I recommend that you have Google Maps so you know where you are going in case the driver can't speak English. Once in Ayutthaya, you will be dropped at Wat Mahathat.
To catch the minivan back to Bangkok, you will want to find your way back to the dropoff point. The ride back to Bangkok will likely take longer due to traffic
Travel time: Around 1.5-2 hours depending on traffic
Transfer cost: 60-70 baht per person
Pros of taking the minivan
Cheap and affordable
faster than public buses with fewer stops along the way
Meet other travellers on the bus
Most vans are comfortable and clean with air conditioning
Cons of taking the minivan
Requires some logistical coordination (i.e. getting to Mo Chit bus station, finding the minivans)
Minivans don't leave until they are full so you might have to wait for other passengers
There will be stops along the way, making for a slower ride
Might get stuck in Bangkok traffic, especially on the way back from Ayutthaya
Book a full day mini-van transfer from Bangkok with an English-speaking guide
If you want someone to take care of the logistics once you arrive to Ayutthaya, consider booking this city tour guide that hits the most popular attractions in Ayutthaya. You'll also get to dress up in a traidtional Thai costume and be taking around by tuk-tuk which is a great choice if you're not keen on biking but you don't want to be stuck in a car. Click here to check the latest prices.
Bus from Bangkok to Ayutthaya
If the price of the minivan is too much for you and you don't want to take the train, the bus is another option to get from Bangkok to Ayutthaya. Keep in mind that it is a public bus, so you are sacrificing comfort and time.
Travel time: Around 1.5-2 hours depending on traffic
Transfer cost: About 50-60 baht per person
Pros of taking the bus
Do what the locals do and see Thailand by bus!
Cheaper than minivan
Cons of taking the bus
Longer journey due to frequent stops
Cruise from Bangkok to Ayutthaya
If you like river cruises, then taking one from Bangkok to Ayutthaya might be of interest to you. Of course, you'll have to book a tour to get to or from Ayutthaya by river cruise and it will be pricier. As well, most tours only offer a cruise one-way from Ayutthaya and usually involves a minibus ride when heading to Ayutthaya. Here is a great one-day tour from Bangkok that includes hotel pick up, bike tour, and lunch on the cruise. 
Travel time: Around 1.5-2 hours 
Transfer cost: About 4,000 baht per person
Pros of taking a cruise
See Ayutthaya at a relaxing and slow pace by boat
Cons of taking a cruise
Expensive
Cruise is usually only offered one-way
Usually involves only a one-day tour from Bangkok – not ideal for those who want to stay in Ayutthaya for a longer time
Which option should I choose from Bangkok to Ayutthaya?
Once you start comparing your options, you'll find that going from Bangkok to Ayutthaya by train offers the best value regarding comfort, price and duration. We choose the train because it was easy for us to get to the Bangkok train station and because ticket prices are pretty low. We also loved our first train ride to Bangkok during our stopover and wanted to continue exploring the country via train. Also, because I read that the train ride from Bangkok to Ayutthaya was a scenic one, we decided to go with this option. I won't lie though; I don't remember much of the scenery.
I will say though, I was quite apprehensive about train travel in Thailand, mainly because I didn't know what to expect. Up until this point, my only train travelling reference outside of North America was in Vietnam, and let's just say that was quite an adventure. I was also pretty worried about the luggage situation, as I had a huge suitcase and a carry-on that needed to come with me because I was travelling for a year.
How do I book tickets for the Bangkok to Ayutthaya train ride?
Unlike the rest of our journey where we could buy our tickets in advance online, tickets to Ayutthaya are only available at the station. I'm not too sure why, but that's something to note for when you plan your travels.
So on the day of departure, we arrived at the train station at around 9 am, one hour before departure. Arriving just after 9 am is also ideal because you will miss the rush hour of people coming and going from the Bangkok train station. I read online that the wait to buy tickets can be long, but it took us under ten minutes to get our tickets. The lineups weren't as bad as we had expected and we were able to get everything done in a short amount of time.
What happens on the day of the Bangkok to Ayutthaya train ride?
We arrived at the train station just after 9 am to get our tickets one hour before departure. Because our hostel was right next to the train station, we were able to walk to Hua Lamphong. However, if you are trying to figure out how to get to the Hua Lamphong Station, you can quickly arrive via the MRT (the Bangkok subway). All you need to do is find your way to the Hua Lamphong station, and it's right next to the train terminal.
I read online about potential scammers, so I avoided all the friendly people who tried to talk to me at the entrance. There are also posted signs around the train station in English warning travellers of people trying to pass off as employees of the train station so be careful! They might even give incorrect advice so make sure to ask all your questions with the personnel at the counter. Make sure to have a translation app handy to avoid misunderstanding.
The train station was busy, and it was hard for us to find a place to sit, but we managed to grab a seat
A few snacks later, it was time to head to the platform. The wait wasn't very long since passengers need to board the platform 30 minutes before departure. As we made our way to the platform, our train was already there, and it was ready for us to get onboard.
While delays are frequent, we didn't experience any setbacks on our ride. The train left on time, and as soon as we were moving, an attendant came by to give us a meal, which was a surprise for us!
Our train was pretty empty with only a dozen other passengers onboard. The passenger car was not as new as the one we took from Surat Thani to Bangkok but was still in good condition.
There is a lot of leg room under our seat, which was perfect for our luggage
Again, I was super concerned about storage space on the train when I was planning this trip. One look at the area and I realized I made much ado about nothing.
The staff is very attentive
Clumsy me spilled water on the ground, to which one employee came by and cleaned up the mess before I finished uttering "uh oh."
The seats are very comfortable with lots of space to recline backward. There is a tray in front of your seat that you can bring down for meals, writing, or other miscellaneous uses.
Unlike the Thailand bus rides where there was zero warning to get off the bus, the train attendants were much more thoughtful. They always came by to give us a five-minute heads up to gather our things and leave the train.
Once we hopped off our train, we spent a bit of time exploring Ayutthaya train station
This station reminded me of the Surat Thani one, albeit a bit bigger and cleaner.
Of course, there will be tons of tuk-tuk drivers chatting you up to see if you've booked a place to stay or if you want to use a tuk-tuk to get around Ayutthaya. We politely waved no and kept walking to our guesthouse.
If you are planning a day trip in Ayutthaya, you can quickly get there by walking straight across the road towards the little ferry. The ferry cost is 5 baht per person.
Once you arrive on the other side of the little river (it's a scenic and fun ferry ride by the way!), you will see small shops that offer motorbikes or bike rentals
Don't be surprised if you have to dodge all the other tourists who are practicing how to ride the motorbikes. While you can walk around Ayutthaya to get to the major ruins, I highly recommend getting a bike as some of the temple ruins can be spread out. You can book a bike tour online by clicking on this link.
If you are making a day trip and heading back to Bangkok from Ayutthaya
The train from Ayutthaya to Bangkok is easy to catch, and you can purchase your ticket at the train station. The first thing you might want to do once you get off the train is to buy your train tickets to Bangkok in case they sell out.
Did I feel safe on the Bangkok to Ayutthaya train ride?
I felt very safe on the train and was not worried about anything on this leg of our trip. It felt no different than the train rides that I took back home, save for the fact that it was in Thailand.
Can you charge your phone on the Bangkok to Ayutthaya train ride?
There are no places to charge your phone, but since this trip is under two hours, you won't need to worry about battery juice.
Is it easy to ask questions in English during the Bangkok to Ayutthaya train ride?
The staff members on the train had good English and made sure to confirm our destination when we were on the train. As we got closer to Ayutthaya, an attendant gave us a heads up for us to start packing our stuff to get ready to leave.
Is there food on the Bangkok to Ayutthaya train ride?
We had no idea until we boarded the train that food was included in our ticket! We each got a boiled egg, chicken Penang curry, jasmine rice and a cup of water.
Where to keep luggage and storage options for the Bangkok to Ayutthaya train ride?
Luggage space was my biggest concern when taking the train in Thailand because of our suitcase. I swear, I searched high and low for information about storage space but to no avail.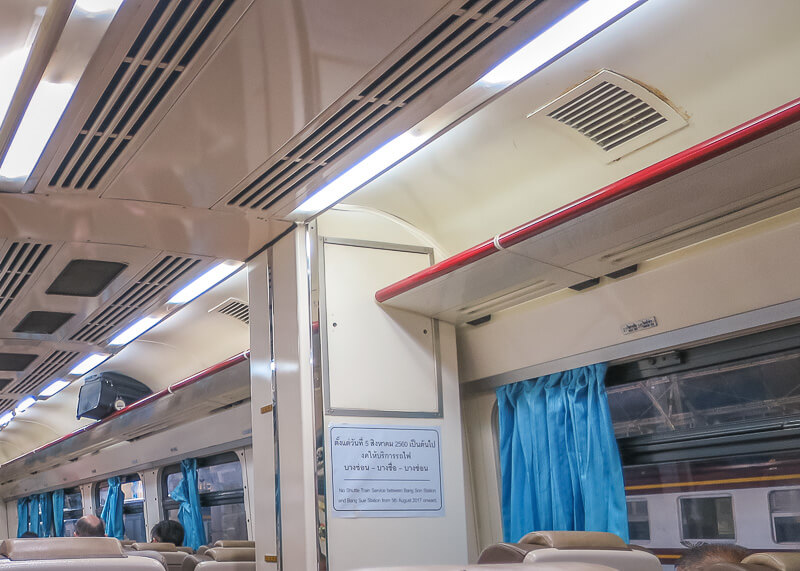 Well, I'm happy to tell you that the trains in Thailand are spacious! If you have a big suitcase that doesn't fit near your seat, there's always a few storage spots at the end of each carriage.
Any other tips for taking the Bangkok to Ayutthaya train ride?
Bring wet wipes for your hands and bring snacks for the train ride.
Be careful with people posing as station personnel when arriving at Hua Lamphong train station. I personally never experienced issues (could be because I look Thai) but there are reports that there are people who will trick tourists out of taking the train and travelling via alternate modes of transport
Arrive early at the Hua Lamphong train station so that you can orient yourself and get tickets first
Know your Thai national holidays and be careful about travelling during that time. The train system will be packed to capacity, and the temples will likely be very busy. Book first or second class to have an assigned seat
Read Next: 12 tips about visiting Ayutthaya Thailand
Have you taken the train in Bangkok or have you visited Ayutthaya? Is there any other information I should add to this guide? Comment below and share your experiences!
Pin for later
This post was first posted on March 2018 and last updated on October 2019