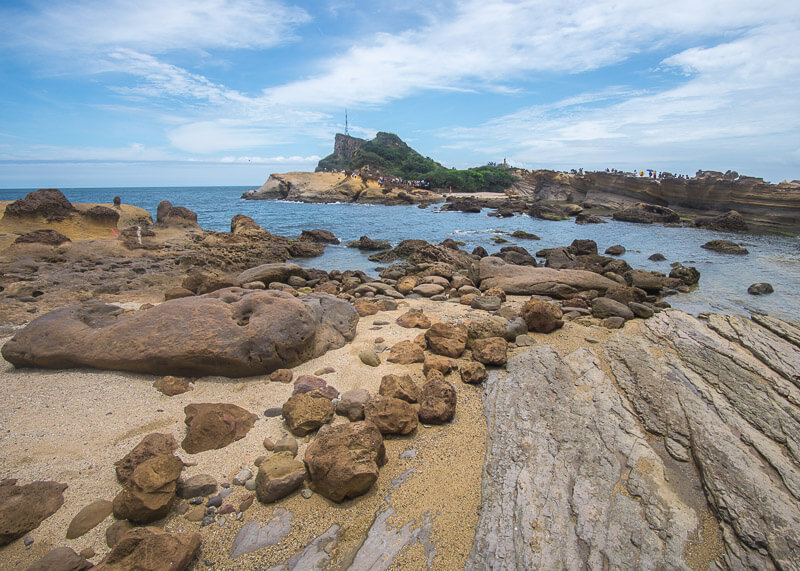 I almost didn't publish this post. What's the point? I didn't do much and spent most of the month wanting to hide from the world. But of course, since I'll be back home before I know it, I've been going out where I can to enjoy life in Taipei. But it has been very hard.
Sometimes I'll be sitting in a coffee shop and the next thing I know, I'm trying to feign tears of grief as the ones you get from allergies.
But then I realized if I didn't write this post, then I am not staying true to my goal of sharing my honest thoughts during my year of travelling.
So, here goes.
Month 11 | Summary of my nomad travel
Dates Travelled: May 19, 2018 – June 18, 2018
Budget: No crazy unexpected spend this month. Our apartment is more on the expensive side in Taipei, but we didn't want to deal with all the trouble and hassle of spending our last few months of travelling searching for a place to stay
Places Visited: Taichung, Taipei
Items Lost/what I Wish I Packed: Nothing. We thought we lost one USB cable for the camera but found out later that we left it behind between apartment moves
Transportation: No flights or crazy ways to get from point A to B. Just a train ride from Taichung to Taipei
What I Miss: Chiang Mai temples, my family, my friends
Scariest Moments: There were none. If ever, this month has changed my perspective and made me feel even more fearless
Memorable Moments: When a butterfly reminded me that there is life after death
Defining moments: No "external" event changed the course of our travels. This month was a constant reminder that living intentionally means having an awareness of death
Yucky Moments: Seeing a metal wire on top of a tea egg. Made me question the cleanliness of the shop
Thoughts during month eleven of nomad travel
Most days, I am bouncing off the walls with enthusiasm screaming "Life is short! Live so that once is enough!" and making decisions that people deem crazy without much regard for social approval.
But today, I am writing this blog post in my Taipei apartment with a heavy heart and tear-stained cheeks, echoing the same words.
Life is short. It can go in one heartbeat.
"It is a curious thing, the death of a loved one. We all know that our time in this world is limited, and that eventually all of us will end up underneath some sheet, never to wake up. And yet it is always a surprise when it happens to someone we know. It is like walking up the stairs to your bedroom in the dark and thinking there is one more stair than there is. Your foot falls down, through the air, and there is a sickly moment of dark surprise as you try and readjust the way you thought of things."
I wish I could tell you that this is the first time someone I know passed away in their thirties. But it's not. The first time it happened sent me spiraling into a temporary state of insanity. I questioned everything. His death was one of the very reasons why I went YOLO, paused my career and travelled to Asia for six weeks.
Another life ending far too soon came a year later. We don't talk about it, but I see the pain in her eyes when she thinks about how she had to bury her son. Or their struggle to hold back tears when they think of their only brother.
When she passed away in 2015, all I could think of during her wake was how much I wanted to hug her. I kept praying that this was all a mistake; that she will open her eyes at some point, and we can all go home. She didn't. I kept replaying our last conversation before she found out she was sick. Dating, fashion, food. Never once did the thought of death cross any of our minds.
It's the ones who die young that hit me the hardest
All those deaths changed the essence of my being and made me question my beliefs. Their passing shook me to my core and made me even more determined to live so that once is enough.
Over time, I shed everything that didn't matter and replaced it with the things that made me happy with my life. Even if I don't know which step to take, their deaths compelled me to take one and trust that the universe will guide me to where I am meant to be.
This time, it's different
For the first time ever, death did not push me to make a change in my life. If ever, his death made me realize that I am already on this path to living to the fullest. If my hourglass of life has but a few grains of sand left to fall, I know it will end with no regrets.
So, if you are wondering what led me to make this leap and travel for a year, insatiable curiosity was what started it, but death was the push. Knowing that you will die has a powerful way of reminding you to not squander this precious gift of life.
We take it for granted that life moves forward

You build memories; you build momentum. You move as a rower moves: facing backward.
You can see where you've been, but not where you're going. And your boat is steered by a younger version of you.
It's hard not to wonder what life would be like facing the other way.
Avenoir.
You'd see your memories approaching for years and watch as they slowly become real.
You'd know which friendships will last, which days are important, and prepare for upcoming mistakes. You'd go to school and learn to forget.
One by one you'd patch things up with old friends, enjoying one last conversation before you meet and go your separate ways.
And then your life would expand into epic drama.
The colors would get sharper, the world would feel bigger
You'd become nothing other than yourself, reveling in your own weirdness.
You'd fall out of old habits until you could picture yourself becoming almost anything.
Your family would drift slowly together, finding each other again.
You wouldn't have to wonder how much time you had left with people, or how their lives would turn out.
You'd know from the start which week was the happiest you'll ever be, so you could relive it again and again.
You'd remember what home feels like and decide to move there for good.
You'd grow smaller as the years pass, as if trying to give away everything you had before leaving.
You'd try everything one last time, until it all felt new again.
And then the world would finally earn your trust, until you'd think nothing of jumping freely into things, into the arms of other people.
You'd start to notice that each summer feels longer than the last.
Until you reach the long coasting retirement of childhood.
You'd become generous and give everything back.
Pretty soon you'd run out of things to give, things to say, things to see.
By then you'll have found someone perfect; and she'll become your world.
And you will have left this world just as you found it.
Nothing left to remember, nothing left to regret, with your whole life laid out in front of you, and your whole life left behind
PIN FOR LATER