Kyoto is one of the most popular cities to visit in Japan. Travellers often visit Kyoto for its political and cultural importance. In fact, if you want to get a sense of tradition in the Japanese culture, Kyoto is the best place to experience it thanks to the many temples and Shinto shrines. While Kyoto is an expensive city to visit, you don't need to break the bank when it comes to searching for good food in Kyoto. In fact, I spent only ¥2,650 ($24 USD) per day on food while in Kyoto. And that is including the occasional splurge that left me feeling super full by the end of each day.
If you find yourself in Kyoto and you are looking for cheap and delicious food, read more to get ideas on how you can find yummy meals for under ¥1,200. I also include a list of affordable Japanese restaurants if you are looking for a sit-down restaurant.
Downloadable map for finding affordable cheap eats in Kyoto
Click here to view on Google Maps all the cheap eats mentioned in this blog post. You can also save the map to your Google account for easy planning.
Kyoto cheap eats #1: Japanese curry
Eating Japanese curry is an excellent meal if you're on a budget. Not only is this popular Japanese dish flavourful, but it's also very filling as well! Compared to other popular types of curry like Thai or Indian curry, Japanese curry is much sweeter thanks to the grated carrots, onions and grated apple in this dish. The sauce is also much thicker compared to other types of curry, leaving for a very satisfying meal.
How much does Japanese curry cost?
You can expect to pay for as little as ¥500 for a vegetarian curry dish.
Where to eat Japanese curry in Kyoto?
Kyoto cheap eats #2: Okonomiyaki
One of my favourite things to eat in Japan is okonomiyaki, aka Japanese pancake! This savoury pancake is also sometimes called Japanese pizza, although I would say it's more like a pancake with a ton of savoury toppings. You'll find that vendors all have their own version of okonomiyaki in Japan with various toppings and sauces. There's usually shredded cabbage, meat, seafood, green onion, and bean sprout and noodles as the main topping. Mayo, dried bonito and teriyaki sauce are often used to top this filling dish.
How much does okonomiyaki cost?
Prices start at ¥750 and increase depending on the toppings you choose.
Where to eat okonomiyaki in Kyoto?
Okonomiyaki Katsu
Tonchintei
Arata
Nishiki Warai
Issen Yoshoku: Declicious but weirdly definitely. Not PG and not kid-friendly. 
Kyoto cheap eats #3: Ramen
Japanese ramen is super budget-friendly and is simply one of those dishes that most people can agree to eat. This noodle-based dish often comes with a few slices of meat, egg, scallions and bean sprouts. Some places will even serve cheese with ramen, something I highly recommend. The great thing about ramen is that different regions in Japan have their own take on this noodle-based dish. For example, you'll notice that Kyoto serves a lot of Tonkatsu or pork broth-based ramen. While Tonkotsu does not originate from Kyoto, it is a popular broth because because of its huge college-town population.
How much does ramen cost?
Prices start at ¥650 and increase depending on the toppings you choose. You can often buy extra noodles at ramen shops as well.
Where to eat ramen in Kyoto?
Fukakusa Ramen Toriton: our favourite ramen place in Kyoto! It was conveniently close to our guest house as well! The ramen was very good and flavourful. The broth is pork-based, rich and had a strong garlic taste
Nagahama Miyoshi
Wajouryoumen Sugari
Yamazaki Menjiro
Kairikiya Kawaramachi Sanjo
Musoshin in Gion
Ippudo Nishikikouji
Kyoto Gogyo
Kyoto cheap eats #4: Yakitori
Yakitori is a skewered chicken and is one of the many staple dishes in Japanese cuisine. The chicken is often very smoky from being cooked over a charcoal grill and topped with pepper or wasabi. Some places will serve chicken organs, like the heart, intestines or liver.
How much does yakitori cost?
Expect to pay ¥120 and up for a skewer.
Where to eat Yakitori in Kyoto?
Sumibi-Torito
Yakitori Daikichi
Katsukura
Kyoto cheap eats #5: Gyoza
Gyoza are meat-filled Japanese dumplings wrapped in thin dough. Typical gyoza fillings have ground pork, chives, green onion, garlic, ginger and sesame oil. The most common types of gyoza are:
yaki gyoza: These pan-fried dumplings are soft and juicy on the inside and crispy on the outside. I like yaki gyoza the most compared to the other two choices
Age gyoza: Age gyoza is crispy as these dumplings are deep-fried
Sui gyoza: These boiled gyoza often come with a light broth and are mainly found in Chinese restaurants
How much does gyoza cost?
Expect to pay ¥320 and up for a plate of gyoza. You can also order a meal that comes with rice, miso soup and pickled vegetables for ¥750.
Where to eat gyoza in Kyoto?
Gyoza Hohei
Gyozadokoro Takatsuji Sukemasa
Gyoza ChaoChao
Kyoto cheap eats #6: Udon
Udon noodles are always a great option to eat if you are on a budget in Kyoto. These noodles are made by kneading wheat flour with salt, water and is often served in a light broth. You'll find that udon noodles can be quite dense and chewy.
How much does udon cost?
¥550 is the starting price for a bowl of udon noodles.
Where to eat udon in Kyoto?
Fumiya
Yamamoto Menzou
Udon Sanshiki
Kyoto cheap eats #7: Soba
Soba noodles are often used interchangeably with udon noodles, but they are actually very different! These noodles are primarily made of buckwheat flour, making them mostly gluten-free. Soba noodles are also thinner compared to udon noodles and more flavourful, in my opinion. They look like spaghetti and have a strong nutty flavour thanks to the buckwheat. You'll often find Japanese restaurants serving soba noodles cold in salads and dipping sauces. However, some places serve them in noodle soups.
How much do soba noodles cost?
Prices are as low as ¥490.
Where to eat soba noodles in Kyoto?
Sobanomi Yoshimura
Soba Noodles Shop 大黒屋
Kyoto cheap eats #8: Chazuke
Chazuke is a rice dish where you get a pot of tea to pour over meat or seafood to cook the ingredients. Not only is this dish beautifully presented, but seasonal ingredients make it a delicious and filling meal. Believe it or not, chazuke is traditional Japanese fast food!
How much does chazuke cost?
Expect to pay ¥600 for a bowl of chazuke.
Where to eat chazuke in Kyoto?
Dashi Chazuke En
B no Kaidan
Kyoto cheap eats #9: Gyudon
Gyudon is a Japanese dish that has rice topped with beef and onion. The beef has a sweet and savoury flavour thanks to the fish and seaweed broth and is often marinaded with soy sauce and sweet rice wine. This dish often comes with either a raw egg or a soft poached egg on the side. 
How much does gyudon cost?
Prices are in the ¥500 range.
Where to eat gyudon in Kyoto?
Yoshinoya
Matsuya Kyoto-Sanjo
Sukiya Shijo
Kyoto cheap eats #10: Green tea desserts
Green tea desserts are the ultimate indulgence and something to try when you are in Kyoto! Green tea was introduced to Kyoto from China during the 9th century when tea gained popularity in Japan. The great thing about Kyoto is that you'll find tons of green tea stores and shops that serve delicious desserts with the green tea flavour.
How much do green tea desserts cost?
Expect to pay ¥400 and up for green tea desserts.
Where to eat green tea desserts in Kyoto?
Kyoto cheap eats #11: Hojicha desserts
Hojicha is roasted Japanese green tea that is cooked in a porcelain pot over charcoal. It is prepared for so long that the tea leaves turn from green to reddish-brown, creating a caramel-like and earthy tea flavour. Honestly, I am a huge hojicha tea lover and go crazy when I see hojicha! If you love green tea, you may also like hojicha!
How much do hojicha desserts cost?
Expect to pay ¥320 for soft-serve ice cream and ¥1,000 for decadent desserts.
Where to eat hojicha desserts in Kyoto?
Tsujiri
Pablo Cheese Tart
Maccha House
Kyoto cheap eats #12: Japanese-style Mont Blanc
Before travelling to Asia, I never thought that chestnut-flavoured dessert is something that would taste good. However, after trying my first chestnut-flavoured desert in Hong Kong and Singapore, I became super addicted to chestnut-flavoured sweets. So naturally, whenever I passed by a bakery that sold Mont Blanc desserts, I had to pick some up.
Mont Blanc is a dessert made of pureed chestnuts and whipped cream. It has a mousse-like texture and originates from Italy. In Japan, Mont Blanc is sometimes made with pumpkin, squash and purple yam instead of chestnuts. This dessert is so popular that you can buy them at any patisseries and even 7-eleven convenience stores!
How much does chestnut desserts cost?
Expect to pay ¥430 for one chestnut Mont Blanc.
Where to find chestnut desserts in Kyoto?
Demachi Futaba's Mame-mochi
Kyoto cheap eats #13: Imagawayaki
Imagawayaki is a popular Japanese snack, made from waffle batter or pancake with a sweet bean filling. The typical fillings for this dessert are red bean paste, custard, chocolate, or sweet potato. This filling dessert is often found at Japanese festivals or in busy areas such as touristy places, or the food section in department stores. This sweet dessert is quite filling; eat two, and you can probably skip a meal.
How much does imagawayaki cost?
Prices start as low as ¥100 for one imagawayaki.
Where to eat imagawayaki in Kyoto?
Nishiki Market
Various street markets
Kyoto cheap eats #14: Mochi donuts
If you like donuts, then you will have to try a mochi donut while in Kyoto. Unlike the typical yeast donuts you find in North America, mochi donuts have this slight chew to it that leaves you wanting to take another bite to understand what you ate. That's because mochi donuts are made from glutinous rice flour, the same type of flour that is used in sticky rice cakes or mochi. The result is a slight chewiness that you'll notice each time you bite into these light and airy donuts. 
How much do mochi donuts cost?
Prices start as low as ¥150 for one mochi donut with a glazed topping or sweet filling.
Where to eat mochi donuts in Kyoto?
Mister donut is perhaps the best place to try these delicious treats.
Kyoto cheap eats #15: Daifuku
Daifuku is a round mochi (rice cake) stuffed with sweet bean fillings. The more elegant (and more expensive!) ones may contain pieces of fruit, such as the delicious and fresh strawberry that you find from Japan.
How much does daifuku cost?
In the ¥150-180 range.
Where to eat daifuku in Kyoto?
Demachi Futaba's Mame-mochi
Various food department stores
Kyoto cheap eats #16: Castella cake
Japanese castella cakes are Portuguese sponge cakes made of sugar, flour and eggs. These sponge cakes were introduced to Japan by the Portugese during the 16th century and are now a specialty in the Nagasaki region. These light and fluffy cake are great with tea or is something to enjoy as an afternoon treat.  
How much do castella cakes cost?
Bite-sized castella cakes are as low as ¥50.
Where to eat castella cakes in Kyoto?
Castella do Paulo
Rondon-yaki
Kyoto cheap eats #17: Japense cheese tarts
Japense-style cheese tarts are so delicious and worth splurging! These mini tarts have a creamy and light cheese centre and baked in a crunchy tart. 
How much do cheese tarts cost?
Expect to pay around ¥250 or more per cheese tart.
Kyoto cheap eats #18: Crepes
Japanese crepes are a very popular midday snack, with crepe street vendors being a common sight all across Japan. A typical Japnese crepe has fruits, custards, whipped cream and ice cream.
How much do crepes cost in Kyoto?
Expect to pay ¥650 for a basic crepe.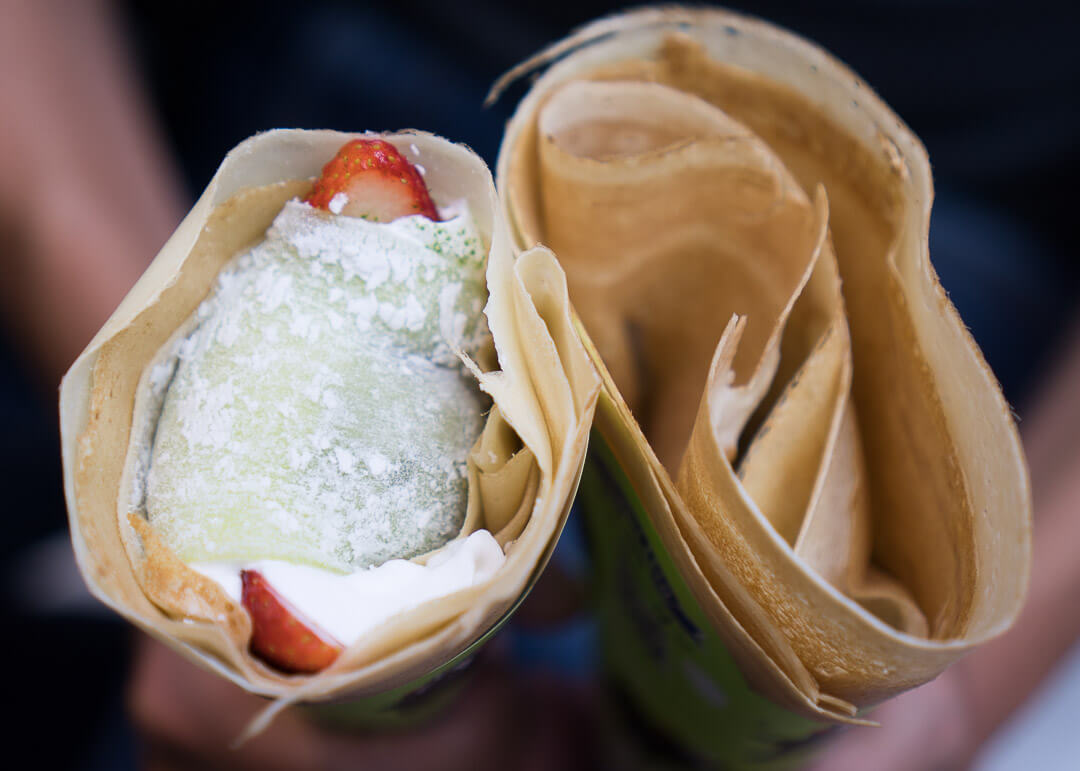 Affordable restaurants in Kyoto
If you are looking for a proper sit-down restaurant that is budget-friendly, there are tons in Kyoto that offer great deals during lunchtime.
Saika-tei: This restaurant serves original, Chinese-style dishes and has set lunch menus starting at ¥630, including tax. Saika-tei has a huge selection of a la carte items, including gyoza, shime-saba, and other Japanese dishes. This restaurant is conveniently located near Kyoto station.
Imai Shokudo: This restaurant's specialty is the saba netsuke or simmered mackerel. The fish is cooked for over three days, leaving a very flavourful soup. Expect to pay ¥700 for its famous saba netsuke, rice and miso soup.
Ginyuba Kyoto Horikawa: This restaurant serves yuba (tofu-skin) from selected soybeans. The best time to visit this restaurant is during lunchtime as you can get a set meal for ¥880, including tax.
Gochiya: This restaurant creates meals centered around high-grade Japanese beef and seasonal ingredients. Set lunch meals start at ¥700 and come with salad and soup.
Nishijin Inokuma Café: This restaurant offers home-style Japanese cooking and was founded by a Japanese couple in 2012. Prices are quite affordable as you can get a set meal for ¥900. Dashimaki tamago, which is a broth-flavoured rolled omelet, is one of the restaurant's most popular dishes and a must-try.
Finding cheap eats in Nishiki market
Nishiki market is a very popular place to try more than 100 food stands and restaurants on one narrow street. You can find produce, fish, tea, pickled vegetables and other delicious snacks in this traditional food market.  
Find cheap meals in department stores
One of my favourite places to eat cheap in Kyoto was often in the basement level of major department stores. Most times, there is a whole floor devoted to small vendors serving a variety of Japanese food. From katsu to steamed buns, bento boxes, sushi and other great Japanese dishes, the choice is endless in these department stores. If you visit late in the evening about an hour before closing, you'll find that a lot of the shops offer discounts to the food that is still leftover. 
Cheat eats in supermarkets
Another great place to eat well while saving money is to visit supermarkets in Kyoto! There is often a cooked food counter where you can find fresh meals at an affordable price. If you visit these grocery stores near closing time, you'll often find these food items listed at a discount!
If you're not looking for a full meal, hitting up a supermarket for great Japanese snacks is another way to save money. If you are a Kit Kat lover like me, grocery stores often sell Japanese Kit Kat at a competitive price. 
Cheap eats in Japanese bakeries
Kyoto is filled with bakeries that offer pastries, bread and sandwiches that are perfect for a midday snack or breakfast. You can find many delicious things to eat for under ¥200 in a bakery. 
Other tips for Kyoto cheap eats
Japanese food is often less expensive than foreign food, so eat local to save money.
Non-seafood meals like udon, ramen and soba are often the best ways to eat well while on a budget.
Look for "teishoku"(set menu) and "higawari teishoku" (daily special)to save money.
Convenience stores like 7-eleven and Family Mart sell some healthy "fast food" meals at an affordable price.
If you want to try a restaurant, visit the restaurant during lunch as their lunch menu is often a fraction of their dinner prices.
Keep an eye for tachi-kui restaurants, which are places where you can stand while eating.
Stay connected
If data is a must-have while in Japan, you'll be happy to know that WIFI is very easy to buy and use in Japan. Whether you are looking for data to help with menu translations, posting on social media, or using maps to figure out where you are, having a pocket WIFI in Japan will be super handy for you. Book in advance and pick up your pocket WIFI once you land at the airport. You can book your pocket WIFI here.
You can also purchase a 4G SIM card with plans that include voice and data. Make sure your phone is unlocked or else your Japanese SIM card won't work. Click here to book your SIM card. 
Get around Kyoto
The ICOCA IC Card is a great way to get around the JR, subway, bus and private railways around the Kansai area. This smart card is preloaded with ¥1,500 and a ¥500 deposit. Purchase your ICOCA IC card online here.
Conclusion
You don't have to spend a fortune to eat well in Kyoto. You can find a ton of great food options at an affordable price.
pin for later